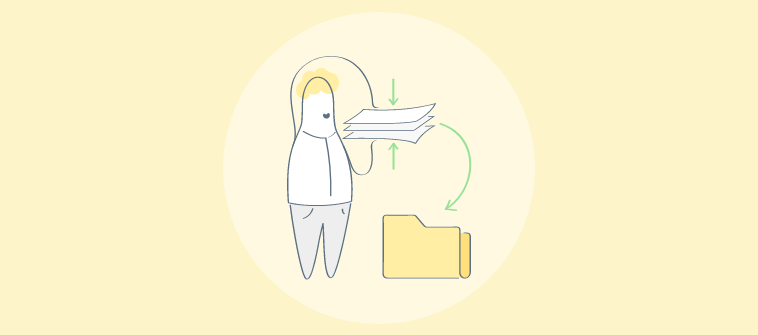 Marketing experts often speak about the value of customer data in creating personalized experiences.
With the right data up your sleeves, it's possible to anticipate customer needs, identify the channels they love the most, and take them up the loyalty ladder.
Although customer data brings astounding benefits, the fact that it is scattered across Google Drive, email threads, and piles of files is highly concerning. Critical customer data can easily slip through your fingers, leading to loss of high-value deals and a lot of revenue.
So, the question is – how do you organize customer information and harness it to achieve higher conversions and lasting relationships?
Well, this blog holds the right answer. It throws light on 8 impeccable tips for customer data management along, with a special focus on its benefits and much more.
Let's get started.
What is Customer Data Management?
Customer data management (CDM) is a process that involves capturing, storing, and organizing customer information to deliver personalized experiences across channels. This data can include details on how visitors interact with your website, the purchases made in the past, customers' contact details, and much more.
Meticulously managing this data helps you track purchase trends, understand customer needs better, and craft memorable experiences across touchpoints. Such carefully-engineered experiences further strengthen your relationship with customers, thus improving retention and by that extension, your bottom line.
Why is Customer Data Management the Need of the Hour?
Every business today is abreast with the growing importance of customer information management.
We constantly see this famous phrase – "Data is the new oil," coined by Clive Humbly, appearing in multiple articles on the internet to reiterate how critical customer data is for the digital economy.
In fact, 6 in 10 marketers today use customer data to make business decisions.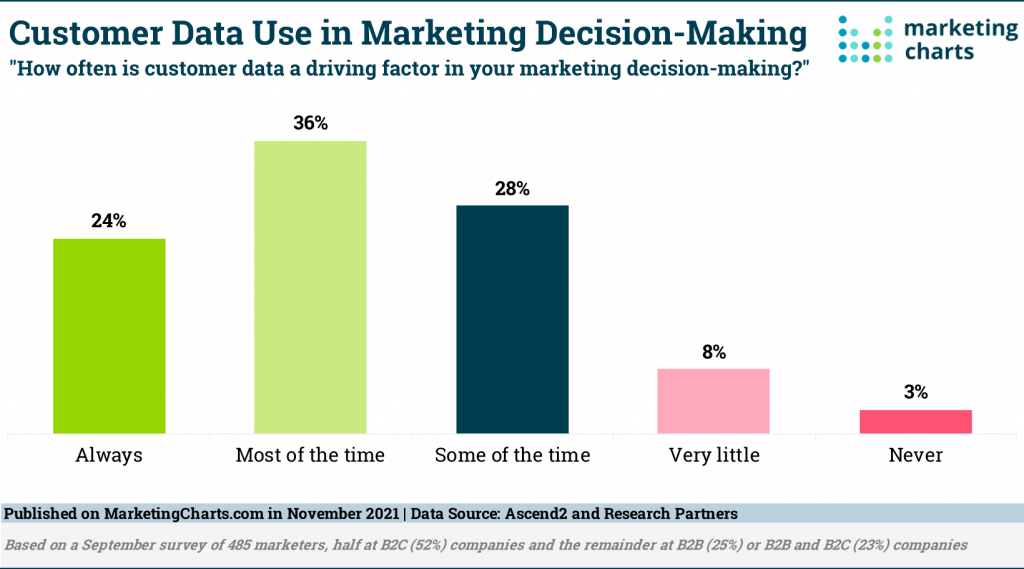 This speaks volumes about how data is defining the actions companies take and guiding their long-term strategies.
However, the question that looms large is what benefits does customer record management brings to the table? Let's find out.
Deliver highly-targeted experiences to customers

Devise marketing strategies in alignment with customers' unique needs and preferences

Generate leads and close deals faster

Upsell and cross-sell to the right people at the right time

Boost your marketing and sales efforts

Prevent data silos and infuse transparency across processes

Mitigate potential risks by making proactive data-driven decisions

Prevent data security breaches and its related consequences
Last but not least, well-managed customer data helps you build meaningful relationships with customers that are strong enough to endure all the highs and lows.
8 Practical Ways to Organize Customer Information
"How to organize client information" is a question that is bothering a lot of businesses today – those that are growing as well as those with a well-established customer base.
If you are in the same boat, worry not, as, after careful thought, we have come up with 8 actionable tips to help you capture customer data and use it optimally.
1. Identify the Information Worth Capturing
Not all customer data is worth your attention. An attempt to capture each and every detail may do more harm than good. You should instead consider collecting useful customer information that actually matters.
For this surface-level thinking is not enough. You need to dig deeper and think strategically. Ask yourself a few simple questions to identify which information is worth your time and attention, for example:
Which data will help us optimize the customer experience?

What kind of data is required to improve the conversion rate?

If we don't capture this data, will it affect our sales and marketing efforts?

Which channels should be given the top priority for data collection?
Such thoughtful questions will help you go down deep and collect the data that's absolutely necessary to achieve your business goals.
It will also help to keep your sales and marketing processes much more clean and transparent. With increased clarity around what to capture and what to leave, your customer-facing teams will be able to make wise business decisions.
2. Data Security Should Be Your Top Priority
While the right usage of customer data brings unprecedented benefits, the slightest security breach can have unbearable consequences.
In 2021 alone, the average total cost of a data breach was estimated at $4.24 million, and this figure is expected to increase in the coming years.
Why do customers reveal their personal data to you? Because they trust your brand. As a business, it is your responsibility to keep this trust alive by practicing safe and secure customer records management.
So, the question is – how do you safeguard customer information and prevent a potential breach?
Diligently following the latest GDPR data security guidelines will help you stay away from data security consequences. GDPR rules was came into force to protect the information of customers as hacking is on its peak level. In this case, customers' information should be protected. Here, the role of SSL certificate comes into play as it secures the data that flows between the browser and the server. Therefore, a website owner should purchase SSL certificate and install it on the server to secure customer data.
You can also devise company policies around data security and make it mandatory for everyone to follow. Moreover, the aspect of data security should be a vital part of your company's mission. Once this happens, every employee will know much you value and appreciate the confidentiality of customer information.
Taking such internal measures will save you from big troubles down the road.
3. Invest in Your Team's Training
Prioritizing data security is not limited to devising specific policies.
Every employee of your organization right from the CEO down to the intern must be fully familiar with the dos and dont's to organize customer information and keep it safe.
One wrong action or even a little confusion can lead to a huge loss of crucial customer data, which may not be possible to recover. While such events can trigger financial losses, they can also spoil your brand's reputation.
Setting stringent guidelines on how to capture customer data is futile if your team is blank on how to practically implement them. Investing in your team's training is therefore essential.
Teach them the best way to organize business contacts and explain the step-by-step process to keep customer information safe. Train employees on how to leverage your CRM tool for improving conversions and building relationships. Inform them about the different cyber attacks, what is DoS attack, how to get prepared and how to avoid those. Having knowledgeable team can be a greta protection from cyber attacks.
Let the experienced employees train new ones on how to look for data security threats and take preventive measures.
Regular training of employees will go a long way in creating a culture that puts customer data front and center.
4. Regularly Review & Update Customer Information
Human errors are inevitable. Despite practicing caution, there is a possibility of errors while collecting customer data.
Moreover, some weeks, months, or years down the road, customer data gets obsolete and needs to be updated.
Working with inaccurate data can cost you dearly – $3.1 Trillion, to be exact. You may ask why?
Inaccurate data means faulty strategies, wrong decisions, and in turn, a significant drop in customer confidence!
Regular data cleansing is an important measure you can take to maintain accuracy and relevance.
Identify duplicate entries and remove them from your customer contact list. Keep updating customers' personal details such as their email addresses and phone numbers as they may change with time. You can also delete the data of customers who haven't engaged with you for a long time. There is no use overloading your CRM system with unnecessary data.
Performing regular data audits equips your customer-facing teams with high-quality data, free of any errors and inaccuracies. This helps them work with confidence and make smart decisions at every step.
5. Practice Ethical Data Sourcing
How you source data from customers speaks volumes about the values your brand stands for. How transparent you are while collecting information and the techniques you use together can either build customer confidence or break it.
Ethical data sourcing is therefore of paramount importance.
Every time you collect information from customers, be transparent about your privacy policies. Give them the confidence that their data is in safe hands so that they share it without any inhibitions. Moreover, you should also give the reasons of asking for customer information.
For example, if your aim is to provide a more personalized experience next time using the data, share it openly with your customers. There is no point keeping customers in the dark about your good intentions. It's better for them to know the real reasons behind the data collection than make wrong assumptions.
An open, transparent, and ethical process of collecting information strengthens customer confidence and trust in your business.
6. Give Customers a Good Reason to Divulge Information
What is the natural reaction of customers every time they see a survey form? Hit 'Skip' and carry on with the browsing.
It is long known that spending time to share data is not something that customers love to do.
Why not give customers a solid reason that instantly persuades them to divulge their details?
Every time you ask customers for their details, give them incentives they cannot refuse. For example, discounts on certain products, freebies, gift cards, and giveaways in exchange for a few details can work wonders. More and more customers will be willing to spare time to share their details if treated with such lucrative offers.
Exit-intent popups can help you do this. When visitors are about to leave your website due to any reason, display a beautiful popup with an irresistible offer. Let customers take your offer and give the details you need in return.
It's simple, isn't it?
7. Set Company-Wide Standards for Data Governance
Imagine you have all the data management policies required for ethical capture and storage of customer information. Does that really suffice?
Not until the policies are practically followed on the ground.
When it comes to implementation, things can easily go off-track, with employees inventing their own processes for specific data management tasks. Errors are bound to happen in such cases.
The trick is to standardize the processes so that everyone is on the same page. Setting the right standards for collecting, storing, and using customer data will keep the chaos away and bring clarity to the process.
Instead of devising their own unique ways to perform a process, employees will have a set of protocols to follow. While this will make employees more accountable, they will also be able to work with higher efficiency.
8. Centrally Store All Your Customer Data
While most businesses are aware of how to capture customer information, the real problem that bothers many is how to manage it.
How to organize contacts and their related information is a meticulous process that should be performed with attention to detail. Moreover, when data is streaming in from multiple sources, it's difficult to make sense of it.
So, what can be the possible solution here? Centralizing all customer information will streamline the workflows, enabling your team to work more efficiently.
With all customer data centrally accessible, your teams will be spared from digging into emails and drives to get what they need. Instead, they can invest their time in the work that really matters – building customer relationships.
There are solid customer data management solutions available on the market today that can make data centralization a reality. CRM is one such tool that you can deploy to manage and make the most of your customer information.
Let's learn more about CRM data management in the next section.
How Can a CRM Level Up Your Customer Data Management
The right CRM can help you create a warehouse where customer information can be managed, tracked, and leveraged prudently to achieve meaningful outcomes.
Imagine critical customer data scattered across emails, spreadsheets, and presentations. It's natural for your sales and marketing teams to lose track of important information, which further impacts customer interactions.
By storing all this data in a CRM, your team will have a shared space to:
Track contacts without any to and fro and categorize them into lists

View all previous interactions with prospects and customers in one place

Create targeted drip email campaigns that improve lead nurturing

Automate redundant tasks such as taking follow-ups and updating deal statuses

Track upcoming tasks and events for all team members with a detailed calendar view

Set automated reminders to stop missing out on important deadlines

Visualize your sales pipeline and take timely actions to maximize conversions

Gain quick insights into your marketing and sales activities through built-in reports

Work remotely with mobile access to customer data
Long story short, CRM acts as a client data organizer that provides a 360° view of all activities so that your teams never deviate from the track. Since everything that they need is right on their screens, there is absolutely no chance of crucial opportunities slipping through the cracks.
Streamline Customer Data Management for Strong Relationships
Your sales and marketing teams will always be on the edge of a breakdown if all that they end up doing is figuring out the dos and don'ts of managing customer information.
Whether you are a growing business or an established corporation, a well-defined data management organization structure is a must to have. You can start by setting key parameters to identify which information is worth capturing. Set robust company guidelines on how to capture and manage customer data so that your team is always up to date with the processes they need to follow.
Conduct training on how to organize customer information and explain the importance of data security to your team. Most importantly, adopt a CRM tool to seamlessly manage customer data and make it conveniently accessible to everyone who needs it.
All of this together can be game-changing for your organization. Your teams will be better positioned to make data-driven decisions at every step and create strong customer relationships that last a lifetime.
Do you want to make more sales?
BIGContacts is the #1 contact management software & CRM to close more sales.