If you run an ecommerce business, you are no stranger to ever-changing customer needs and a fiercely competitive environment.
Maximizing profits for your online store becomes significantly easier when you pair a robust ecommerce CRM platform with a well-thought-out strategy. The best CRM for ecommerce not only helps build stronger customer relationships but also establishes the business's credibility in the online sphere.
CRM platforms are designed to help businesses take better control of their collected data and utilize it to enhance customer experiences. Whether your objective is to boost sales, retain more customers or enhance team productivity, a CRM tool can help you achieve it effortlessly.
This blog will help you carry out an in-depth comparison of the 10 best ecommerce CRM software options that are currently available. Assess their features and functionality against your unique business needs to find the most effective solution.
Get started with creating a stronghold for your business in the online marketplace today!
In a Nutshell
Businesses across all industries can benefit from the implementation of a CRM solution.

CRM for ecommerce is a dedicated technology that involves keeping track of customer data for online stores. It helps craft more personalized buying experiences, which drives business growth.

This blog highlights the significance of having a dedicated CRM system to manage your ecommerce store. It also includes a detailed comparison of the 10 leading CRM software for ecommerce that can empower your online business.
CRM & Its Significance for Ecommerce Businesses
CRM or customer relationship management tools are used to collect, organize, and utilize contact data to build stronger relationships. These tools facilitate all aspects of customer relationships, right from initial contact to post-purchase support, helping you deliver highly personalized and satisfactory experiences.

CRM eCommerce integration can help sellers visualize buyer journeys and track customers' preferences, habits, expectations, etc. This data can help identify the perfect selling opportunities and enable you to make more sales.
Moreover, with the best CRM for e-commerce, you can deliver more personalized solutions to customers, leading to enhanced profitability.
---
💡Did you know-
The global CRM market value is expected to reach $145.79 billion by 2029 at a CAGR of 12.5%. This demonstrates the high trust that businesses across industries, including e-commerce, place in technology.
---

Using a CRM for ecommerce, you can:
Manage client relationships

Keep inventory updated

Stay updated with all business transactions from a single place

Engage with potential customers effectively

Reduce cart abandonment by delivering personalized solutions

Track buying behavior, preferences, previous communications, interests, social media activity, etc.
9 Key Features of Ecommerce CRM Software
The road to finding the best CRM for ecommerce isn't easy. But knowing which features carry the most value will help you make the right decision. Some of the most important features of ecommerce CRM software are:
1. Workflow Automation
Automation can help you avoid unnecessary delays and enhance overall productivity. Create custom workflows with relevant triggers and actions to keep things moving at all times. This will also help you overcome the need to perform repetitive tasks manually.
2. Contact Management
The CRM application should enable you to access a 360° view of customers, so you can keep track of their preferences and optimize your offerings accordingly. This also helps you target them with relevant offers and discounts.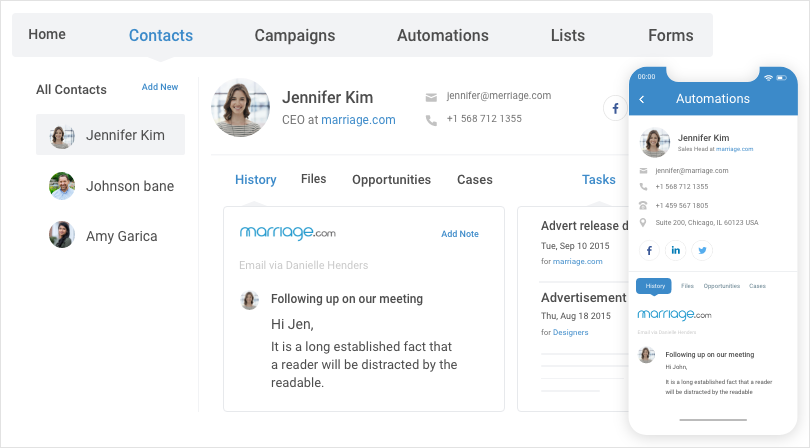 Read More: From Chaos to Control: What Is Contact Management & How to Capitalize on It
3. Email Marketing
With targeted and automated emails, you can promote your products and services, build brand awareness, and drive conversions. In addition, the email marketing functionality of CRM can help retain customers by keeping them engaged.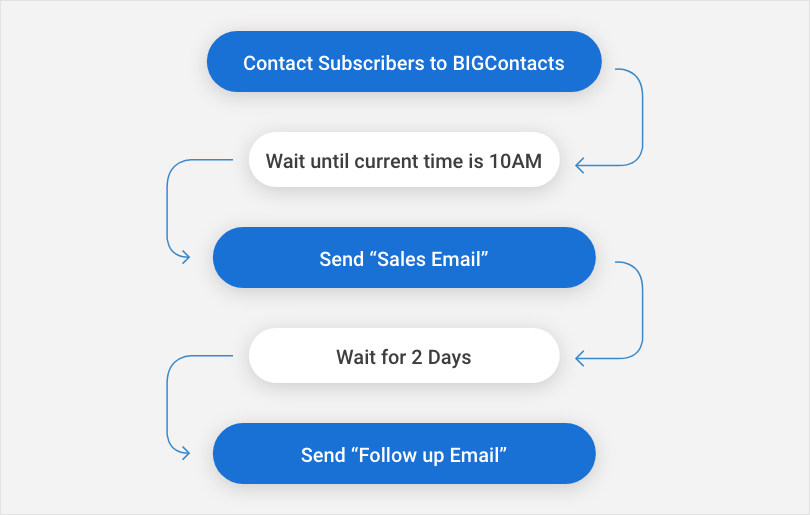 4. Integrations
A powerful CRM system offering multiple integration options can help you manage all business processes from a single platform. This reduces inaccuracies and makes room for more efficient business operations. Choose a tool that seamlessly integrates with your existing tech stack.
5. Reporting & Analytics
Use the CRM tool to generate custom reports that measure the effectiveness of your business processes. Track any relevant metrics to get deeper visibility into the performance of your online store and make accurate business forecasts.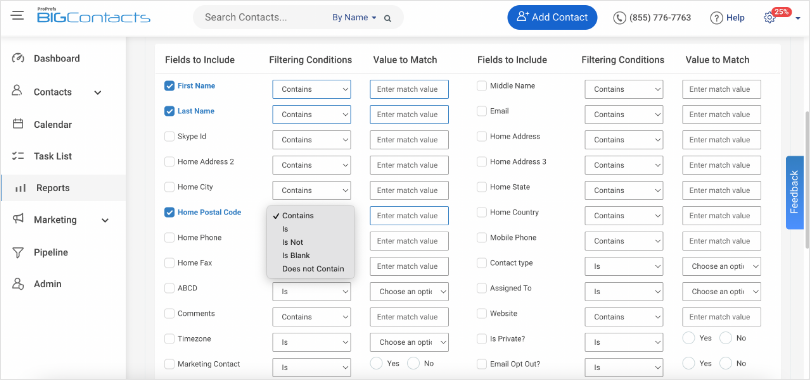 6. Collaboration
Centralized access to data improves organizational efficiency. All the team members can collaborate better by sharing data and updates effortlessly. Additionally, you can define roles and permissions for each user in the CRM system. This further contributes to increased data security.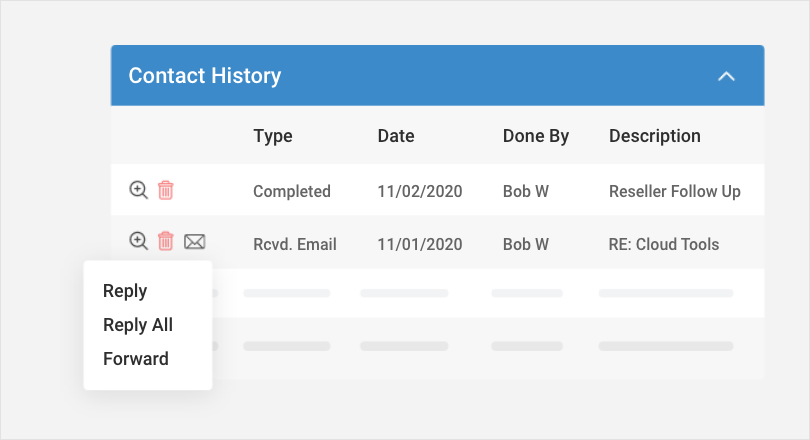 7. Customer Support
In ecommerce, customers may face a variety of issues, such as product defects, shipping delays, or payment problems. Effective customer support facilitated through CRM can help you address such issues promptly and in a manner that exceeds customer expectations. This can lead to positive customer reviews and referrals, which can drive sales and improve brand reputation.
8. Order & Inventory Management
Efficient tracking and management of orders and inventory help streamline sales, avoid stockouts, reduce errors, and boost customer satisfaction and loyalty. This ultimately leads to reduced costs and increased profitability.
9. Mobile Access
It is crucial for ecommerce businesses to connect with prospects and customers at just the right moment to boost sales. With mobile CRM, you'll never miss an opportunity to convert a lead into a loyal customer by staying connected with them from anywhere, anytime.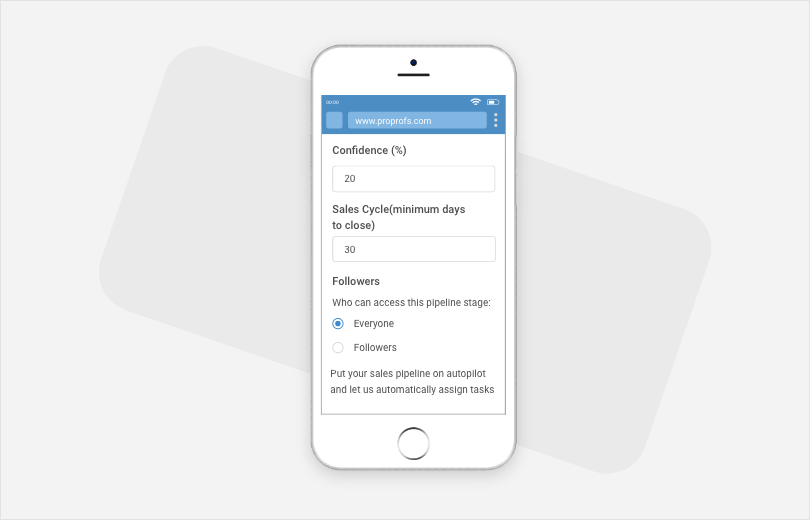 CRM Best Practices to Strengthen Ecommerce Marketing & Sales
Using CRM in ecommerce can streamline operations, strengthen relationships, and drive revenue growth. Here are some best practices for incorporating CRM into your sales and marketing processes:
Personalize Interactions
A CRM system can provide actionable insights into customer behavior, purchase history, and interests, which can be used to personalize communication, marketing, and support efforts. You can leverage this data to send targeted emails, offers, and product recommendations.
Utilize Multiple Channels
A CRM system can be used to drive engagement through various channels, such as email, chat, or phone. This will ensure that customer communication is prompt, friendly, and helpful, enabling you to build trust and loyalty with customers.
Segment Customer Base
Segmenting customers based on demographics, behavior, and purchase history can help you target specific customer groups with relevant marketing messages. This can improve the overall effectiveness of marketing campaigns and increase customer engagement.
Read More: Customer Segmentation Analysis [The Only Guide You'll Need in 2023]
Monitor Business Performance
A CRM system can provide data on customer behavior, sales performance, and marketing campaigns. Analyze and utilize this data to make data-driven decisions and improve your ecommerce marketing and sales strategies.
Perform Regular Audits
Regular audits are important for ecommerce businesses looking to enhance their sales and marketing operations. Keeping your CRM data clean and up to date ensures that there are no inconsistencies in your client communication.
Cross-Sell & Upsell
An effective practice to make the most of your CRM e-commerce implementation is to utilize contact data to drive more cross-sells and upsells. Make use of collected customer information to encourage them to buy higher value (upsell) or related (cross-sell) products.
10 Best CRM for Ecommerce: A Quick Overview
| Software | Best For | Pricing |
| --- | --- | --- |
| BIGContacts | Contact management & marketing automation | Starts from $5/user/month |
| Act! | Lead generation & workflow automation | Starts from $30/user/month |
| Freshworks | Pipeline tracking & workflow automation | Starts from $15/user/month |
| Copper | Personalization & workflow automation | Starts from $23/user/month |
| HubSpot | Pipeline tracking & email marketing | Starts from $30/month |
| Nutshell | Contact management & sales automation | Starts from $16/user/month |
| Bitrix24 | Workflow automation & pipeline tracking | Starts from $49/month |
| Pipedrive | Pipeline tracking & workflow automation | Starts from $9.90/user/month |
| Agile | Lead prospecting & scoring | Starts from $9.99/user/month |
| Zoho | Predictive analytics & customer segmentation | Starts from $14/user/month |
10 Best Ecommerce CRM Software
Here is a more in-depth comparison of the overall functionality of the 10 best CRM ecommerce systems available in the market. Compare the key features of each of these tools against your unique objectives to determine which one would be the perfect addition to your tech stack.
1. BIGContacts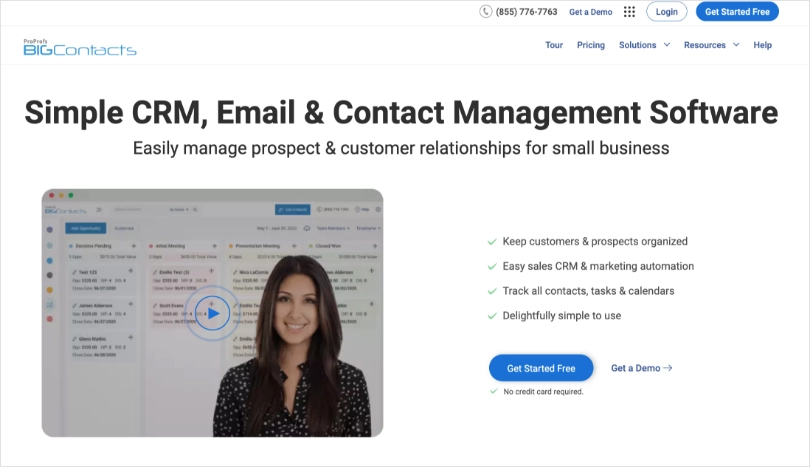 Designed for simplicity, BIGContacts is one of the most effective CRM eCommerce software you can implement for your online store. Use it to manage invoices, capture leads, and build a custom workflow for your team. BIGContacts also offers task tracking and automated reminders to boost organizational productivity.
What Is Unique About BIGContacts:
Standard & custom reports to track business performance

Webform connection for lead capturing

QuickBooks integration to track transactions
Pricing:
Big- $5/user/month

Bigger- $15/user/month

Biggest- $25/user/month

Enterprise- Custom pricing
Rating:
2. Act!
Act! centralizes all data, including contact details, emails, notes, tasks, etc., contributing to enhanced business efficiency. You can use the tool to prioritize important tasks, set up automated alerts and reminders, track essential metrics in real-time, and stay connected with customers on the go.
What Is Unique About It:
Capture leads with custom landing pages & webforms

Create automated workflows to stay engaged with prospects & customers

Access valuable business insights using interactive dashboards
Pricing:
Starts from $30/user/month
Rating:
3. Freshworks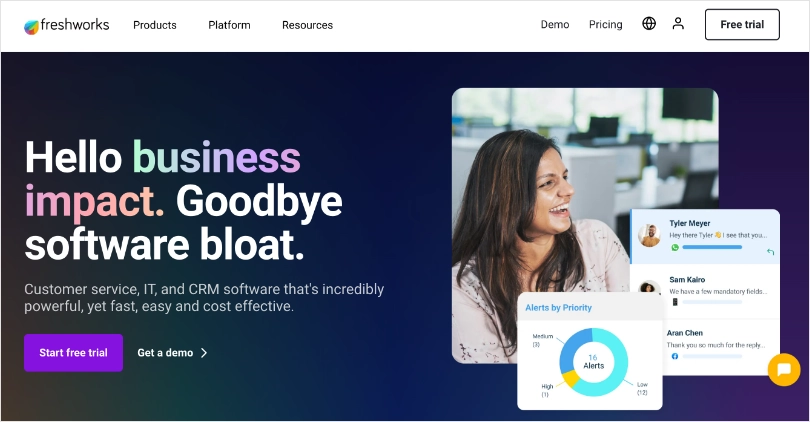 Freshworks is an AI-powered eCommerce customer service software with pipeline tracking and workflow automation. Use it to track activity timelines, prioritize high-value prospects and predict sales outcomes. You can rely on Freshworks to provide deeper insights into your business processes and drive more meaningful conversations with your customers.
What Is Unique About It:
Email & report templates that save time

Automatic profile enrichment for potential customers

Interaction tracking to optimize future outreach efforts
Pricing:
Starts from $15/user/month
Rating:
4. Copper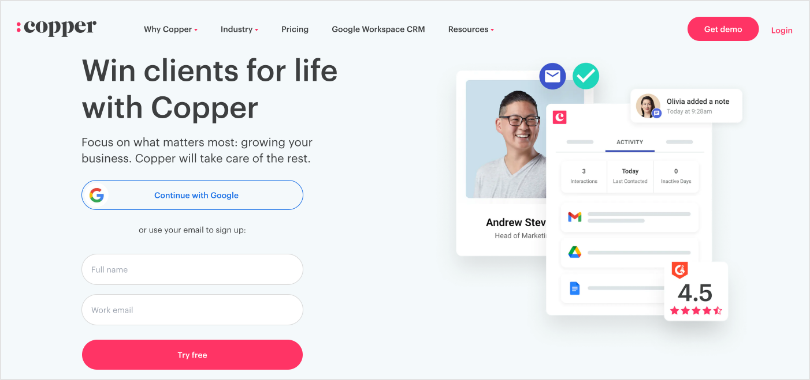 Ecommerce businesses can use Copper CRM to create highly personalized shopping experiences and drive growth. Automated custom workflows with recurring tasks boost productivity and help make more sales in less time. The tool empowers businesses to focus on building stronger customer relationships by eliminating busy work and provisioning valuable insights.
What Is Unique About It:
Google Workspace integration & Chrome extension

Automated tasks, data logging & reminders

Ready-to-use & custom reports
Pricing:
Starts from $23/user/month
Rating:
5. HubSpot CRM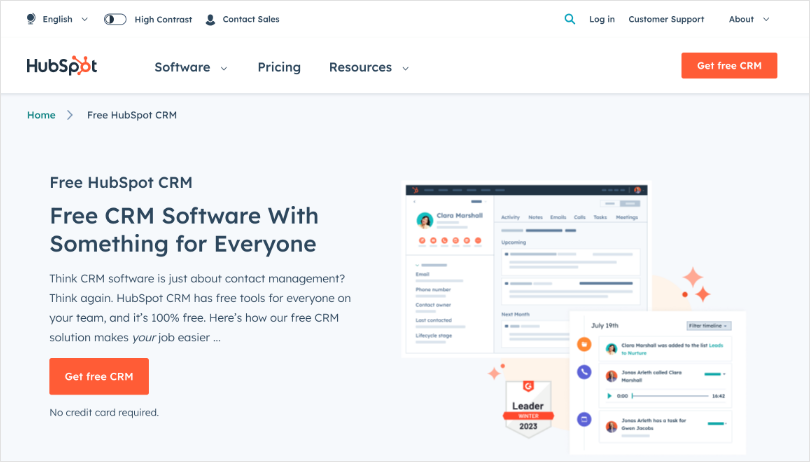 HubSpot CRM offers pipeline management, activity tracking, reporting, and email marketing features to help your eCommerce business operate efficiently. The CRM tool also enables you to provide better customer support by prioritizing high-value tickets. It alerts your team members whenever a prospect takes any action, enabling timely follow-ups.
What Is Unique About It:
Track website activity for visitors & capture qualified leads

Detailed reports to track business performance

Nurture leads with personalized campaigns
Pricing:
Free plan available

Paid plans start from $30/month
Rating:
6. Nutshell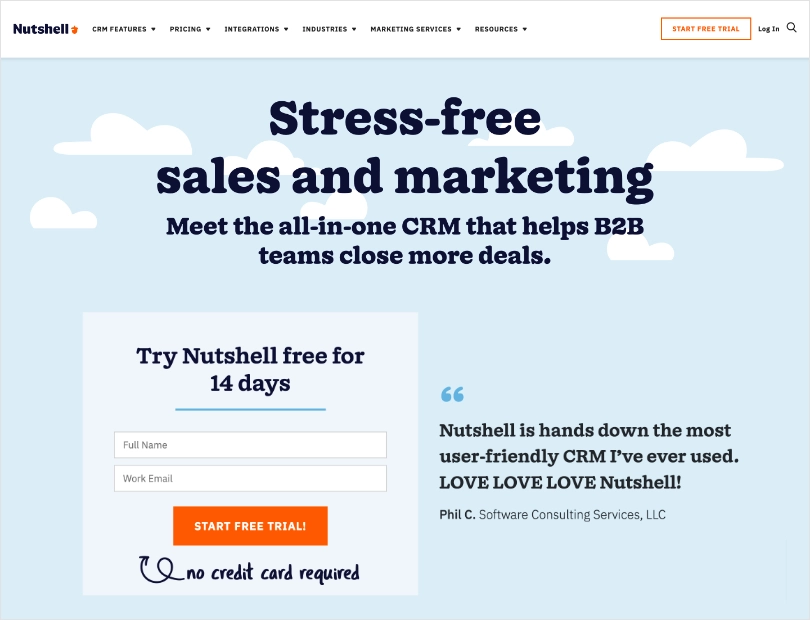 Nutshell is a comprehensive CRM solution offering a broad range of features that can help ecommerce businesses gain a competitive edge. These include contact management, sales automation, and business intelligence. The tool also offers pre-built email templates and automated data logging to help you save time and effort.
What Is Unique About It:
Automate your workflow to reduce manual efforts

Create segmented lists for contacts to drive more targeted interactions

Analyze business performance & make accurate forecasts
Pricing:
Starts from $16/user/month
Rating:
7. Bitrix24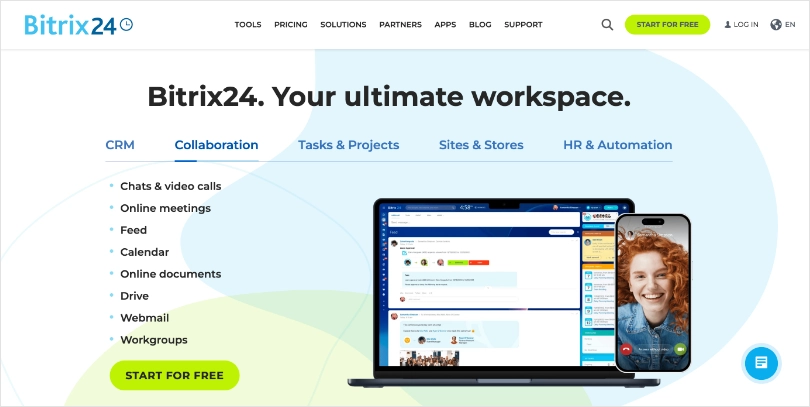 Bitrix24 is one of the best online CRM, offering features like lead generation, inventory management, workflow automation, and pipeline tracking. You can use it to run segment-based marketing campaigns and analyze their performance to optimize future campaigns. The tool also lets you provide instant support to website visitors using a live chat widget.
What Is Unique About It:
Automate workflows to enhance organizational efficiency

Set up retargeting campaigns based on customer information

Manage your stock, inventory, and orders from a single platform
Pricing:
Free plan available

Paid plans start from $49/month
Rating:
8. Pipedrive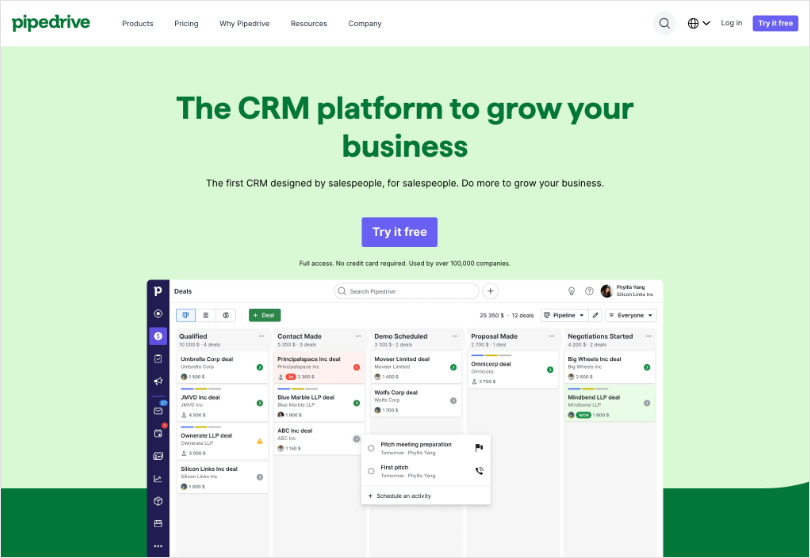 The customizable sales pipeline module of Pipedrive allows you to guide more leads toward conversion. This eCommerce customer relationship management tool provides instant alerts and reminders to help you stay on top of things at all times. Pipedrive also supports several integrations, allowing you to manage everything from a single platform.
What Is Unique About It:
Email templates and scheduling for enhanced engagement

An easy-to-use automation builder

Lead, deal, calendar, pipeline, and communication management
Pricing:
Starts from $9.90/user/month
Rating:
9. Agile CRM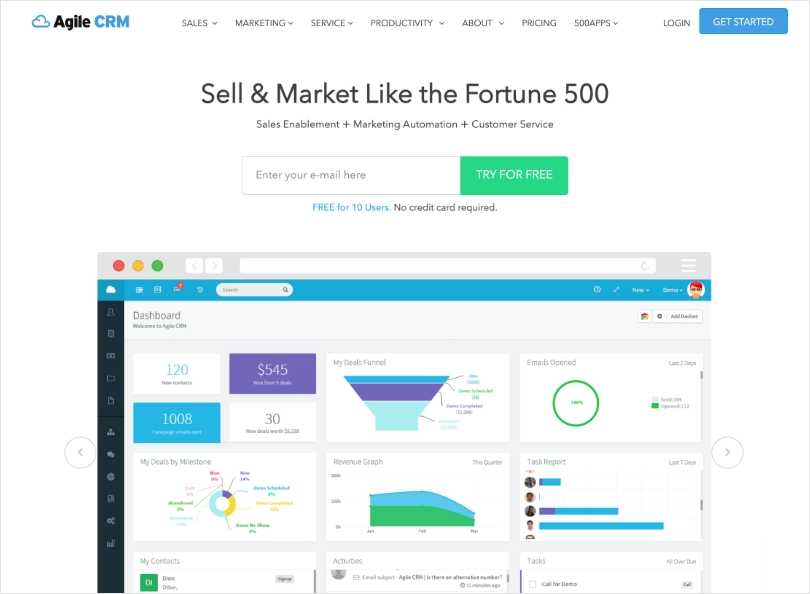 Agile CRM ranks high in the list of the best CRM software for eCommerce list due to its advanced sales enablement and marketing capabilities. The tool offers multiple channels for customer engagement to help you build long-lasting relationships. You can use it to manage deals, predict sales outcomes, and nurture leads.
What Is Unique About It:
Lead prospecting & scoring capabilities

Automated & multi-channel marketing campaigns

Deep insights into customer behavior with CRM analytics
Pricing:
Free plan available

Paid plans start from $9.99/user/month
Rating:
10. Zoho CRM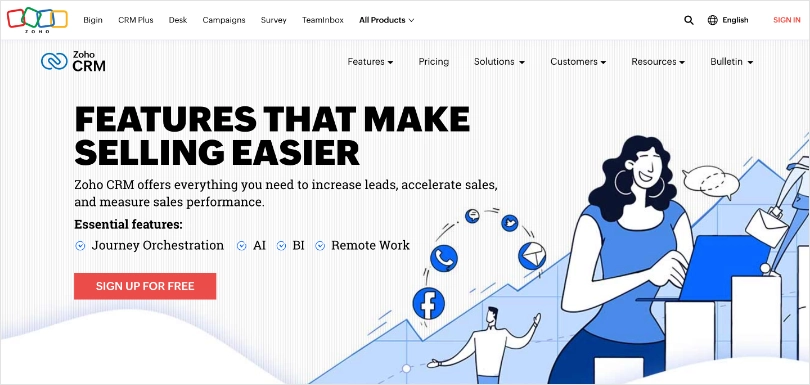 Zoho CRM empowers businesses to take better control of their operations. Online business owners can leverage its powerful automation capabilities to maximize revenue. With streamlined contact management and lead nurturing, the tool can boost sales outcomes significantly. It also offers customizable email templates to help you personalize your outreach efforts.
What Is Unique About It:
Lead & deal prediction to help you focus on the right opportunities

Customer segmentation & marketing attribution

Custom user roles, views, filters, layouts, forms, etc.
Pricing:
Starts from $14/user/month
Rating:
Choosing the Right CRM Software for Ecommerce
Every business has unique expectations and requirements. Therefore, the most suitable tool for a business would vary based on objectives and current challenges.
To find the best CRM for your ecommerce store, you must:
Know Your Objectives
What is it that you wish to achieve from implementing the CRM system?
Finding an answer to this is critical before you begin the CRM comparison. There are a number of reasons why you may need a CRM tool. Whether it's automating the workflow for more efficiency or improving customer engagement, having a clear idea of your primary objectives can help you find the most optimal solution.
Look for Training & Support
Finding out if the CRM tool offers training resources and onboarding assistance is extremely important. Go for a tool that's easy to set up and comes with delightful customer support. This can empower you to make the most of your CRM implementation.
Opt for a Trial
Most CRM tools offer a free trial of the product to help buyers understand its functionality and effectiveness. Use the trial period to determine if the tool meets your specific needs. Pay attention to ease of use, the type of support provided by the vendor, and the customizability of the tool.
All of these features can help you determine if the CRM software would be a good fit for your online store.
Seek Team Feedback
Involve the team members who will eventually use the tool in the selection process. This can help you make more accurate decisions regarding CRM software. Team members' feedback is critical in determining if the tool can address your business's unique challenges. This can help you choose the most effective tool.
Read More: CRM Comparison Guide: The Best Tools for Your Business Growth
How to Integrate CRM With Your Ecommerce Platform
Integrating a CRM system with your Ecommerce platform requires careful planning, selection of the right system, integration method, development, testing, and ongoing optimization. With the steps outlined below, you can ensure that your integration is successful and delivers the desired results for your business.
Identify Your Business Needs
Start by identifying the key requirements of your business.
Consider what you want to achieve through CRM integration and how it will benefit your business. Identify the data that needs to be shared between the two systems, such as customer information, purchase history, and order details.
Select a CRM System
Research and select the best CRM for ecommerce that meets your business requirements. Look for a tool that integrates easily with your ecommerce platform and has the features you need, such as lead management, sales forecasting, and customer segmentation.
Create an Integration Plan
Create a plan that outlines the steps required to integrate your CRM with your ecommerce platform. This plan should include the integration approach, timeline, budget, and resource allocation.
Choose an Integration Method
Choose an integration method that suits your business needs. This can be done through APIs, webhooks, or pre-built connectors. APIs are the most popular integration method as they allow for real-time data exchange.
Develop the Integration
Work with your CRM and ecommerce platform vendors to develop the integration. This may involve custom development, configuration, and testing.
Test the Integration
Once the integration is developed, test it thoroughly to ensure it is functioning correctly. Test the integration with different scenarios and use cases to ensure that data is being shared accurately between the systems.
Train Employees
Train employees on how to use the integrated system effectively. This may involve providing training materials, conducting workshops, and providing ongoing support.
Monitor & Optimize
Monitor the integration performance regularly and optimize it as needed. This may involve making changes to the integration approach or modifying the data flow between the systems.
Rev Up Your Ecommerce Revenue With CRM
With the right CRM tool at your disposal, you can attain more visibility into your business performance.
It's important to note that ecommerce is an ever-changing industry. Therefore, you require an adaptable and scalable eCommerce CRM solution to keep up with market trends and your growing clientele.
The 10 best CRM for ecommerce mentioned above are highly responsive and customizable solutions. Evaluate these tools against your business objectives to find the right software. Keep your long-term growth strategy and current challenges in mind when making this selection.
Make sure to consider the usability, interface, functionality, and integrations of the CRM tool that you choose. For instance, if you need a simple yet effective tool that can increase your profits, BIGContacts is an excellent choice. The tool can optimize your relationships and help your eCommerce business grow significantly with an easy-to-use interface and advanced features.
The best way to make the final decision is to go through the user reviews. Also, make sure to avail the free trial version to get a better idea of the tool's features and functionality.
FAQs
Can CRM Reduce Cart Abandonment Rates?
CRM can help identify the reasons why customers are abandoning their carts, such as high shipping costs, complicated checkout process, or lack of payment options. It can also help personalize interactions, encouraging customers to make the final purchase decisions.
What Are The Top Integrations To Consider When Choosing Crm For E-commerce?
When looking for a CRM system to support your online business, you need to look for integrations such as:
Payment gateway integrations

Email marketing tools

Inventory management tools

Customer service solutions

Business intelligence software
How Can Ecommerce Businesses Ensure Data Privacy And Security When Using A Crm?
Some measures that can help ecommerce businesses ensure data privacy and security are:
Choose a CRM vendor that is compliant with data privacy regulations such as GDPR.

Use two-factor authentication, IP whitelisting, encryption, password protection, etc.

Set up user access roles & permissions.

Regularly monitor the system for potential security threats.