Attracting, converting, and retaining customers is the number one objective of any business enterprise. 
A dedicated tool for managing customer interactions and relationships can help achieve this effortlessly. 
Ecommerce businesses have to function in a fiercely competitive marketplace. 
As a result, the success of an enterprise comes down to how satisfied its customers are. 
CRM tools are designed to help businesses take better control of their collected data and utilize it to enhance customer experiences.
Whether your objective is to boost sales, retain more customers or enhance team productivity, a CRM tool can help you achieve it effortlessly.
However, you need to find the most optimal CRM solution for your eCommerce business to see actual profits.
This blog highlights the significance of having a dedicated CRM system to manage your eCommerce store. It also includes a list of the 12 best CRM software for eCommerce that can empower your online business.
CRM for Ecommerce
Managing customer relationships is a critical business aspect.
Keeping track of all customer relationships can be challenging for eCommerce businesses with such a broad consumer base. 
This brings forward the importance of having effective customer relationship management software.
CRM software tools help businesses keep track of customer data and leverage it to provide more value to their customers. 
 It helps keep all contact details, emails, transactions, notes, etc., stored in one place.
But what is the significance of customer relationship management in eCommerce?
Businesses across all industries can benefit from the implementation of a CRM solution. 
CRM for eCommerce is a dedicated technology that involves keeping track of all customer data for online stores. It helps craft more personalized buying experiences, which drives business growth. 
For instance, you can use CRM software for eCommerce to track buying behavior, preferences, previous communications, interests, social media activity, etc., of your customers. This data can help identify the perfect selling opportunities and enable you to make more sales. 
Why Do You Need CRM for Ecommerce?
CRM eCommerce integration can help sellers visualize buyer journeys and track customers' preferences, habits, expectations, etc. This can contribute to increased profitability since customers receive more personalized services.
The average ROI for CRM is  $8.71 for every $1.
This shows that CRM can be a valuable investment for any online business.
Here are the most significant advantages offered by CRM software for eCommerce:
1. Better Targeting 
With contact data stored in one place, you can easily personalize your messages and make them more relevant for your audience. By offering more useful information to the customers, you can earn credibility and form better relationships.
2. Improves Conversion Rate
Timely follow-ups, effective lead tracking, and personalized outreach result in an improved bottom line. CRM can boost the conversion rate of your eCommerce business by improving engagement and providing delightful customer experiences. 
3. Up-Selling Opportunities
A significant advantage of using CRM for eCommerce is that it helps you retain customers and provides access to up-selling opportunities. You can easily track previous sales and offer relevant offers to encourage your existing customers to make repeat purchases. 
4. Builds Brand Loyalty 
Building a reputable brand image is critical for any eCommerce business. You can use a CRM tool to improve customer satisfaction. For instance, you can offer rewards to your most loyal customers using data from the CRM system.
5. Understand Customers' Needs 
CRM integration with eCommerce provides you the opportunity to understand your customers better. You can use it to track purchasing behavior of your customers and utilize this information to optimize your selling strategy. 
6. Accurate Forecasting
With actionable insights from CRM reporting & analytics, you can make more accurate business decisions and plan for the future. An effective CRM system offers deep analytics to track various business activities and identify areas of improvement.
What Can CRM Do for Your Ecommerce Business?
With a reliable CRM tool in place, you can build stronger customer relationships by making the customers feel valued and heard. 
Furthermore, it can boost internal productivity by streamlining business processes and bringing all divisions together. 
Here are various functionalities that CRM database software provides-
1. Automates Processes 
You can use a CRM system to create automated workflows. These workflows avoid unnecessary delays and are automatically triggered based on actions taken by the customers. 
Automation of repetitive tasks can save time and keep things moving at all times.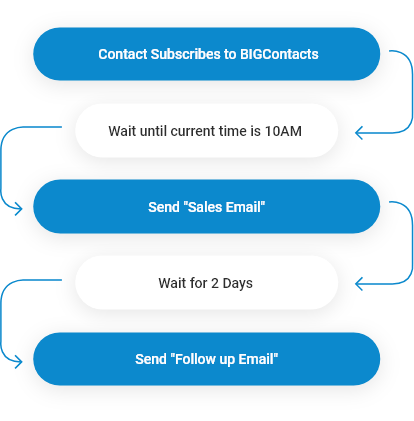 2. Integrates With Other Tools 
A powerful CRM system that offers multiple integrations can help you manage all business processes from a single platform. This reduces inaccuracies and makes for more efficient business operations. 
3. Organizational Efficiency 
Centralized access to data improves organizational efficiency. All the team members can collaborate better by sharing data and updates effortlessly. Additionally, you can define roles and permissions for each user in the CRM system. This further contributes to increased data security. 
4. Work on the Go
Mobile CRM enables you to access contact data from any device quickly. This remote access prevents leads from falling through the cracks by helping you get in touch with prospects at the most suitable time.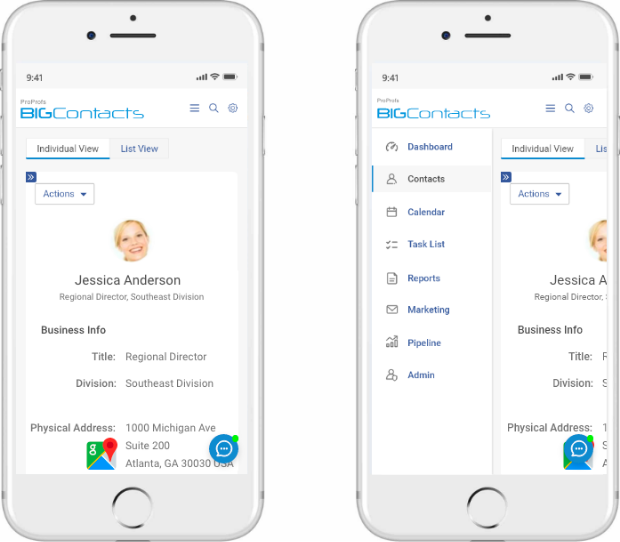 5. Generate Reports
You can use CRM to generate custom reports that help you measure the effectiveness of your business processes. Track any relevant metrics to get deeper visibility into the performance of your online store.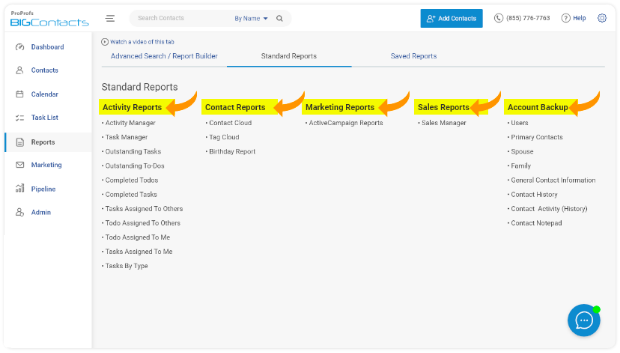 6. Track Activities
Team and individual calendar views enable you to track every upcoming activity easily. Automated reminders and instant alerts contribute to enhanced day-to-day productivity and prevent important deadlines from getting missed. 
Finding the Right CRM
While you may get tempted to go with a CRM system that is popular simply, it might end up being a wastage of time and resources for your business. 
Every business has unique expectations and requirements. 
Therefore, the most suitable tool for a business would vary based on their objectives and current challenges. 
To find the best CRM for your business, you must:
1. Know Your Objectives
What is it that you wish to achieve from implementing the CRM system?
Finding an answer to this is critical before you begin the CRM comparison. There are a number of reasons why you may need a CRM tool. Whether it's automating the workflow for more efficiency or improving customer engagement, having a clear idea of your primary objectives can help you find the most optimal solution. 
2. Look for Training & Support
Finding out if the CRM tool offers training resources and onboarding assistance is extremely important.
Go for a tool that's easy to set up and comes with delightful customer support. This can empower you to make the most of your CRM implementation.  
3. Opt for a Trial
Most CRM tools offer a free trial of the product to help buyers understand the functionality and effectiveness.
Trying the tool for yourself can help you identify if it delivers what it promises. 
You can use the trial period to determine if the tool meets your specific needs. Pay attention to ease of use, the type of support provided by the vendor, and the customizability of the tool. 
All of these features can help you determine if the CRM software would be a good fit for your online store. 
4. Seek Team's Feedback
Involve the team members who will eventually use the tool in the selection process. This can help you make more accurate decisions regarding CRM software. 
Team members' feedback is critical in determining if the tool can address your business's challenges. This can help you choose the most effective software that meets your exact requirements. 
Our Selection Criteria
Ecommerce businesses need a highly responsive and adaptable CRM to see actual results in their profits. 
Finding the right option from common CRM systems can be a daunting task. 
To help you with the decision, we have compiled a list of the 12 best tools that can help online businesses maximize their profitability and build a stronger customer base. 
These tools have been selected based on their:
1. User Reviews
To better understand the usability of the CRM tools, we have considered reviews and ratings from existing customers. 
2. Scalability 
We have included the most scalable tools in our comparison list to ensure that you find a tool capable of growing with your business expansion. 
3. Value for Money 
Choosing a cost-effective CRM solution is extremely critical. The tools included in this list offer great value for their price.
4. Functionality 
These tools are highly functional and offer advanced capabilities to streamline your business operations. 
Overview of the Best CRM for Ecommerce
Let's look at the pricing and key features of the best CRM eCommerce tools.
Software
Features
Pricing
BIGContacts
Webform connection
Drip emails
Activity calendar
Instant alerts
Custom fields & views
BIG- $5/user/month
BIGGER- $15/user/month
BIGGEST- $25/user/month
ENTERPRISE- Custom pricing
Freshworks
Internal alerts
AI-based recommendations
Email integration
Custom user roles
Lead capturing
Free version

Paid plans starting from $15/user/month
Pipedrive
Pipeline management
Drag & drop UI
Automated workflow
Insightful reports
Activity reminders
Starting from $12.40/user/month
Copper
Google workspace integration
Opportunity tracking
Custom workflows
Pipeline management
Reporting & analytics
Starting from $25/user/month
Zoho CRM
Sales prediction
Omnichannel engagement
Marketing automation
Collaboration Tools
Deal tracking
Free for 3 users

Paid plans starting from $14/user/month
HubSpot
Lead prospecting
Visual pipeline
Email marketing
Contact management
Data synchronization
Unlimited free plan

Paid versions starting from $45/month
Salesforce
Cloud-based access
Reporting & analytics
Email campaign management
Sales forecasting
Real-time alerts
Starting from $25/user/month
Creatio
Lead management
Sales automation
Sales forecasting
Collaboration & productivity tools
Starting from $30/user/month
Keap
Email marketing
Payment processing
Sales pipeline tracking
Drag & drop UI
Revenue forecasting
Starting from $56/month
Monday.com CRM
Visual sales pipeline
Activity timelines
Email marketing
Automated workflows
Mobile & offline access
Free for 2 users

Paid versions starting from $8/user/month
Agile CRM
Deal tracking
Reporting
Calendar view
Marketing automation
Mobile CRM
Free for 10 users

Paid versions starting from $14.99/user/month
BigCommerce
Customizable modules
Drag & drop editor
Personalized marketing
Social media integration
Online store builder
Starting from $29.95/month
Top 12 Ecommerce CRM Software for Your Online Business
Here is a detailed comparison of the 12 best CRM software for eCommerce that you can opt from.
1. BIGContacts
Designed for simplicity, BIGContacts is one of the most effective CRM eCommerce software you can implement for your online store. You can use it to manage your invoices, capture leads, and build a custom workflow for your team. BIGContacts task tracking and automated reminders make it a powerful tool for boosting organizational productivity. The reporting and analytics capabilities of the tool provide valuable insights into business performance and help identify ways to improve it. Furthermore, the tool has a great customer support team available 24×7 via chat, call, or email.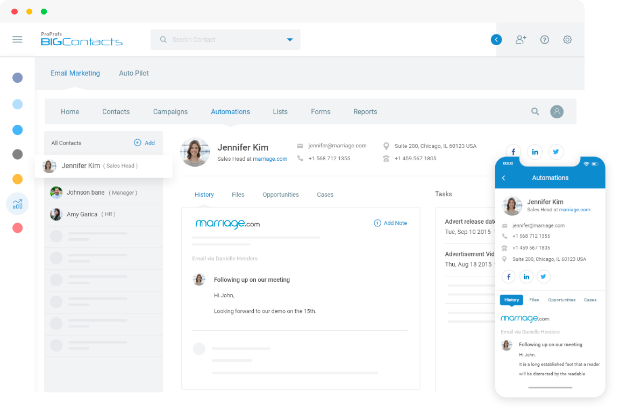 Key Features of BIGContacts CRM:
Automated tasks

Sales pipeline management

Smart reports

Email integration

Mobile CRM
Popular Integrations for Bigcontacts CRM:
ActiveCampaign

Skype

Webform Connector

Mailchimp

Zendesk
How Much Does BIGContacts CRM Cost?
Free Plan: No
BIG- $5/user/month 

BIGGER- $15/user/month 

BIGGEST- $25/user/month

ENTERPRISE- Custom pricing
Pros
Cons

Delightful support

Customizable modules 

Mobile CRM requires a better interface 

Search feature could be more intuitive
BIGContacts CRM's score on Capterra.com: 4.3/5
BIGContacts CRM's Score on G2.com: 4.4/5
2. Freshworks CRM
Freshworks can boost your customer engagement by helping you track all previous interactions and identify ways to improve in the future. This AI-enabled eCommerce customer service software provides you with powerful capabilities such as pipeline tracking and workflow automation. With Freshworks, you can track activity timelines, prioritize high-value prospects and predict sales outcomes. The tool also provides email and report templates to save your time. You can rely on Freshworks to provide deeper insights into your business processes and drive more meaningful conversations with your customers.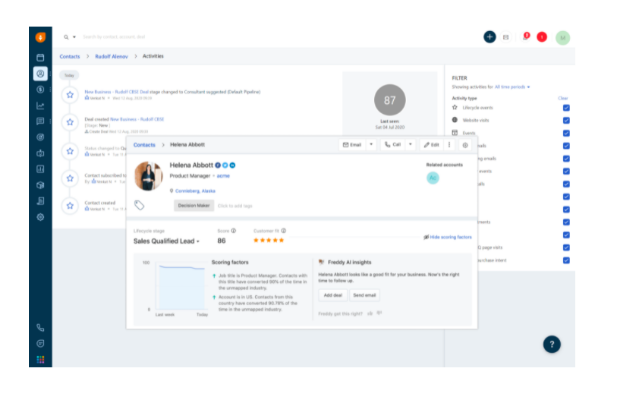 Key Features of Freshworks CRM:
Artificial intelligence

Pipeline management

Automatic profile enrichment

Standard reporting templates 

Deal tracking 
Popular Integrations for Freshworks CRM:
Zapier

QuickBooks

Outlook

Xero

DocuSign
How Much Does Freshworks CRM Cost?
Free plan- Yes 
Starts from $15/user/month
Pros
Cons

Instant alerts & notifications

Intelligent reports 

Better integrations are required

The mobile app needs improvement
Freshworks CRM's score on Capterra.com: 4.6/5
Freshworks CRM's Score on G2.com: 4.5/5
3. Pipedrive
If you are looking for CRM tools for startups that help you visualize the position of all your prospects, Pipedrive is worth a try. The customizable sales pipeline module of Pipedrive allows you to guide more leads toward the purchase stage. This eCommerce customer relationship management tool provides instant alerts and reminders that enable you to stay on top of things at all times. With valuable insights into your online business, you can make more accurate decisions. Pipedrive's powerful integrations allow you to manage all aspects of your online business from a single platform.

Key Features of Pipedrive CRM:
Lead management

Marketing automation 

Sales pipeline management

Communication tracking 

Mobile access 
Popular Integrations for Pipedrive CRM:
Zapier

Lemlist

LinkPort

Microsoft Teams 

Verticalls
 How Much Does Pipedrive CRM Cost?
Free plan- No
Starts from $12.40/user/month 
Pros
Cons

Easy implementation 

Activity tracking & notifications

Performance lags for large data volumes

A/B testing for campaigns is missing
Pipedrive CRM's score on Capterra.com: 4.5/5
 Pipedrive CRM's Score on G2.com: 4.3/5
4. Copper CRM
Maximize your sales by managing deals more effectively using Copper CRM. Ecommerce businesses can use this tool to tag customers and create more personalized shopping experiences. Automated custom workflows with recurring tasks can boost productivity and help make more sales in less time. Copper CRM empowers businesses to focus more on building strong customer relationships by eliminating busy work. The powerful reporting module of the tool provides valuable business insights that propel growth.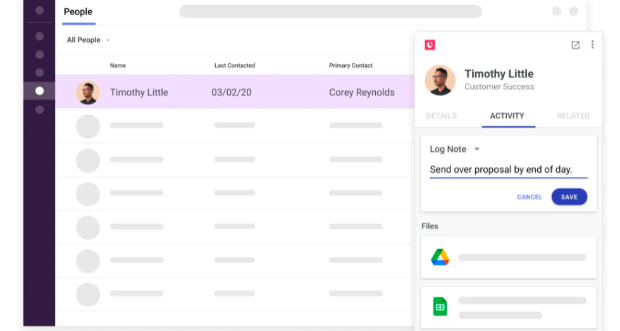 Key Features of Copper CRM:
Task automation

Google workspace integration

Custom reports 

Contact management 

Targeted outreach 
Popular Integrations for Copper CRM:
Slack

Zendesk

Xero

QuickBooks

Mailchimp
How Much Does Copper CRM Cost?
Free plan- No
Starts from  $25/user/month 
Pros
Cons

Lead tracking with sales pipeline

Project management capabilities 

Customization is limited

Outside Google Workspace, the tool's functionality can be restrictive 
Copper CRM's score on Capterra.com: 4.4/5
Copper CRM's Score on G2.com: 4.5/5
5. Zoho CRM
Zoho CRM empowers businesses to take better control of their operations. Online business owners can leverage the capabilities of Zoho CRM to maximize revenue. With streamlined contact management and powerful lead nurturing features, Zoho CRM can help boost sales outcomes. The tool offers customizable email templates that can help you personalize your outreach efforts.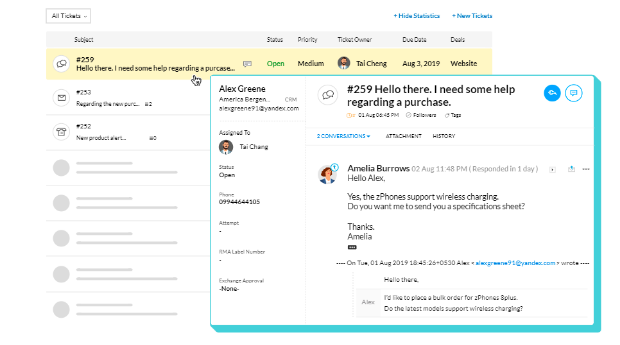 Key Features of Zoho CRM:
Deal prediction

Social media integration

Real-time alerts 

Lead nurturing 

Marketing automation
Popular Integrations for Zoho CRM:
GSuite

Office365

Shopify 

Slack 

Mailchimp
How Much Does Zoho CRM Cost?
Free Plan: Yes 
Starts from $14/user/month 
Pros
Cons

Sales & revenue forecasting

Customer segmentation 

Interface requires improvement 

Requires technical support & extensive training 
Zoho CRM's score on Capterra.com: 4.3/5
Zoho CRM CRM's Score on G2.com: 4.0/5
6. HubSpot 
HubSpot offers a broad range of tools that help improve business performance. One of the most popular of these is Hubspot CRM software. The tool has a completely free version, making it a great choice for beginners. HubSpot offers pipeline management, activity tracking, reporting, and email marketing features to help your eCommerce business work more efficiently. The CRM tool also enables you to provide better customer support by prioritizing high-value tickets. It alerts your team members whenever a prospect takes any action, allowing them to follow up more effectively.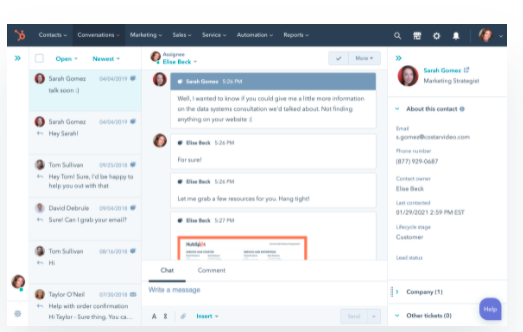 Key Features of Hubspot CRM:
Contact profile enrichment 

Opportunity tracking

Marketing automation

Ticketing system

Pipeline management
Popular Integrations for Hubspot CRM:
Freshdesk

Overloop

Reev

Calixa

EasyCalendar
How Much Does Hubspot CRM Cost?
Free plan: Yes
Starts from $45/month 
Pros
Cons

Data synchronization

Detailed reports 

The free version offers limited functionality

Steep pricing structure 
Hubspot CRM's score on Capterra.com: 4.5/5
Hubspot CRM's Score on G2.com: 4.4/5
7. Salesforce
Salesforce allows you to craft a comprehensive buying experience that considers all the requirements of the customers. You can track all the information related to your prospects in one place using Salesforce. This intuitive CRM tool offers recommendations to help optimize your eCommerce management efforts. Being highly scalable, Salesforce can be a great partner to grow your online business. Cloud-based access to CRM data allows you to work even when you are out of the office, so important deadlines are never missed.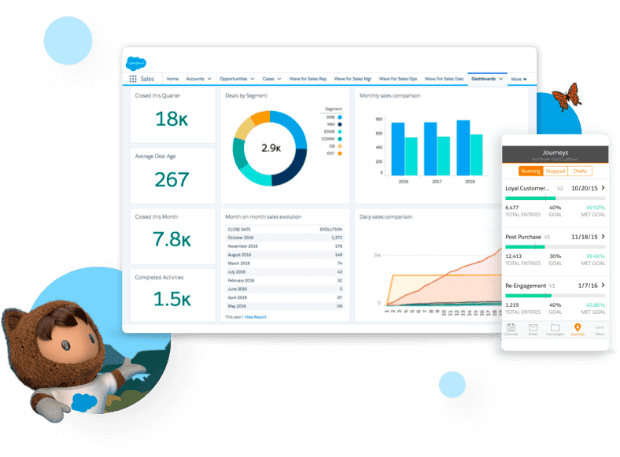 Key Features of Salesforce CRM:
Personalized marketing

AI-powered platform

Automation of repetitive tasks 

Remote access 

Activity tracking 
Popular Integrations for Salesforce CRM:
Slack

QuickBooks

Mailchimp

ActiveCampaign 

JIRA
How Much Does Salesforce CRM Cost?
Free Plan: No
Starts from $25/user/month 
Pros
Cons

AI-based recommendations

Real-time analytics 

Pricing is expensive 

Overwhelming design for small businesses 
Salesforce CRM's score on Capterra.com: 4.4/5
Salesforce CRM's Score on G2.com: 4.2/5
8. Creatio 
Craft exceptional buying experiences for your customers using Creatio. This tool allows you to improve your targeting efforts and build stronger relationships with your customers. You can use Creatio to build and run email campaigns that help guide leads to the final purchase decision. The tool enables you to qualify prospects and assign them to sales representatives on time. Creatio allows you to monitor the behavior of your prospects and utilize this intel to modify your outreach strategy.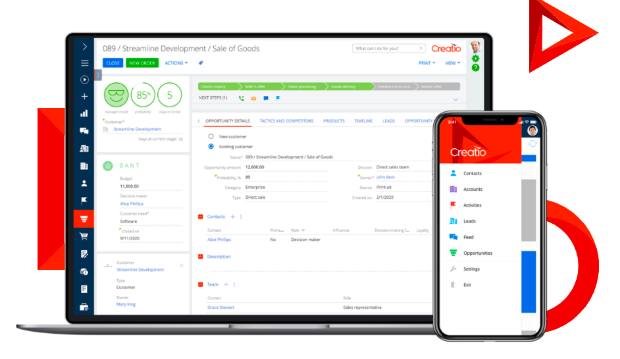 Key Features of Creatio CRM:
Lead qualification 

Customer segmentation

Email marketing

Real-time progress tracking

Custom alerts 
Popular integrations for Creatio CRM:
Leadinfo

Mailchimp

Dotmailer

SurveyMonkey

Infobip 
How Much Does Creatio CRM Cost?
Free Plan: No
Starts from $30/user/month
Pros
Cons

Reliable customer support

Easy and intuitive UI

Better training resources are required 

More advanced filtering options are needed
Creatio CRM's score on Capterra.com: 4.8/5 
Creatio CRM's Score on G2.com: 4.6/5
9. Keap
Make more sales using Keap for your eCommerce business management. This CRM software for ecommerce simplifies customer relationship management, allowing you to get access to re-selling opportunities. You can personalize interactions to gain more loyalty and grow your business. With Keap, you can generate invoices and manage all business transactions without relying on any third-party software. You can use the tool to automate follow-ups with leads and, consequently, improve your conversion rate.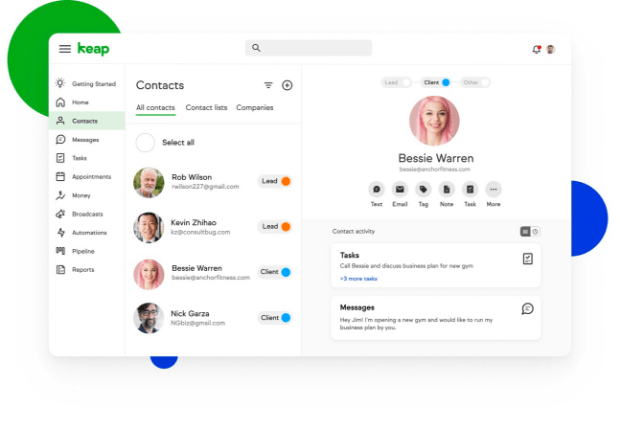 Key Features of Keap CRM:
Automated follow-ups

Invoicing capabilities

Customized checkout options

Payment processing
Popular integrations for Keap CRM:
Typeform

Wistia

WordPress

Zapier

ThriveCart
How Much Does Keap CRM Cost?
Free Plan: No
Starts from $56/month
Pros
Cons

Automatic lead capturing

Highly customizable 

Reporting module needs improvement 

Lack campaign testing 
Keap  CRM's score on Capterra.com: 4.1/5
Keap  CRM's Score on G2.com: 4.0/5
10. Monday.com CRM 
With monday.com, you can track all sales opportunities easily. You can manage your leads, emails, activities, and other important details from a single platform using monday.com. Track the movement of leads through the sales funnel and nurture leads effectively. Custom dashboards allow you to keep a close eye on your goals, current progress, and team members' performance. Additionally, mobile access to data provided by monday.com makes it easy to work on the go.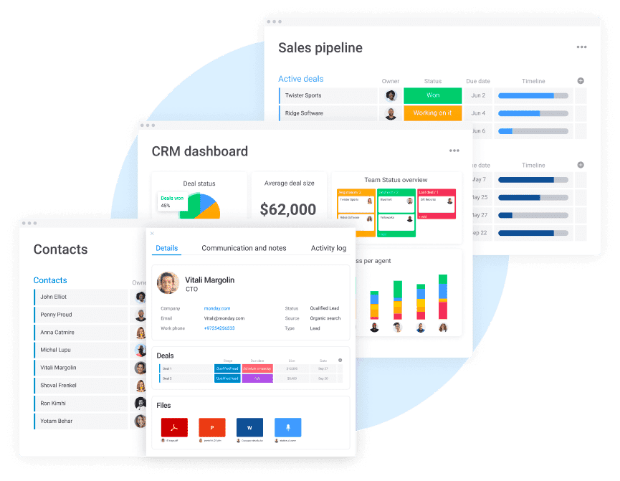 Key features of Monday.com CRM:
Sales pipeline management 

Workflow automation

Custom alerts

Leap capturing 

Drag & drop UI
Popular integrations for Monday.com CRM:
Slack

Outlook

Zapier

Shopify

Woocommerce
How Much Does Monday.com CRM Cost?
Free Plan: Yes
Starts from $8/user/month
Pros
Cons

Customizable templates

Remote access to data 

Limited reporting capabilities

UI needs improvement 
Monday.com  CRM's score on Capterra.com: 4.6/5
Monday.com CRM's Score on G2.com: 4.7/5
11. Agile CRM
Agile CRM ranks high in the best CRM software for eCommerce list due to its advanced sales enablement and marketing capabilities. The tool offers multiple channels for customer engagement to help you build long-lasting relationships. Agile CRM also offers prospecting tools to help you gain access to better leads for your business. You can use this tool to manage deals, predict sales outcomes and nurture leads with email campaigns. It also enables you to manage and resolve support tickets efficiently.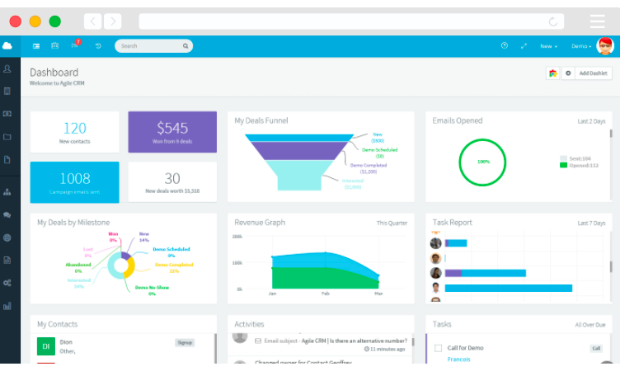 Key Features of Agile CRM:
Customer segmentation

Social CRM

Email tracking

Contact management

Multi-channel engagement 
Popular integrations for Agile CRM:
Twitter

Zendesk

Google apps

Twilio

QuickBooks
How Much Does Agile CRM Cost?
Free Plan: Yes
Starts from $14.99/user/month
Pros
Cons

Lead scoring

Bulk actions

UI needs improvement

Better training modules are required
Agile CRM's score on Capterra.com: 4.1/5
Agile CRM's Score on G2.com: 4.0/5
12. BigCommerce
A comprehensive eCommerce management system such as BigCommerce helps you craft personalized customer experiences. This tool drives customer engagement and loyalty to maximize your profitability. BigCommerce is a leading online store management tool that allows you to take your products and services to a wide audience. This brings in more traffic, which can be leveraged to improve your sales results. The advanced marketing capabilities of BigCommerce make it a powerful tool for managing your online presence.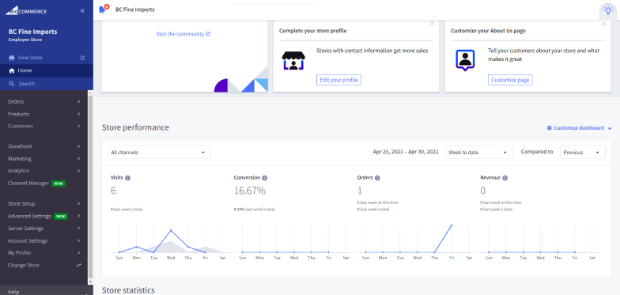 Key features of BigCommerce:
Customer segmentation

Social media integration

Email marketing

Sales tracking

Advanced search 
Popular integrations for BigCommerce CRM:
QuickBooks

Mailchimp

SmartrMail

Justuno

ShipperHQ
How Much Does BigCommerce CRM Cost?
Free Plan: No
Starts from $29.95/month
Pros
Cons

Intuitive interface 

Several third-party integrations

Some features are confusing and require technical assistance

Some reports can be challenging to pull
BigCommerce CRM's score on Capterra.com: 4.3/5
BigCommerce CRM's Score on G2.com: 4.0/5
Grow Your Ecommerce Sales With the Right CRM!
With the right CRM tool at your disposal, you can attain more visibility into your business performance. This enables you to make better decisions and advance your business growth. 
A critical thing to consider when selecting a CRM for eCommerce is to focus on scalability. 
Ecommerce is an ever-changing industry. 
Therefore, you require an adaptable and scalable eCommerce CRM solution to keep up with market trends and your growing clientele. 
The 12 best CRM software for ecommerce businesses mentioned above are highly responsive and customizable. To find the most optimal CRM solution, you can evaluate these tools against your needs.
The most effective tool for your business can only be chosen by keeping your long-term growth strategy and current challenges in mind. 
Make sure you look into the usability, interface, functionality, and integrations of the CRM tool that you choose. The best way to make the final decision is to go through the user reviews and demo offered by the tool. Also, make sure to avail the free trial version to get a better idea of the tool's features and functionality. 
If you need a simple yet effective tool that can increase your profits, BIGContacts is an excellent choice. BIGContacts can optimize your relationships and help your eCommerce business grow significantly with an easy-to-use interface and advanced features.