Shopify is one of the most effective tools for taking your business online.
However, it cannot solely help you build and maintain relationships with your customers.
To create more delightful experiences for prospects and customers, you must invest in a CRM that collates their information, making it easily accessible for you. The best CRM for Shopify can keep your data well-organized, helping you leverage it for improved productivity.
CRM, originally designed to track customer interactions, now encompasses a broad scope of business functionality, ranging from marketing automation to reporting. It is nearly impossible to track all customer data without an effective CRM system in place.
But-
How does CRM fit into your Shopify store?
Which CRM offers easy integration with Shopify?
How to choose CRM software for your online business?
These are some questions that this blog strives to answer. Read on to find out the 7 best CRM that you can integrate with Shopify. Compare their features against your business needs to find the perfect solution for your organization.
What is Shopify?
Shopify helps set up a fully-functional online store to grow your business. This e-commerce solution provider saves you from building a business website from scratch. Shopify offers a wide range of functionalities that enable you to take your products and services to a global audience. With the Shopify email automation and other benefits it offers, Shopify is a beloved platform by eCommerce brands
Some of these features include:
Unified sales platform to

manage sales opportunities

easily

Built-in marketing tools to help take your business to more people

Manage orders and payments from a single payment

Business reports and insights

Customizable templates for websites that save a lot of time
What is CRM?
Customer relationship management software improve interactions with customers, helping build long-lasting relationships. By keeping all data, emails, notes, and files stored centrally, CRM can help your team work more efficiently.
Essentially, it automates repetitive tasks, contributing to better utilization of time and resources.
With an effective CRM system, you can manage tasks, deliver personalized emails and set up drip campaigns to improve lead nurturing. It also helps analyze business performance and trends. Intelligent reports provide you visibility into business data, enabling you to be better prepared for the future. You can also set up instant alerts for your team. Furthermore, with a mobile CRM, all the customer information is remotely accessible.
Read More: 12 Best CRM Software for Ecommerce Businesses
Why Do You Need CRM Software for Shopify?
Having talked about the various features that CRM has to offer, let's now take a look at how Shopify CRM integration can be advantageous to your business.
Know Your Customers
Keeping track of customer data can be a challenging ordeal.
Performing this task manually through spreadsheets can be cumbersome and inefficient. Therefore, you need a CRM system that automatically tracks and updates your customer data.
CRM helps collect your customer data and uses it to build comprehensive profiles that can be accessed anytime during the buying process. These contact profiles can help identify customer details, needs, and preferences. So you'll know exactly what deals and promos to share, which communication channel to use, and when to reach out to them.
Increase Customer Retention
The probability of reselling to existing customers is almost 70%, demonstrating the importance of customer retention.
Businesses that focus on customer retention are likely to outperform their competitors. This is because they get access to up-selling and cross-selling opportunities.
Integrating CRM and Shopify can help your business accomplish this. You can use it to keep existing customers engaged and reach out to them at the perfect opportunity. With a detailed overview of previous interactions, purchasing history, and buying preferences, you can optimize your selling pitch and provide more personalized experiences to customers.
Improve Marketing Effectiveness
This integration not only helps you keep customers returning to your business but also helps you reach new customers.
CRM helps you define a clear marketing strategy based on the customers' behavior and their engagement level with your business. It also helps you automate various aspects of your marketing efforts, helping you reach a broader audience quickly.
The overall effectiveness of your marketing efforts can be enhanced by combining the capabilities of a powerful CRM tool and Shopify.
Deliver Delightful Experiences
Deliver delightful experiences with a better understanding of customer needs and expectations.
When customers feel valued, they are more likely to stay associated with your business for a long time. Creating delightful customer experiences can help your business achieve a credible position in the marketplace. By building a loyal customer base, you can maximize your selling potential and bring in more revenue.
Improve Team Productivity
CRM Shopify integrations help foster team collaboration. Bringing all teams to a single platform helps them work together. With improved transparency, easy sharing, and instant access to data, every department can function more efficiently. This can eliminate errors or inconsistencies, leading to enhanced organizational productivity.
Since the information is automatically updated and centrally accessible, all the team members can stay on the same page at all times. You can also define custom user roles to ensure the security of data. The integration also enables you to track customer activity timelines so your representatives can follow up with them at the right time.
Automate Tasks & Reminders
The most critical aspect of e-commerce is customers.
You can also automate routine e-commerce tasks to help free up more time for your team members to focus on customer engagement. By automating time-consuming activities such as data entry and follow-up emails, you can help your team members be more productive with their time. The best CRM for Shopify enables you to automate reminders and create custom workflows for your team.
Analyze Business Performance
CRM for Shopify can help you leverage business data more efficiently. By analyzing this data and getting actionable insights, you can improve your profits considerably.
For instance, you can use reports to track sales goals, view the most engaged contacts, and identify untouched leads. Such improved visibility into business data can help you utilize your time and resources more judiciously.
The Best CRM Solutions for Shopify- a Quick Look
Here's a quick overview of the best CRM software integration for Shopify.
Software
Key Features
Pricing
BIGContacts
Pipeline management
Marketing automation
Reporting templates
Mobile access
Starts from $5/user/month
Pipedrive
Lead management
Pipeline tracking
Reporting & analytics
Workflow automation
Starts from $12.50/user/month
Agile CRM
Email marketing
Contact management
Project management
Instant alerts & notifications
Starts from$8.99/user/month
HubSpot
Reporting dashboard
Sales pipeline
Ticketing system
Email marketing
Starts from $45/month
Salesforce
Marketing automation
AI-based recommendations
Lead management
Cloud-based CRM
Starts from $25/user/month
Zoho CRM
Sales prediction
Contact management
Workflow automation
Mobile CRM
Starts from $14/user/month
Zendesk Sell
Email tracking & intelligence
Segmented lists
Reporting & analytics
Sales forecasting
Starts from $19/user/month
Our Selection Criteria
Combining the capabilities of Shopify and CRM can help you analyze your customers' purchasing behavior. This data allows you to personalize marketing campaigns and improve the sales process for increased conversions.
However, you must invest in the most suitable software to achieve this.
With the wide range of options available, finding the right tool can be a hassle. To aid the selection process, we have compiled a list of the 7 best CRM for Shopify that integrate seamlessly with Shopify.
The factors that we have taken into account for this comparison include-
Pricing:

The tool's affordability is a primary consideration for all businesses. Therefore, we have considered the price per user and additional costs associated with the tools for this comparison.

Functionality:

We have considered various features such as pipeline, contact management, reports, and integrations offered by these CRM tools.

Usability: For a CRM tool to be effective, it must be simple to use. We have included the most straightforward applications that do not unnecessarily complicate the job or add to your team's workload.
Scalability:

To ensure that you find a tool that grows with your business, we have included the most scalable CRM software in this comparison.

Ratings & Reviews:

We have considered the user reviews and ratings of these tools from credible software comparison websites such as G2 and Capterra.
7 Best Shopify CRM Solutions
Shopify CRM integration provides businesses the ability to drive more personalized experiences for their customers.
Here are the 7 best CRM for e-commerce that offer seamless integration with Shopify.
1. BIGContacts
BIGContacts is an intuitive CRM for Shopify that offers a powerful suite of features for improving customer experience and team productivity. This easy-to-use CRM with marketing automation and pipeline tracking helps you make the most of every opportunity.
By connecting BIGContacts with Shopify, you can manage your leads more effectively and nurture them into customers. You can access purchase history, buying preferences, transactions, emails, and notes in a centralized location, allowing you to offer more personalized services. Furthermore, the CRM platform also offers customizable reports, providing you with better visibility into your business processes.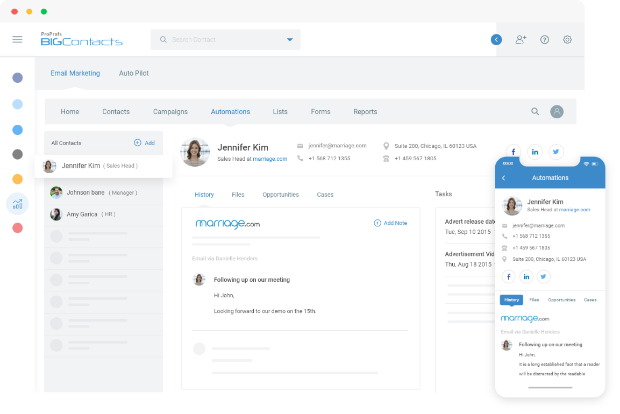 Key Features:
Automate tasks and reminders to meet deadlines consistently

Set up personalized drip email marketing campaigns

Track and manage leads easily with a

visual sales pipeline

, including custom stages

Access reporting templates or customize the reports to track team performance and effectiveness of marketing campaigns

Work on the go with mobile access to your customer data
Suitable For:
BigContacts is designed for small and medium businesses looking for a simple way to manage their customer relationships and scale their operations.
Pricing:
Big- $5/user/month

Bigger- $15/user/month

Biggest- $25/user/month

Enterprise- Custom pricing
Pros:
Prompt and reliable customer support available 24×7 via chat, call, and email.

Powerful integrations including ActiveCampaign, 123 Form Builder & Mailchimp.
Cons:
The mobile app needs a better interface and more advanced functionality.

The search feature could be more user-friendly and intuitive.
Final Word:
BIGContacts is an excellent choice if you require a hassle-free CRM to integrate with Shopify. The scalability and extensive customization make it a reliable solution for online businesses of all sizes and types.
Rating: 4.4 stars on G2 (Based on 66 reviews)
Pipedrive is a sales CRM software for e-commerce that can be connected with Shopify to grow your revenue. The tool offers robust pipeline management, allowing you to track the movement of every sales lead. Additionally, Pipedrive enables you to automate your workflow, helping your team to be more productive.
With the analytics capabilities of this CRM tool, you can identify actions that bring in more profitable outcomes for your online store. Use the tool to track previous interactions with your customers to get actionable insights into improving upcoming engagement.

Key Features:
Capture and store leads in one place to make management easier

View reports to monitor team performance and make forecasts

Synchronize your inboxes to manage all communications from a single platform

Schedule activities and make calls directly from the CRM tool

Get intelligent recommendations and insights to improve your customer experiences
Suitable For:
Pipedrive is designed for effective usage by salespeople to convert more leads into long-term customers.
Pricing:
Starts from $12.50/user/month
Pros:
Simply drag and drop opportunities in your pipeline to keep their position updated.

Prevent threat to customer data with authorized access and user login tracking.
Cons:
Better training resources are needed for the tool.

More fully-functional integrations are required.
Final Word:
Pipedrive is a sales-oriented CRM that helps you manage and track all activities related to the sales process. Overall, the tool can be an excellent addition to Shopify by helping track all sales opportunities with ease.
Rating: 4.3 stars on G2 (Based on 1,472 reviews)
Agile CRM is a fully-featured e-commerce CRM software offering sales management, marketing automation, and customer support functionality. The tool can be integrated with Shopify to help you manage your contacts, track deals, and craft marketing campaigns.
Furthermore, the project management features can help your team members work more efficiently. Use Agile CRM to score your leads and prioritize them accordingly. The tool can be a great addition to your e-commerce business by enabling you to track and optimize your performance.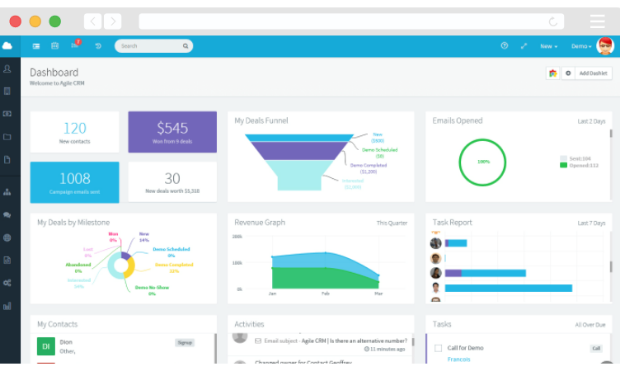 Key Features:
Use email marketing templates and customize them to make them more relevant for your clients

Build responsive and engaging landing pages to get more leads

Set up push notifications to connect with your customers at the right time

Reduce response time for support tickets with an effective helpdesk system

Schedule appointments easily and get notified every time an event is added to your calendar
Suitable For:
Agile CRM is a reliable Shopify integration for businesses that need an all-in-one, affordable and easy-to-use CRM.
Pricing:
Free for 10 users
Paid versions start from$8.99/user/month
Pros:
Analyze web traffic and customer behavior to get actionable insights into prospects and customers.

Track your sales remotely with a mobile CRM with comprehensive dashboards.
Cons:
The starter plans of the software have limited features and integrations.

Customer support has room for improvement.
Final Word:
Agile CRM perfectly combines sales, marketing, and customer support. This all-in-one CRM solution can help your e-commerce business close more deals and meet customer expectations with ease.
Rating: 4.0 stars on G2 (Based on 306 reviews)
HubSpot is an effective tool for keeping track of all prospects and customers. Shopify users can use this CRM tool to keep their customer data well-organized. With HubSpot, you can share personalized emails with bulk contacts instantly.
The tool also allows you to manage your marketing campaigns, online ads, and landing pages to improve lead generation. HubSpot also offers insightful reports enabling you to achieve better visibility into your business operations.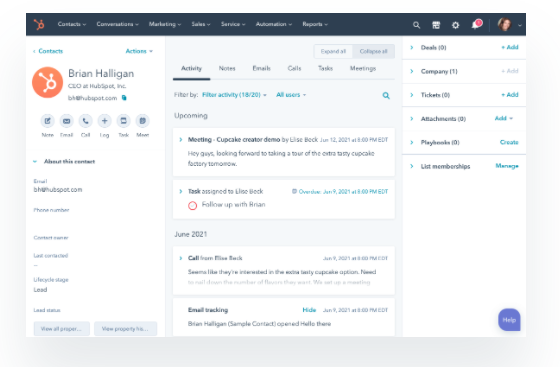 Key Features:
Get detailed reports for activities and team productivity

Share personalized emails and analyze their performance

Manage tickets and use live chat for improved customer support

Generate more leads for your business by customizing forms

View and track all leads in your sales pipeline
Suitable For:
HubSpot offers a free version of the tool, making it suitable for beginners.
Pricing:
Free for unlimited users
Paid versions start from $45/month
Pros:
Get complete visibility into all available opportunities with a clean sales pipeline view.

Automatic enrichment of contact profiles from data collected from multiple sources.
Cons:
The steep pricing structure makes the overall cost high quickly.

Email templates can be challenging to modify.
Final Word:
HubSpot is a reliable tool for small businesses and startups. While a free version is available, it can quickly become ineffective as your business grows. In this situation, you have to switch to the higher-paid version of the tool to access its advanced features.
Rating: 4.4 stars on G2 (Based on 8,150 reviews)
Salesforce is a leading provider of business applications that maximize productivity and profitability. Salesforce cloud-based CRM is an effective tool that can be integrated with Shopify for more personalized buying experiences.
By identifying the needs and preferences of your customers, your business can meet their expectations quickly. This can lead to an improvement in your bottom line. Salesforce is highly customizable and allows you to foster collaboration within your organization by aiding data sharing and streamlining all communication.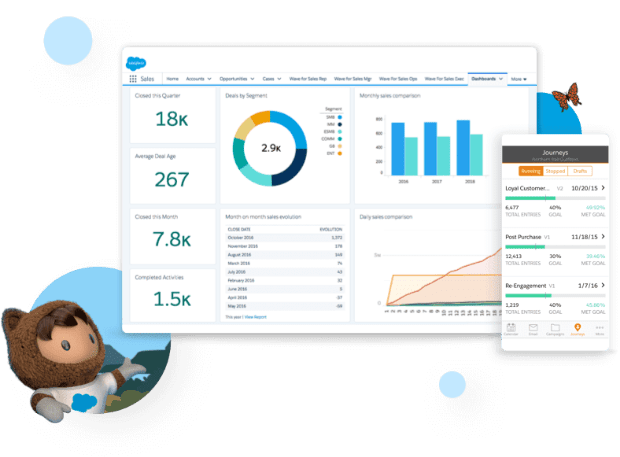 Key Features:
Personalize buying experiences with AI recommendations

Automate message delivery based on customer actions

Boost collaboration for your team by making data accessible from any mobile device

Unify multiple channels including social media, website, and emails for improved customer journeys

Create detailed customer profiles by sourcing data from numerous platforms automatically
Suitable For:
Salesforce is the most suitable for large organizations responsible for managing a vast volume of customer data and boosting collaboration across multiple business divisions.
Pricing:
Starts from $25/user/month
Pros:
Automation of repetitive admin tasks to save time and reduce costs.

Cloud-based access so you can use it from any device and not worry about the software's maintenance.
Cons:
The learning curve is steep.

The pricing is expensive.
Final Word:
Salesforce is a premier CRM solution used by businesses from all over the world. It occupies over 19.6% of the CRM market share, which is a testament to the tool's popularity. This is one of the best B2C CRM tools that can help large teams meet customer expectations delightfully.
Rating: 4.2 stars on G2 (Based on 12,028 reviews)
Zoho CRM is an effective solution for connecting with your customers and delivering exceptional experiences. The tool offers omnichannel communication, so all your interactions can be stored and managed from a single platform. It also offers lead and deal prediction, allowing you to utilize your time and resources efficiently.
Zoho CRM allows you to automate time-consuming, repetitive tasks, get real-time insights with reports and manage customer journeys. Additionally, you can get intelligent alerts and suggestions to improve your business productivity from the tool's AI assistant.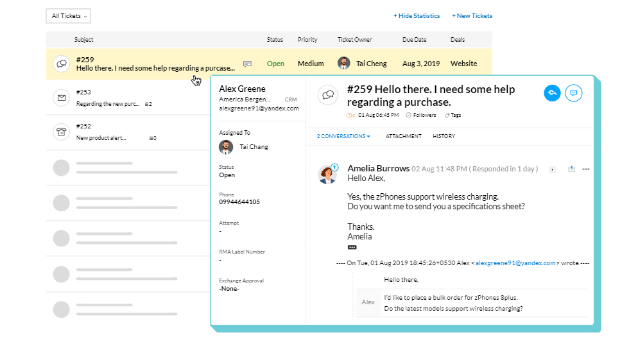 Key Features:
Include custom triggers in your workflow to automate tasks

Use AI-powered recommendations and business insights to make more profitable decisions

Segment customers into distinct lists and craft automated marketing campaigns to nurture more leads

Get real-time notifications for customer interactions to follow-up at the right time

Build a systematic sales process with custom rules to drive more leads towards the purchase decision
Suitable For:
Reliable solution for retailers looking to take their business to a wider audience
Pricing:
Free for 3 users
Paid versions start from $14/user/month
Pros:
Analyze business trends and make better predictions for the future.

Boost team collaboration with easy conversations, notes, and custom tags.
Cons:
The interface of the tool needs to be improved.

Better training resources and customer support are required.
Final Word:
Zoho CRM is a powerful solution if you are looking to streamline and automate your business processes. It allows you to visualize and manage customer journeys, helping boost your conversion rates.
Rating: 4.0 stars on G2 (Based on 2,060 reviews)
Zendesk Sell integration with Shopify allows your sales team to focus on closing deals without wasting time on administrative tasks. The tool can make selling considerably easier by streamlining all sales activities and bringing all customer data to one platform. You can use the email templates offered by the tool to connect with prospects quickly.
Automatic data capture further saves time for sales representatives to focus on improving customer relationships. Zendesk Sell also offers robust reporting and analytics to help you make data-backed decisions for your business.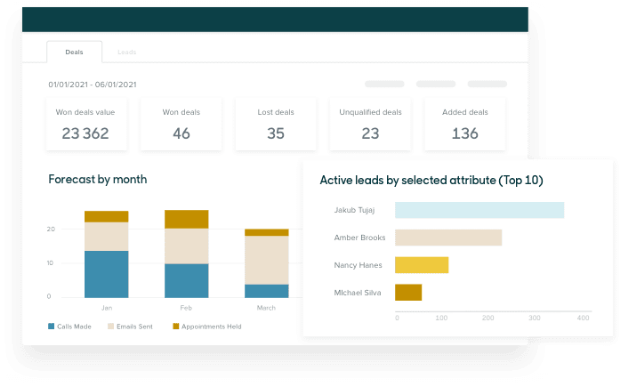 Key Features:
Get real-time visibility into the sales pipeline and the opportunities present in it
Build segmented leads lists to improve targeting

Visualize business data and use it for accurate forecasting

Customize reports to include the most important metrics

Get notified every time a prospect takes action
Suitable For:
Works well for e-commerce businesses looking for a tool to provide better customer support and grow their revenue.
Pricing:
Starts from $19/user/month
Pros:
Focus on the most profitable sales leads with effective prioritization.

Set up automated email and task sequences to engage with leads more effectively.
Cons:
The available customer support is not very efficient and reliable.

The mobile application needs to be more user-friendly.
Final Word:
Zendesk Sell provides you the context to drive better conversations with prospects and customers, helping maximize the profitability of opportunities.
Rating: 4.2 stars on G2 (Based on 438 reviews)
Choosing the Right CRM for Your Business
These CRM Shopify integrations can be a valuable asset for your online business by helping track and store customer interactions. They can also help you segment and engage with leads more effectively. With a centralized repository of all data and communication history, you can easily craft personalized experiences that drive more sales.
These tools provide advanced functionality that can improve the effectiveness of your Shopify store. Whichever tool you decide to go with, make use of its free trial to get a better idea of its usability.
Although each of these 7 best CRM for Shopify offers a powerful range of features, BIGContacts takes it home with its simplicity and affordability. It is easy to implement and has delightful customer support. Furthermore, you can easily customize various modules of BIGContacts to adapt them according to your specific needs.