In the current market landscape, CRM or customer relationship management tools are the backbone of every enterprise. They help enhance customer experiences, increase team productivity, and automate redundant tasks, contributing to more efficient business processes. Since these tools offer such an array of benefits, an enterprise needs to invest in a highly viable CRM software that complies with their requirements.
Agile CRM, one of the top-rated solutions on the market, is one such software used by businesses across industries. However, there are several instances where the tool's performance may be less than satisfactory, putting your business's profitability at risk. 
In this blog, we share the 7 best Agile CRM alternative tools that can work out well for your business. These tools surpass Agile CRM in several ways, helping you accomplish your business goals with ease. Check out a detailed comparison of these tools to find an efficient solution that aligns with your CRM strategy. 
What is Agile CRM?
Agile CRM is an integrated sales, marketing, and support solution that helps businesses deliver consistent customer experiences. It automates various business processes, allowing you to be more efficient with your time. Agile CRM is a cloud-based solution that makes it easy to access relevant customer information on the go. 
Here are some useful features of this CRM application:
Agile CRM offers a comprehensive view of contacts, making it easier to close more deals with personalized interactions. 

It enables you to create automated workflows with a simple drag and drop interface. 

Improve customer support by prioritizing high-value tickets, providing knowledge base portals, and creating canned responses. 

Schedule appointments and keep track of important events from your calendar. 

Bring all emails to a single platform by syncing the CRM with other email accounts such as Gmail, Office 365, etc. 

Stay connected with prospects and customers remotely through the mobile application.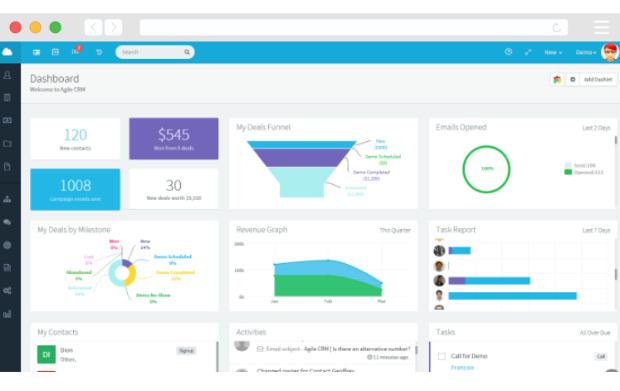 Agile CRM Pricing: 
Free for 10 users 
Plans start from $8.99/user/month 
Why Do You Need Agile CRM Alternatives?
Before getting started with the comparison of the best alternatives, let's answer the question- 
Why look for Agile CRM alternatives at all?
Just like any other tool, Agile CRM is far from being a one-size-fits-all solution. While it may be a worthwhile investment for one enterprise, it might as well end up being a waste of resources for another. Placed against its competitors, Agile CRM fails to meet expectations in several areas.
Although the final decision comes down to the specific business needs, here are some reasons why you should be looking into alternatives solutions for Agile CRM:
While it does offer a free version, Agile CRM isn't the most affordable solution out there. For businesses with budget restraints, there are several other tools, such as BIGContacts, offering lower pricing for features

better than Agile CRM

. 

It does not offer custom user roles and permissions that ensure authorized access to sensitive business information.

The support response times are high, making the overall experience frustrating. 

It lacks effective segmentation capabilities, making it difficult to filter and categorize contacts into distinct lists. 

It offers limited flexibility. This makes it challenging to modify modules such as email templates extensively.

Inadequate help resources and knowledge base make the tool difficult to get started with.
Overview of the 7 Best Agile CRM Alternatives
Software
Key Features
Pricing
BIGContacts
Marketing automation
Pipeline management
Intelligent reports
Starts from $5/user/month
HubSpot
Pipeline tracking
Ticketing system
Appointment scheduling
Starts from $45/month
Bitrix24
Automated processes
Sales intelligence
Email marketing
Starts from $39/month
Zoho CRM
Marketing automation
Sales forecasting
AI assistant
Starts from $14/user/month
Pipedrive
Pipeline management
Workflow automation
Business analytics
Starts from $12.50/user/month
Freshsales
AI-powered assistant
Email marketing
Sales analytics
Starts from $15/user/month
EngageBay
Marketing automation
Lead scoring
Appointment Scheduling
Starts from $11.99/user/month
Top 7 Agile CRM Alternatives
Having talked about the characteristic features and shortcomings of Agile CRM, let's now take a detailed look at the 7 best alternatives to Agile CRM that you can consider. 
Compare the pros and cons of these tools against your requirements to find a reliable solution that can effectively replace Agile CRM and help you accelerate your business's growth. Go for a scalable solution that easily adapts to the changing needs of your organization. Also, focus on the ease of usage and the quality of customer support offered for the tool.
1. BIGContacts
BIGContacts is a powerful Agile CRM alternative that provides a range of advanced features at an affordable price. The intuitiveness and customizability of BIGContacts make it a popular CRM choice for businesses across multiple industries. It helps you put your customer relationship management on autopilot with advanced automation capabilities. Moreover, robust reporting helps you stay on top of all business operations with ease.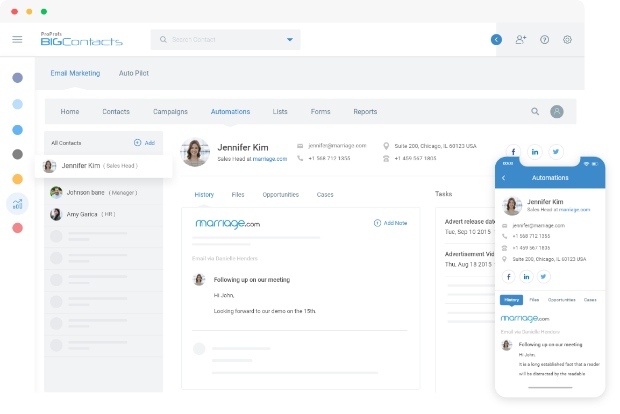 Key Features:
The comprehensive sales pipeline view helps track and manage sales opportunities effectively. 

Automate tasks, create workflows and set up activity reminders. 

Craft and manage personalized drip email marketing campaigns. 

Track the performance of your business endeavors and individual team members using powerful reporting and analytics.

Work on the go with a responsive mobile version of the CRM application. 
Pricing: 
Big- $5/user/month

Bigger- $15/user/month

Biggest- $25/user/month

Enterprise- Custom pricing
What Is Unique About BIGContacts
Create and store email templates to engage with customers quickly. 

Contact profiles are automatically populated with information, including social media profiles.
2. HubSpot
If you are in need of a free alternative to Agile CRM, HubSpot can be a reliable option. Since the basic version of the tool is available for free for unlimited users, it can work as an excellent solution for beginners. The tool offers powerful automation, so your team can focus on more important tasks without wasting time on administrative activities.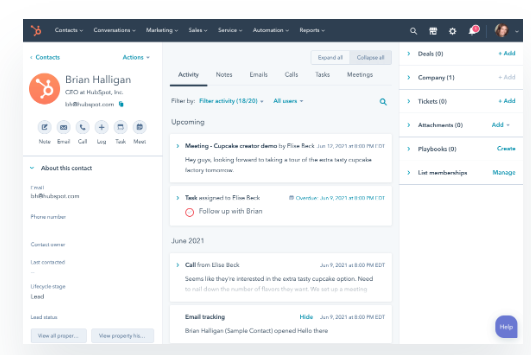 Key Features:
Get a detailed look into all available opportunities with the sales pipeline. 

Contact records are enriched automatically, helping improve personalization efforts. 

Use the meeting scheduler to connect with prospects and customers with ease. 

Nurture leads effectively with personalized drip emails and bulk actions. 

Access a universal inbox to manage every customer conversation from one place.
Pricing:
Free version available 
Plans start from $45/month
Why We Picked It, What Is Unique About HubSpot
Capture leads with web forms, ads, and landing pages created using HubSpot.

The helpdesk integration helps manage support issues from within the CRM system.
3. Bitrix24
Bitrix24 is an effective Agile CRM alternative for businesses that require a comprehensive online workspace. That said, Bitrix24 offers collaboration tools and automation capabilities that simplify your day-to-day operations. This all-in-one tool makes it easy to run marketing campaigns, manage projects and engage with customers. Bitrix24 empowers you to close more deals by bringing all the contextual information to one place.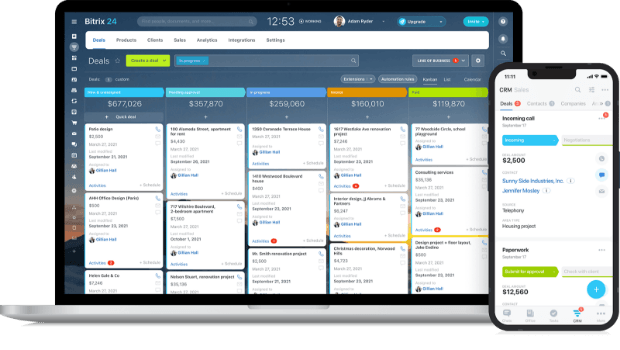 Key Features:
Automate workflows to enhance organizational efficiency. 

Run email marketing and targeted ad campaigns. 

Set up a custom sales pipeline that matches the stages of your sales process to manage deals. 

Use sales analytics to track KPIs and make better business decisions. 

Get real-time visibility into what other team members are doing and collaborate with them using chat or video calls. 
Pricing:
Free version available
Plans start from $39/month 
Why We Picked It, What Is Unique About Bitrix24
The intuitive drag and drop interface of the tool makes it easy to keep deal statuses updated at all times. 

Leads are acquired through custom web forms, live chat, social media, etc., and added to the CRM system automatically.
4. Zoho CRM
Zoho CRM is a highly functional sales CRM that can help you grow your business by automating routine sales tasks and fostering stronger relationships with customers. The AI-powered forecasts and recommendations offered by Zoho CRM can help you make much better business decisions. It works as a great alternative to Agile CRM due to its powerful collaborative features and automation capabilities.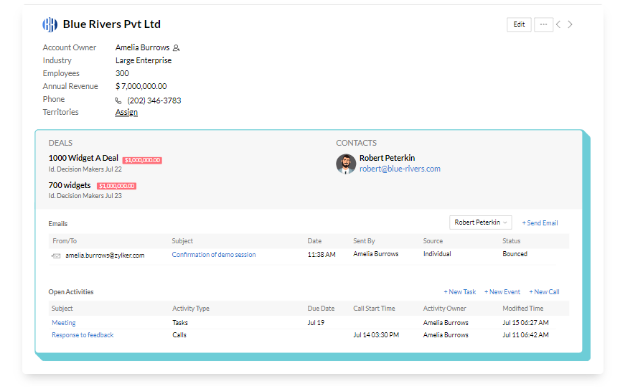 Key Features:
Craft personalized journeys for customers to offer seamless buying experiences. 

Customize layouts, views, filters, etc., to suit your business needs.

Get real-time insights and recommendations for customers and deliver more relevant services to them.

Eliminate manual work and be more productive with your time by automating workflows. 

Access detailed reports to track the performance of your business processes. 
Pricing:
Free for 3 users
Plans start from $14/user/month
Why We Picked It, What Is Unique About Zoho
The tool has an AI assistant, which makes navigation significantly easier and enhances the tool's overall effectiveness.

The mobile version allows you to access essential information and stay on top of all customer relationships on the go.
5. Pipedrive
For businesses looking for intuitive Agile alternatives, Pipedrive is one of the best choices. This sales CRM offers efficient pipeline management, enabling you to track deals with ease. It automates redundant tasks, freeing up more time for you to interact with prospects and customers. The tool also offers robust email tracking functionality, ensuring that you never miss out on important conversations.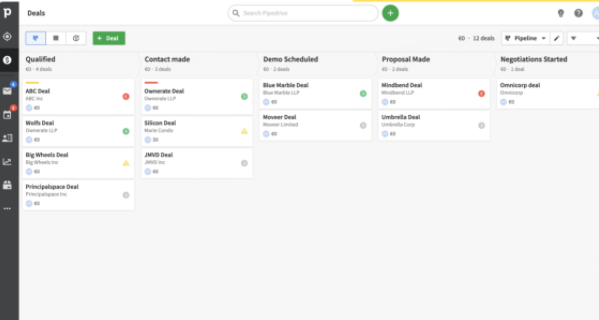 Key Features:
Keep deals well-organized by color-coding them and get notified when a deal has been stuck in your pipeline for too long. 

Use visual reports and custom dashboards to stay on top of your business data.

Capture more leads for your business using chatbots, web forms and live chat, which are then automatically added to the CRM database.

Use contacts' email addresses to source their related information from several online platforms. 

Organize your data effectively with the help of custom filters.
Pricing:
Starts from $12.50/user/month
Why We Picked It, What Is Unique About Pipedrive
The drag and drop interface makes it easy to manage sales opportunities. 

Create and share invoices with clients from within the CRM system.
6. Freshsales
Freshsales, a reliable alternative to Agile CRM, effectively streamlines your sales operations, so you can grow your revenue. It offers detailed activity timelines for every contact, so you are completely aware of previous touchpoints. Freshsales is highly customizable, which means that it is easy to modify its stages, fields, layouts, etc., to suit the needs of your organization. The CRM is also available as a mobile application.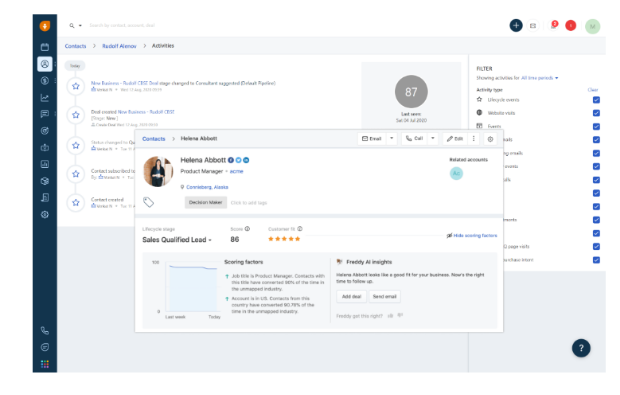 Key Features:
Use the two-way data synchronization between Freshsales and your work inbox to keep your calendar automatically updated.

Uncover high-value opportunities and analyze trends using reports. 

Create multiple sales pipelines and product catalogs.

The AI assistant offers actionable insights and valuable recommendations to personalize customer experiences.

Set up automated sales sequences to engage with your prospects and customers at the right time.
Pricing:
Free version available
Plans start from $15/user/month
Why We Picked It, What Is Unique About Freshsales
The tool not only helps you capture leads and their associated information but also allows you to analyze the intent of visitors, helping you focus on the right opportunities.

Leads are automatically assigned to the right sales representative.
7. EngageBay
EngageBay is an all-inclusive solution that can replace Agile CRM effectively. It offers reliable sales, marketing, and support functionality, enabling you to manage everything from the same platform. The 360° view of contact profiles enables you to track customer behavior and offer the most relevant solutions. The tool also enables you to create highly responsive landing pages and custom web forms for capturing more leads.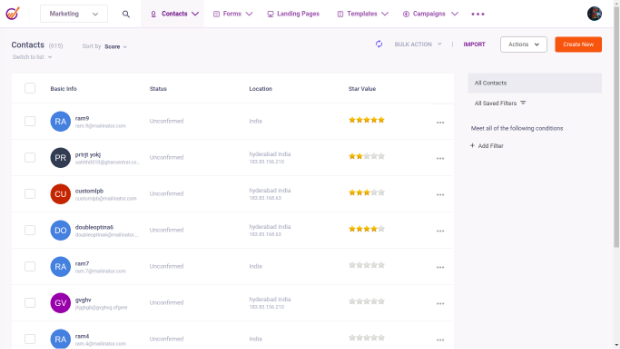 Key Features:
Automate marketing campaigns and workflows to save time. 

Use predictive lead scoring to focus on the most important opportunities.

Run multi-channel marketing campaigns to attract leads and convert them into long-term customers.

Manage support tickets from within the CRM system. 

Keep your email inboxes synchronized with the CRM to manage all conversations from a single dashboard.
Pricing:
Free for 15 users
Plans start from $11.99/user/month
Why We Picked It, What Is Unique About EngageBay
Automated email sequences make it easy to follow up with prospects at the perfect time.

Book meetings and keep your calendar updated at all times using the appointment scheduling feature.
Choosing the Best Agile CRM Alternative for Your Business 
Not working with the right CRM tool can be equated with putting your profits on the line. 
If Agile CRM is proving to be ineffective for your business, it's high time you look for a reliable alternative that suits your needs much better. 
The 7 Agile CRM alternative tools mentioned above are top-rated solutions for businesses that are looking for a replacement for Agile CRM. In order to select the right tool out of these, pay attention to the unique requirements of your organization. Consider the current challenges faced by your team using Agile CRM and find a tool that can help overcome them. 
For a growing enterprise with dynamic needs, BIGContacts is an optimal solution. It offers advanced features such as automated reminders, task management, email tracking, real-time alerts, etc. These features make BIGContacts a highly reliable alternative to Agile CRM. The tool can take off a lot of redundant tasks off your list, so you can focus on strengthening your relationships with customers.