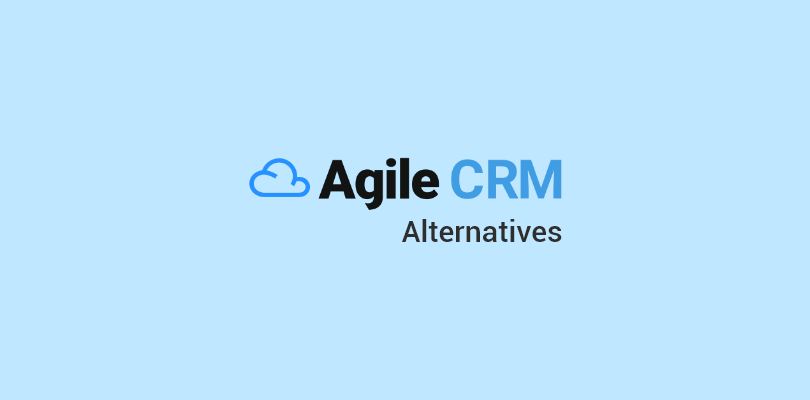 Expanding your business demands a strategic upgrade to your tech stack, and while Agile CRM has been a popular choice for many, it's not without its shortcomings.
Because Agile CRM has subpar segmentation capabilities and limited flexibility, businesses are increasingly seeking alternatives.
But finding the best Agile CRM alternative isn't that easy. I've navigated this challenge personally, and trust me, it took me a considerable time to find the perfect solution for my business.
The good news? You won't have to endure the same struggle.
I've meticulously compiled a list of the top 9 best Agile CRM alternatives to help you upscale your businesses.
Agile CRM Alternative
Best For
Paid Plan
BIGContacts

Email Marketing & Contact Management

Starts from

$5/user/month

. A 15-day free trial is available.

Freshsales

AI-Powered Contact Scoring

Free plan available

. Paid plan starts at $12.026/month.

Pipedrive

Visualizing Sales Pipeline

Starts at $9.90/user/month.

Zoho

AI-Powered Analytics

Starts at $9.63/user/month.

HubSpot

Pipeline Management

Free plan available. Paid plans start at $45/month.

ActiveCampaign

Drag-N-Drop Email Designer

Starts at $19/user/month.

EngageBay

Sales, Marketing, and Support Collaboration

Free plan available. Paid plan starts at $12.74/user/month.

LeadSquared

Customizable Dashboards

Start at $15.04/user/month.

Keap

Automating Workflows

Starts at $159/month.
Top 9 Agile CRM Alternatives in 2023
I've done all the heavy lifting for you to come up with 9 reliable and thoroughly tested options. I've personally used most of these Agile CRM alternatives throughout my career.
However, I haven't limited myself to just my own experiences. Some of these tools come from recommendations from my colleagues and reputable customer review sites.
1. BIGContacts: Best for Email Marketing & Contact Management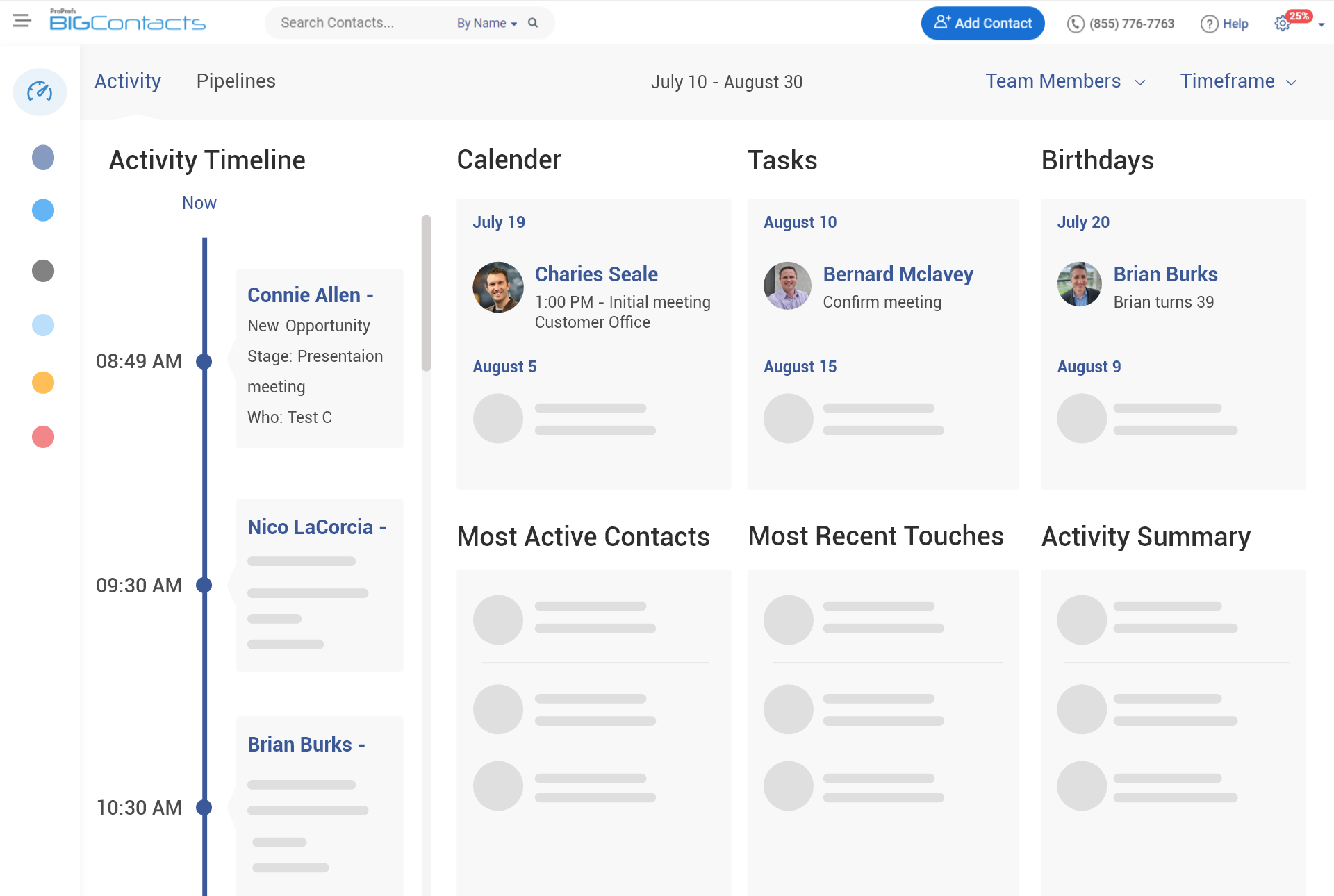 BIGContacts is one of the best Agile CRM alternatives for businesses looking to streamline their customer relationship management and marketing efforts. I have been using this tool for some time now, and I can attest to its effectiveness as a reliable CRM for small and medium-sized businesses.
Its user-friendly interface simplifies contact management, making it easy to organize, track, and nurture leads. Plus, the customizable contact profiles allow you to capture essential contact information and personalize marketing campaigns effectively.
What truly sets this tool apart is its email marketing capabilities. You can create and send targeted email campaigns, track their performance, and automate follow-ups based on user behavior.
This tool excels in lead scoring, helping you identify and prioritize your hottest leads for conversion. Plus, its reporting and analytics provide actionable insights so you can make data-driven decisions for your marketing strategy.
What You'll Like:
Simple and easy-to-use interface that can be tailored to fit any business

A 360° view of all activity with contacts, tasks, and calendars

Customizable

sales pipeline

and automated email marketing based on sales stages

Smart

reporting

and analytics system that tracks sales and team performance

Social media integration

and drip marketing features to retain more customers

A web form connection to capture more leads
What You May Not Like:
Limited storage in the lower-tier plans

The free trial duration is relatively brief to explore all the CRM and email marketing functionalities
Pricing:
2. Freshsales: Best for AI-powered Contact Scoring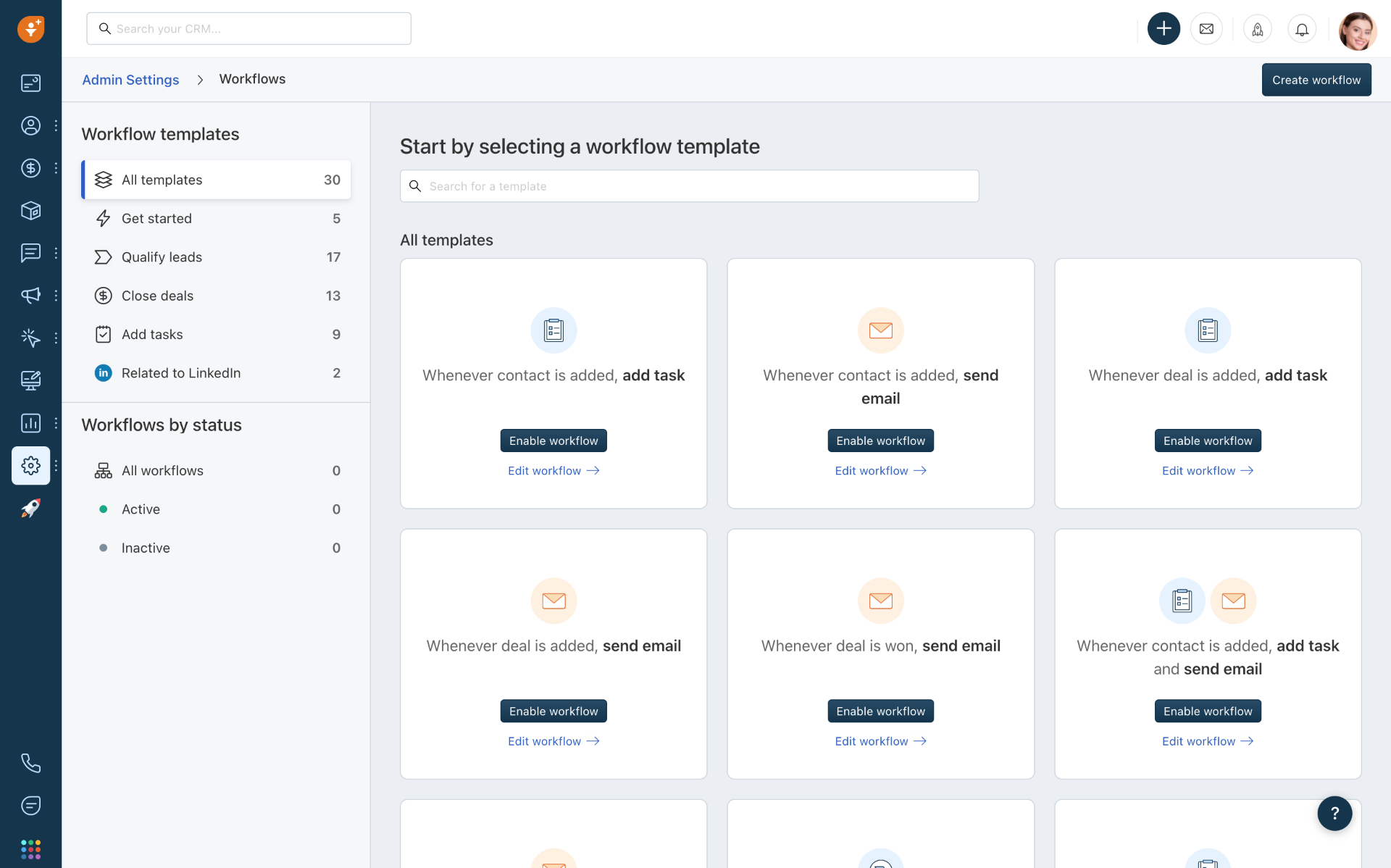 I have used Freshsales for a brief amount of time during my research period with different CRM tools, and this tool impressed me sufficiently enough.
The contact scoring with its AI assistant Freddy enabled swift identification of high-intent leads, facilitating personalized customer engagement.
The platform's predictive deal insights, backed by intelligent sales analytics, empowered me to optimize strategies for maximum efficiency and revenue growth.
The intelligent workflow automation saved me valuable time by automatically handling tasks like lead assignments, email sending, and reminders.
What You'll Like:
AI-powered lead coring for prioritizing high-potential prospects

Unified inbox for consolidating emails and keeping communication organized

Visual sales pipeline for a clear overview of deals and progress

Advanced analytics for data-driven insights into sales activities

Customizable sales campaigns to automate outreach and engagement
What You May Not Like:
Limited customization options for email templates

Advanced features like time-based workflows and sandbox are available only in higher-tier plans
Pricing:
Free plan available

(limited to 3 users). Paid plan starts at $12.026/month.



3. Pipedrive: Best for Visualizing Sales Pipeline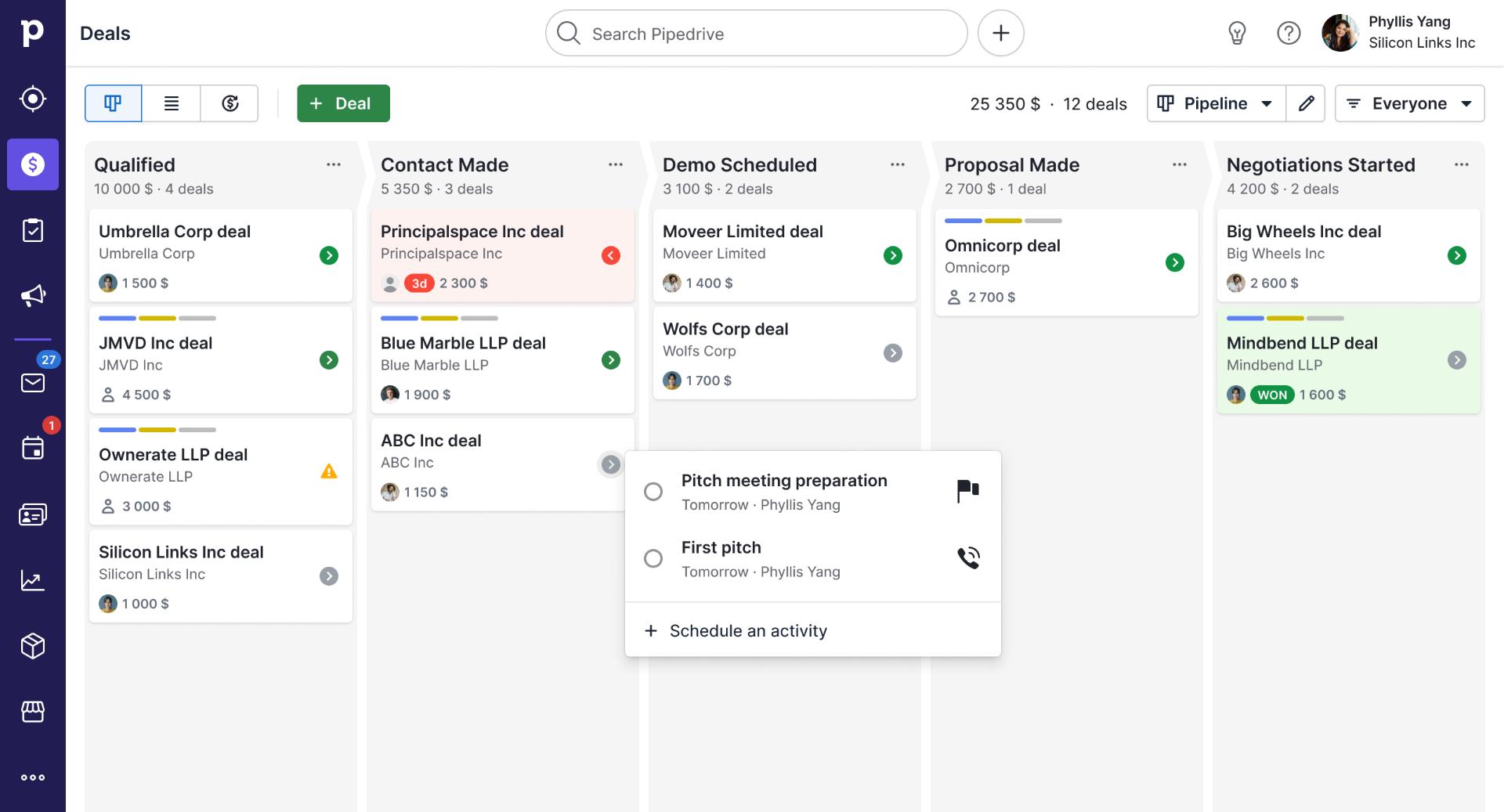 Pipedrive is one of those software that I never regretted getting my hands on.
The tool focuses on sales pipelines and offers interactive CRM features such as a progress tracker, sales automation, procession forecasting, and an activity-based planner.
With Pipedrive, I was able to manage my entire company's sales pipeline through one easy-to-use application.
The beauty of this software lies in its intuitive, 3-step setup process. I effortlessly structured my sales funnel, monitored progress with automated alerts, and watched my forecasts adjust as deals moved along.
The visual sales pipeline, customizable stages, and robust team collaboration feature fostered an environment of efficiency. Activity reminders ensured I never missed a follow-up, while lead segmentation and contact history streamlined my communications.
What You'll Like:
User-friendly interface designed for simplicity and ease of use

Automation of repetitive tasks to save time and increase efficiency

Email tracking and communication history for actionable insights

Advanced reporting tools to analyze sales performance and trends

Customizable workflows to adapt the CRM to specific business processes
What You May Not Like:
Limited marketing automation capabilities

Integration options are limited compared to other tools.
Pricing:
Starts at $9.90/user/month.
Read More: 10+ Pipedrive Alternatives: Competitors & Similar Software
4. Zoho CRM: Best For AI-Powered Analytics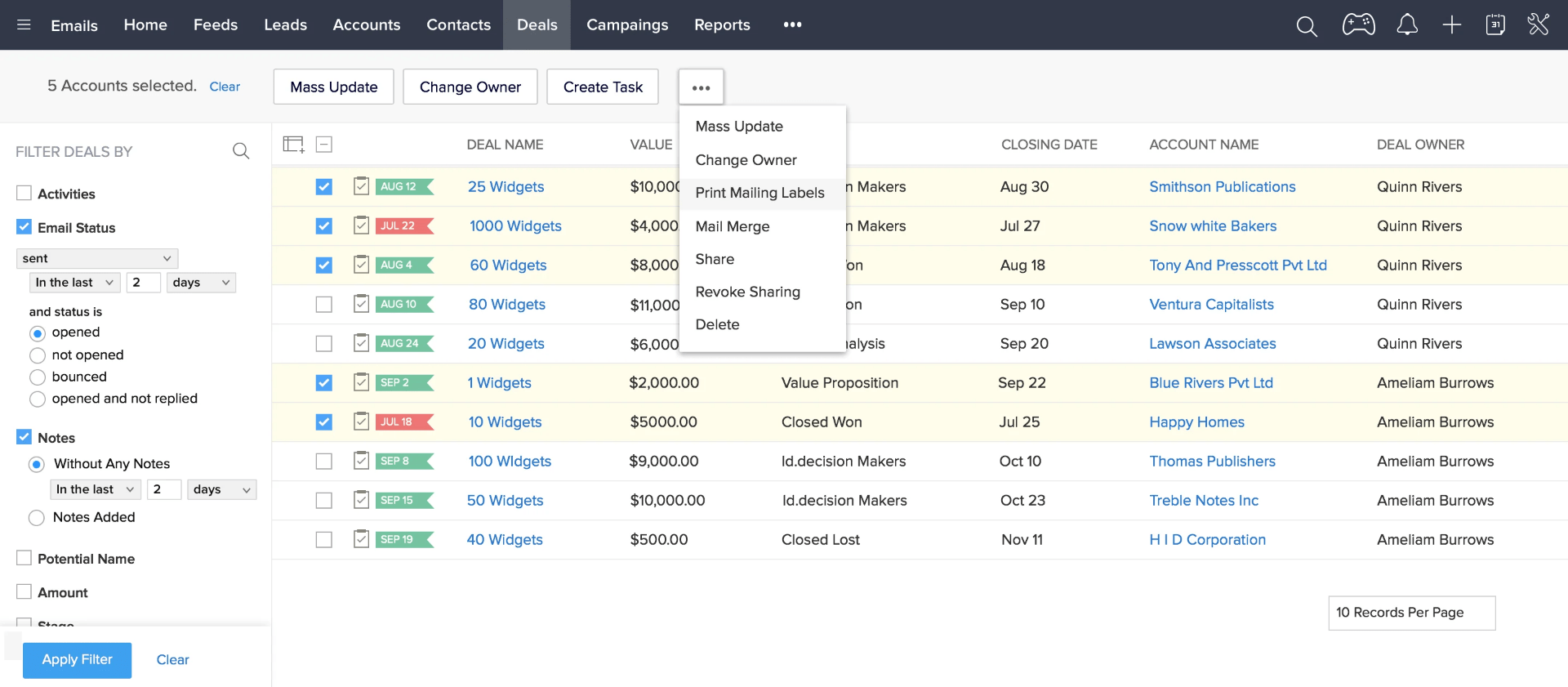 Zoho comes highly recommended by my industry peers based on their personal experience, and I have found it nothing less than what was said.
The tool excels at productivity optimization by automating workflows, campaigns, and customer journeys, enabling businesses to concentrate on nurturing relationships.
Plus, Zoho's advanced analytics, supported by the AI assistant Zia, provide in-depth insights for informed decision-making and real-time performance monitoring.
Highly customizable and easy to deploy, this Agile CRM competitor is praised for its simplicity, flexibility, and transparent pricing, making it the preferred choice for businesses worldwide.
What You'll Like:
AI-powered sales assistant for intelligent insights and predictions

Unified platform for sales, marketing, and customer support

Social media integration for enhanced customer engagement

Advanced analytics with customizable dashboards for data visualization

Integration with Zoho's suite of business applications for seamless collaboration
What You May Not Like:
Steeper learning curve compared to other tools

Limited customization options for reports and dashboards
Pricing:
Starts at $9.63/user/month.
Read More: 10 Best Zoho CRM Alternatives & Competitors in 2023
5. HubSpot Sales Hub: Best for Pipeline Management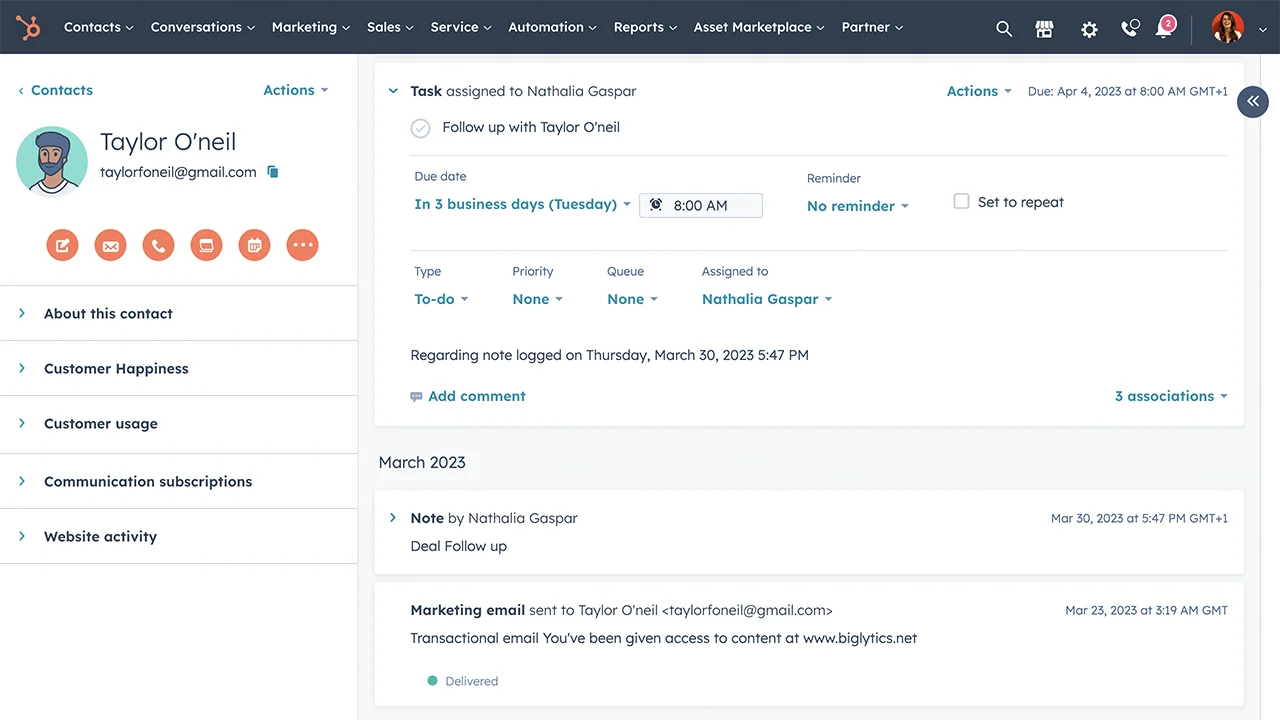 Having used HubSpot Sales Hub, I can confidently recommend it based on my firsthand experience. It boasts an intuitive interface, simplifying deal management from the dashboard.
Its sales engagement tools enabled me to have relevant, contextual conversations that convert prospects.
This tool significantly helped me eliminate the guesswork and boosted my reps' efficiency, leading to a more qualified pipeline. The AI-powered deal management tools enhanced deal closure speed while ensuring consistency in the customer journey.
HubSpot's robust reporting and analytics tools were a great help in setting and predicting revenue goals, analyzing team performance, and extracting insights from customer calls.
With top-notch support, free educational resources, and versatile pricing options, HubSpot Sales Hub is a must for businesses seeking sales process improvement and growth.
What You'll Like:
Smart automation to streamline sales processes and workflows

Integration with HubSpot's extensive ecosystem for a unified experience

Email tracking and templates for efficient communication

Personalization tokens to send customized emails at scale
What You May Not Like:
It does not offer A/B testing on lower plans.

Importing large contact lists can be challenging, including delays and inaccuracies.
Pricing:
Free plan available (with limited marketing contacts). Paid plans start at $45/month.
Read more: Top 14 HubSpot Alternatives & Competitors You Need to Try in 2023
6. ActiveCampaign: Best for Drag & Drop Email Designer

I have used ActiveCampaign extensively in my professional career and can vouch for its efficiency. This tool offers email marketing and automation capabilities that are truly best-in-class.
With its seamless integration with apps like WordPress, Eventbrite, Postmark, and Zendesk, I could effortlessly connect with customers through email, text, and social channels, tailoring messages to their specific interests.
One of the best things I liked about this tool was its intuitive drag-and-drop email designer that allowed me to send beautiful and personalized emails with ease.
I could automate my marketing process efficiently with access to a vast library of app integrations, pre-built automation, email templates, and sign-up forms.
What You'll Like:
Comprehensive marketing automation for personalized customer journeys

Advanced email marketing with segmentation and dynamic content

Predictive sending to optimize email delivery for maximum impact

Behavior tracking for a deeper understanding of customer interactions

A/B testing capabilities for refining marketing strategies
What You May Not Like:
Less intuitive ticketing system as compared to other platforms

Limited customization options
Pricing:
It starts at $19/user/month.
7. EngageBay: Best for Sales, Marketing & Support Collaboration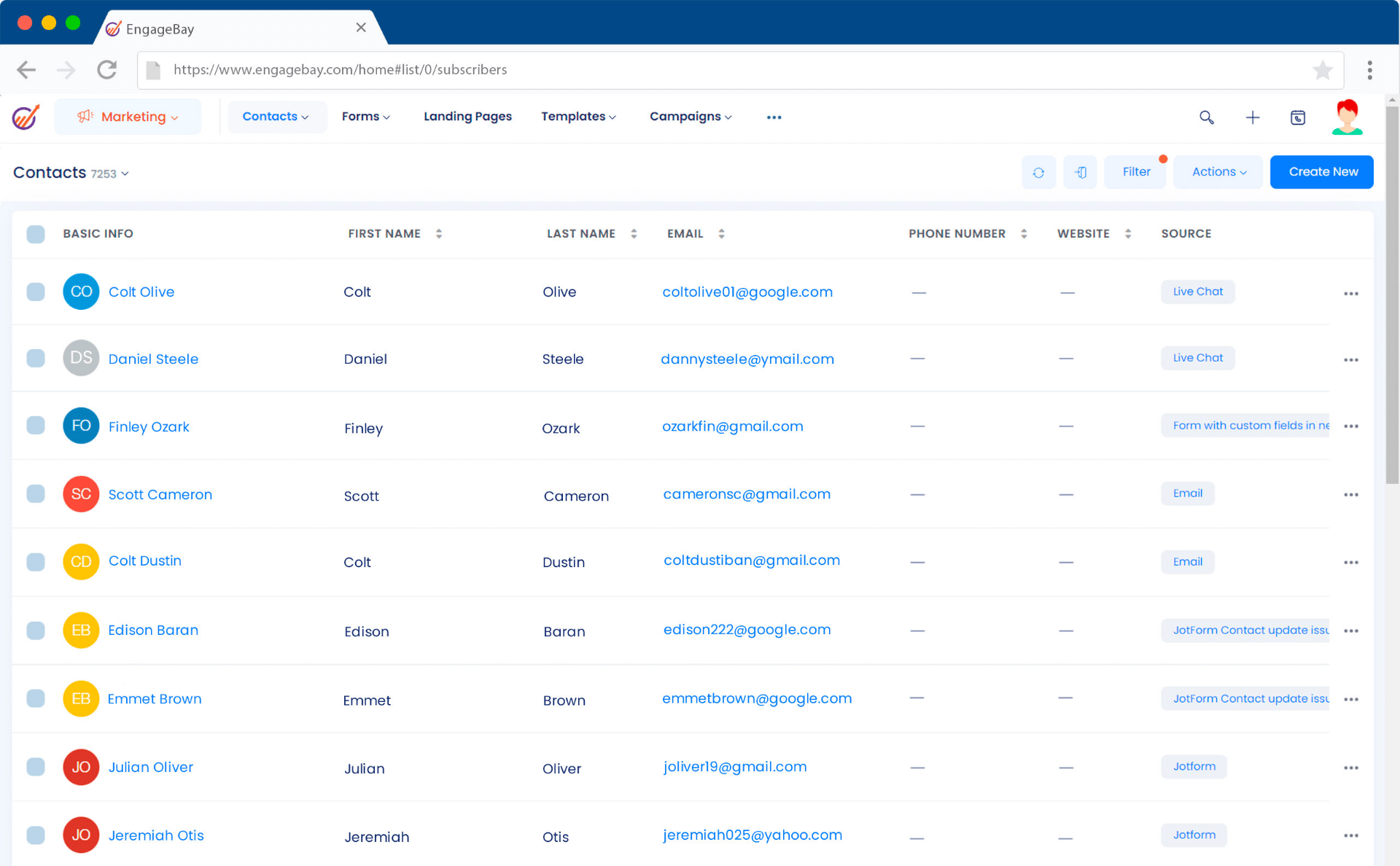 I recently discovered EngageBay while surfing a review site, and I can't recommend it enough!
EngageBay can be significantly helpful for businesses looking to market better, sell faster, and support smarter.
With features like contact management, deal management, and sales automation, it streamlines your operations and helps you build stronger customer relationships effortlessly.
Its marketing automation capabilities, including email sequences and personalized messaging, make it a time-saving asset for your marketing team.
Engagebay also offers a Helpdesk and Live chat software, ensuring top-notch customer support and instant assistance.
What You'll Like:
Marketing automation with lead nurturing and drip campaigns

Built-in helpdesk for efficient customer issue resolution

Sales automation for streamlined deal management

Customizable forms and landing pages for lead generation
What You May Not Like:
Challenges with email deliverability, impacting the success of email marketing campaigns

Limited reporting compared to other specialized tools
Pricing:
Free plan available (limited to 250 contacts). Paid plan starts at $12.74/user/month.
8. LeadSquared: Best for Customizable Dashboards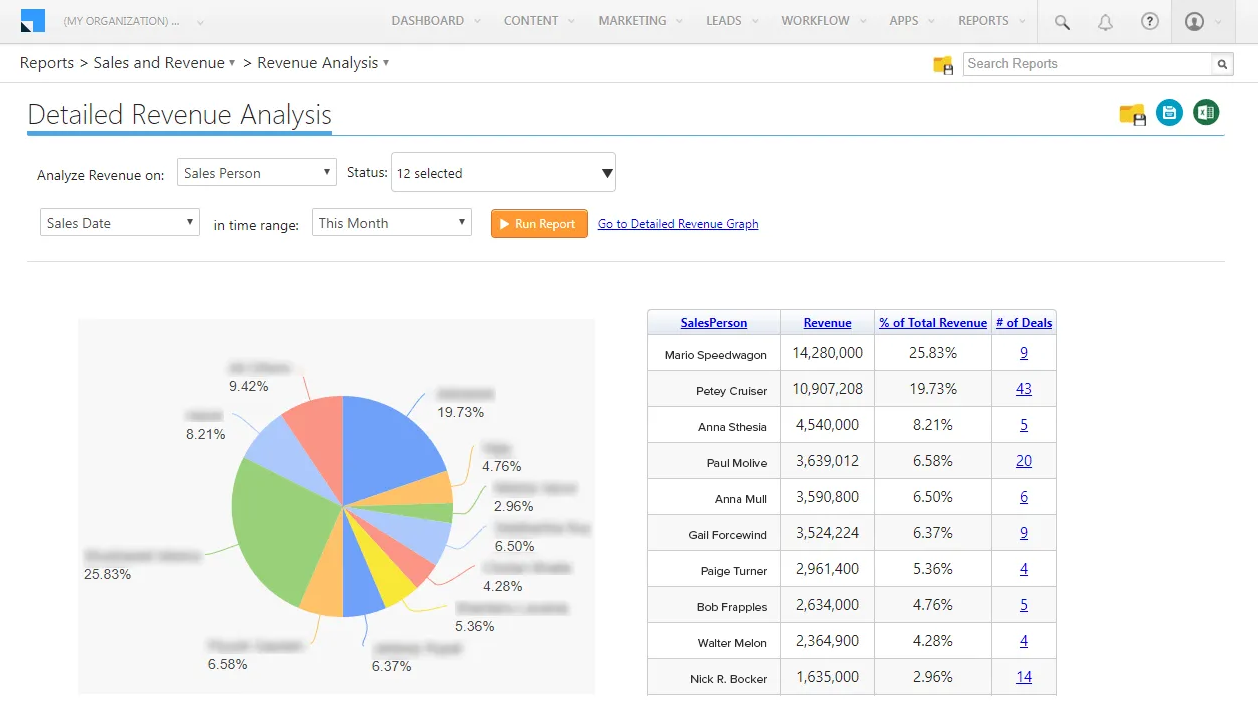 If you are looking for a CRM and marketing automation platform that can help you increase your sales efficiency and productivity, you might want to check out LeadSquared. One of my colleagues recommended it after using it for his B2B business and seeing great results.
Leadsquared offers customizable dashboards and reports, allowing users to make data-driven decisions.
The built-in dialer, email automation, and mobile app can help you streamline your sales process. It serves as a one-stop platform for your inside sales, call center agents, field sales teams, and more.
This CRM is highly adaptable, making it suitable for businesses of all sizes and industries. It integrates seamlessly with various third-party applications and offers mobile access, enabling teams to stay connected and productive on the go.
What You'll Like:
AI-driven leads scoring for prioritizing sales efforts

Sales automation for efficient deal management and tracking

Customizable workflows to adapt to unique business processes

Advanced reporting and analytics for data-driven insights
What You May Not Like:
The steep learning curve for new users
Limited options for marketing automation
Pricing:
Starts at $15.04/user/month.
9. Keap: Best For Automating Workflows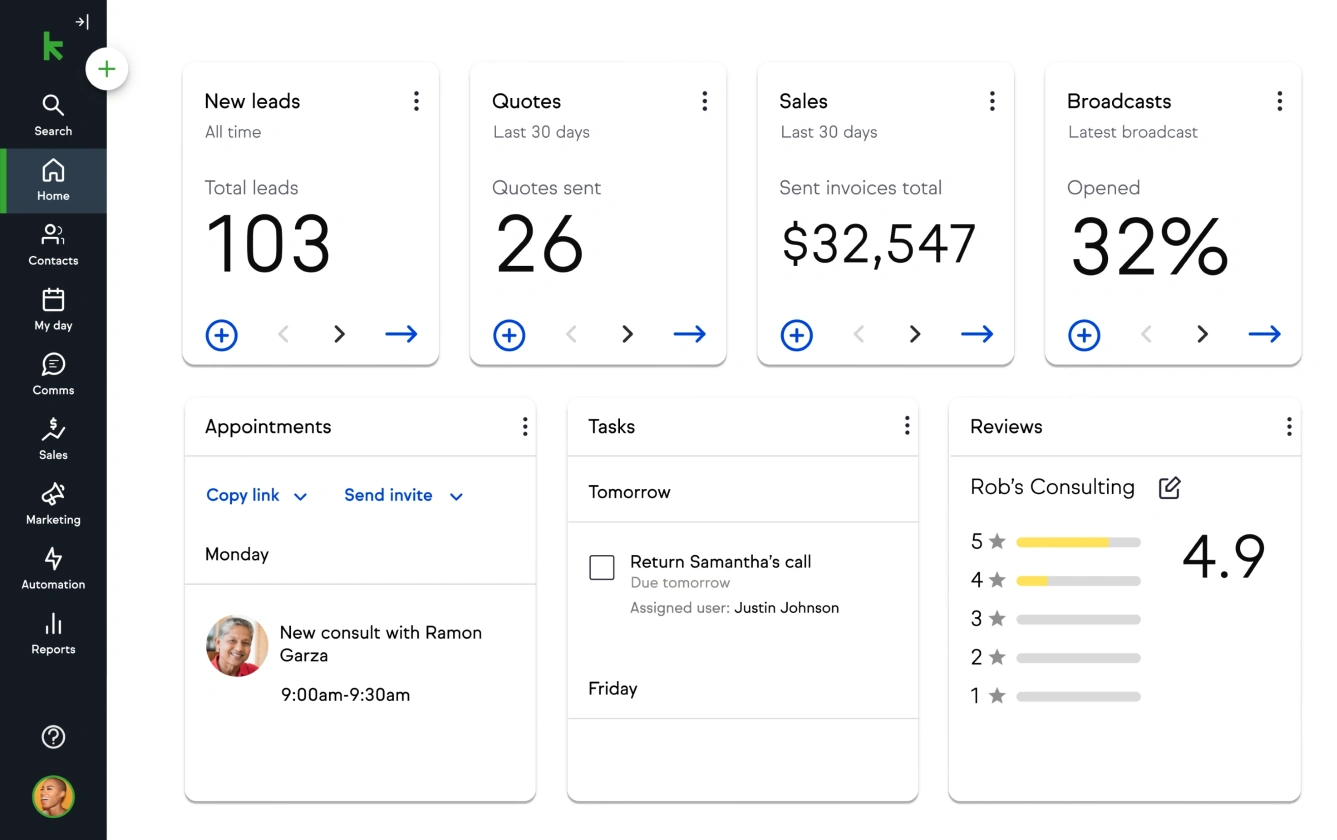 If you're running a small business and looking to take it to the next level, I highly recommend giving Keap a try. I've had the pleasure of using their platform in the past, and it truly transformed the way I manage my business.
Keap is more than just a CRM; it's a comprehensive sales and marketing automation platform designed specifically for small businesses.
It streamlines lead collection, organizes customer records effortlessly, and automates follow-ups to move prospects smoothly through your sales pipeline.
The best part? The tool offered personalized automation, which not only saved me time but also helped me maintain a personal touch with my customers. The pre-built email and text templates made it easy to send engaging messages to segmented lists within my CRM.
What You'll Like:
Appointment scheduling to streamline customer interactions

Visual sales pipeline for a clear overview of deals and progress

Integration with popular platforms like Shopify and Zapier

Email marketing with customizable templates and automation

Client portal for customer self-service and communication
What You May Not Like:
Limited customization options for fields and workflows

Lacks built-in customer support features
Pricing:
Which is the Best Agile CRM Alternative?
The market is flooded with CRM tools, but finding the best Agile CRM substitute can be daunting. Though I have provided you with 9 best alternatives, I am cutting it down to my top 3 recommendations to make it easier for you.
Option A: BIGContacts
BIGConatcts is an easy-to-setup and affordable tool that can be a great fit for small businesses and startups looking for a powerful Agile CRM alternative with robust features. Whether it be contact management, detailed reporting, automated email campaigns, or drip marketing, this tool has got you covered. That's the reason it occupies the topmost position on my list.
Option B: HubSpot
HubSpot is one of the most popular alternatives to Agile CRM in the market that offers a suite of tools for sales, marketing, customer service, and operations. This tool offers advanced features such as marketing automation and detailed reports that can help you upturn your sales. This can also be a good option to go with.
Option C: Pipedrive
Pipedrive can be an excellent Agile CRM alternative for small businesses looking to streamline their sales pipeline. This easy-to-use CRM software can help you visualize your sales pipeline and track leads in an efficient way.
However, if you ask me for my personal opinion, I would strongly recommend you choose BIGContacts as your Agile CRM alternative. It is the best option for small businesses and startups who want simple and affordable CRM software.
I am sure you will enjoy features like an email tracker and system reports. With this tool in hand, you won't have to worry about managing your sales pipelines again.
Learn More About Agile CRM Alternatives
What are the Key Features of Agile CRM?
Here are some useful features of this CRM application:
Agile CRM offers a comprehensive view of contacts, making it easier to close more deals with personalized interactions.

It enables you to create automated workflows with a simple drag-and-drop interface.

The tool helps you improve customer support by prioritizing high-value tickets, providing knowledge base portals, and creating canned responses.

You can schedule appointments and keep track of important events from your calendar.

It brings all emails to a single platform by syncing the CRM with other email accounts such as Gmail, Office 365, etc.
Is Agile an Operational CRM?
Yes, Agile CRM can be classified as an operational CRM. Operational CRMs focus on automating and streamlining business processes related to sales, marketing, and customer support. Agile CRM provides features that enable businesses to manage their day-to-day operations effectively.
Why Should You Look for an Agile CRM Alternative?
Following are the reasons you should start looking for an Agile CRM alternative:
While it does offer a free version, Agile CRM isn't the most

affordable solution

out there. For businesses with budget restraints, there are several other tools, such as

BIGContacts

, offering lower pricing for features better than Agile CRM.
It does not offer custom user roles and permissions that ensure

authorized access to sensitive business information

.
The

support response times

are high, making the overall experience frustrating.
It lacks effective

segmentation capabilities

, making it difficult to filter and categorize contacts into distinct lists.
It offers

limited flexibility

. This makes it challenging to modify modules such as email templates extensively.
Inadequate

help resources and knowledge base

make the tool difficult to get started with.
Which is the Most Affordable Agile CRM Alternative With the Same Specifications?
The cost of CRM options varies on a number of factors, including the storage capacity you need, customization features, and various add-ons required.
There are many affordable options available in the market that offer the same or even better specifications than the Agile CRM. Some of the popular options are BIGContcts, which comes at an affordable price of $5/user/month. Another tool is Pipedrive, which starts at $9,95/month.
How To Choose the Best Agile CRM Alternative?
Consider the following factors while choosing the best Agile CRM alternative for your business:
Business Needs:

Assess your specific sales,

marketing

, and customer service requirements. Choose an alternative that aligns with your unique business processes.
Features:

Look for specific features like contact management, drip marketing,

sales tracking

, email tracking, and

Calendar

, among many others.
Cost:

Evaluate the pricing structure and total cost of ownership. Look for an alternative that fits your budget while providing essential features.
Customization:

Check the level of

customization

offered. Your chosen CRM should adapt to your workflows and allow for personalized configurations.
Integration Capabilities:

Ensure compatibility with your existing tools and software. A CRM that

integrates

seamlessly with other applications streamlines your operations.
Customer Support:

Consider the quality of customer support the CRM vendor provides. Responsive and helpful support can be crucial for resolving issues promptly.
Data Security:

Prioritize the security of your customer data. The CRM should adhere to industry standards and provide features to protect sensitive information.
You can also watch this video that helped me choose the right CRM for my business–
Do you want to make more sales?
BIGContacts is the #1 contact management software & CRM to close more sales.