One thing that all top-performing sales representatives have in common is that they define clear sales targets and monitor their progress routinely using an effective sales tracking system.
Working aimlessly doesn't do anyone any good, especially if the stakes are as high as the organization's profitability. This is why you must have clearly defined objectives that coalesce into your company's sales goals.
But what do such sales targets entail, and how can you set them?
This detailed guide on sales targets will equip you with everything you need to set, manage, and track targets for your sales team.
Let's dive right into it by taking a look at what sales targets actually mean.
What Is a Sales Target?
As can be understood from the name, sales target refers to the number of sales or revenue that must be made in a stipulated time period. It involves time-based, distinctive numbers that a sales team needs to hit in order to meet their long-term objectives.
In other words, sales targets are quantifiable goals that serve as a source of motivation for salespeople. They also act as the reference against which the performance of a sales team or a sales representative can be measured.
Sales targets are essentially tied up to the overall goals of an organization. They can be used to estimate your progress toward meeting the company's sales and revenue goals. Moreover, these targets ensure that individual team members are working collectively toward the same objective, which is the organization's growth.
According to Locke & Latham, goal setting can be attributed to higher motivation, self-esteem, self-confidence, and autonomy.
Therefore, sales targets also help reps work more efficiently. Salespeople who stick to defined targets perform significantly better than those who do not have a clear view of their objectives.
Types of Sales Targets
Take a day in the life of a sales representative, for instance.
There's so much to get done. From lead prospecting to client meetings, sales representatives can never drop the ball.
But how do they ensure that the work they are putting in is in the organization's best interest?
A simple way to do so is by keeping their targets in mind.
To get a better understanding of sales target objectives, you must be aware of the categories they fall into. A commonly used methodology for classifying sales targets is – primary and secondary.
Primary sales targets involve the all in all performance of the company. In other words, they include goals that affect the overall effectiveness of the company's activities.

Secondary targets, on the other hand, are underlying objectives that need to be achieved for the accomplishment of the primary targets.
For example, the primary sales targets for an organization could be the number of sales or revenue. Secondary targets for the same company would be the number of sales calls made or the number of cold emails sent out.
Another way of classifying your sales targets is by dividing them into daily, weekly, monthly, quarterly, and annual targets.
You can also divide your sales targets into the following:
Collective Targets- targets that are meant to be achieved by the team as a whole
Individual Targets- targets set for individual sales representatives
Stretch Targets- targets that are highly ambitious and require extra effort to be accomplished
Sequence Targets- targets that are set based on their priority statuses

How to Set Sales Targets
"When 10%–20% of salespeople miss goals, the problem might be the salespeople. But when most salespeople miss, the problem is their goals."
This statement by the Harvard Business Review holds true for businesses across industries.
Therefore, you must set up pragmatic and attainable sales targets for your team.
Here are some tips for setting the most effective sales targets:
Begin by understanding your business's objectives, needs, and key challenges. Consider your long-term growth plan when setting your short-term targets.

Be practical and set attainable targets by taking your team's suggestions into account.

Keep your previous sales, resource availability, and team capabilities in mind when making these forecasts.

Define distinct stages for your sales process and set targets for individual stages, if required.

Keep the sales data in your pipeline clean and well-updated at all times.

Analyze the outcomes of your targets and make necessary adjustments.
Challenges in Achieving Sales Targets
Setting sales goals is only half the battle won. You must put your best foot forward when striving to accomplish these goals.
More often than not, sales representatives are faced with a number of challenges that keep them from meeting their sales targets. Some of these include:
Unrealistic Goals:
The most prevalent challenge among sales representatives is unrealistic expectations and goals. Unattainable targets that are set without thorough market research and analysis can be discouraging for the team members, leading them to get frustrated. This is why management should refrain from using a top-to-bottom approach for sales goal setting and work with individuals to come up with viable targets.
Lack of Proper Technology:
Another challenge in setting sales targets is the lack of a software solution that enables you to visualize and track sales data. In the absence of an opportunity management tool that lets you view your sales pipeline in real-time, you cannot make accurate forecasts and manage sales targets efficiently. Moreover, such a tool can also help sales representatives overcome the challenge of performing tasks like logging data manually.
Inadequate Training:
A major challenge encountered by sales representatives is the lack of proper training and resources required to meet their goals. Moreover, continuous training can lead to a 50% spike in net sales per employee. Therefore, organizations that strive to meet sales targets consistently should invest in the training and development of their employees.
No Accountability Checks:
A lack of proper accountability checks is another reason for an organization being unable to achieve sales targets. A proper feedback loop can not only monitor the effectiveness of sales professionals but also provide them insights into improving their performance. By establishing a mechanism that tracks the progress of individual team members and rewards them routinely, you can ensure that your entire team is on the way to meeting its targets on time.

7 Sales Targets Examples for Your Sales Success
Specific targets can work wonders for your sales team.
By using well-defined targets instead of ambiguous terms like more sales or better revenue, you can ensure that your team has a clear vision of the direction the company is headed.
Here are some SMART sales goals examples that you can set for your company:
Reduced customer acquisition cost by 15%

Increase customer lifetime value by 20%

Increase monthly revenue by 10%

Schedule 2 demos with prospects per week

Increase profit margin by 10%

Reduce sales cycle time by 5%

Increase monthly win rate by 8%
How to Track Sales Targets
So, you've set your sales targets.
What's next?
You must also have a powerful sales goals tracking mechanism in place to ensure that your targets are proving to be effective.
Here's a demonstration of how you can use an effective CRM tool such as BIGContacts for tracking sales targets.

You can track sales targets by comparing current performance with past or expected numbers. This visibility into essential sales numbers enables you to take the necessary steps to meet goals in time.
As evident from the example, you need a tool for monitoring whether your team is faring well in terms of sales numbers.
Furthermore, a sales target tracking system such as a CRM allows you to track the available opportunities using a visual sales pipeline. Such a tool enables your sales team to stay updated with sales goals at all times and track their progress effortlessly. As you fill your pipeline with more leads, you can easily visualize their movement through the sales cycle and identify actions to meet targets quickly.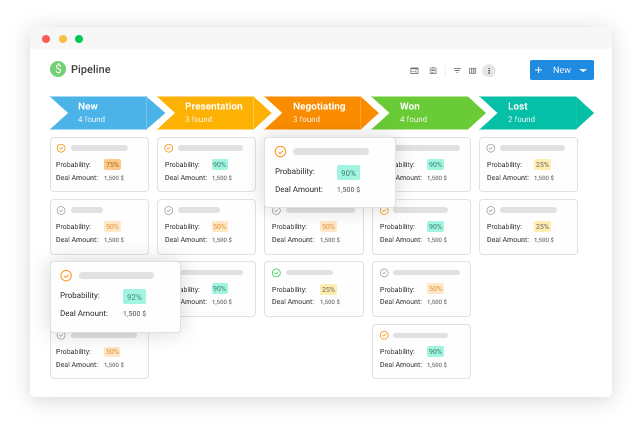 Realistic Sales Targets That Keep Your Profits Soaring High
Supercharge your revenue growth with effective sales targets.
Setting goals increases the likelihood of your sales team's success. In order to motivate your team to perform better, you must move on from unrealistic sales numbers marked as goals. By defining sales targets that are reasonable, you can pave the way for your team to be more productive with their time and resources.
An integral part of setting and tracking these targets is investing in powerful software for tracking sales. In fact, if you use a comprehensive system such as a CRM tool, you can not only track your sales targets but also gain insights into business processes and customers to optimize future sales endeavors. A dynamic CRM tool like BIGContacts also brings your sales data to one place and makes it remotely accessible, which further increases your probability of closing deals.
FAQs
1. What are Sales Target Examples?
There are varied examples of sales targets that you can use for your company, such as:
Increased revenue growth

Better win rate

Reduced churn rate

More cross-sells and up-sells
2. What are the Types of Sales Targets?
Sales targets can be of multiple types.
They can be divided into daily, weekly, monthly, quarterly, and annual targets based on the time expected to accomplish them. Or, the targets can be classified into primary and secondary, according to their scope of implementation.
3. How Do You Reach Sales Targets?
In order to meet targets, you must:
Set realistic targets that are workable for your team members.

Provide adequate training support to your sales team.

Equip your team with tools that support your sales processes, such as CRM, sales productivity tools, team communication tools, data analytics software, etc.

Track sales targets and monitor individual performance regularly.

Offer rewards and recognition to team members for accomplishing targets to incentivize them.
4. How are Sales Targets Set?
A guaranteed way for sales teams to succeed is by breaking down long-term goals into smaller, achievable targets.
To set such targets for your business:
Begin by calculating your current performance, such as the close rate, monthly revenue, etc.

Make accurate forecasts based on available data.

Consider factors such as team capabilities, resources required, etc., for meeting these predicted numbers.

Fine-tune your targets based on this information.