Accounting can be a hassle without the right tools at your disposal.
Quickbooks is currently one of the most popular accounting software for businesses across various industries. It is essentially used to organize the financial information for a business. However, it does not offer the functionality to keep related information for contacts well-organized. This is where a CRM tool comes into play.
Since customers lie at the center of any business's operations, it is important for your accounting software to work seamlessly with your CRM system. QuickBooks CRM integration can help you manage clients and track their financial records efficiently.
To obtain these benefits, you must invest in a CRM tool that offers a quick and easy integration with Quickbooks, allowing you to access all its features without having to toggle between both platforms.
If QuickBooks is your top choice for accounting tools, you are likely to benefit from the 11 CRM integrations that we list below. These tools can considerably enhance the effectiveness of your finance management.
What is QuickBooks, and Why Do You Need a CRM That Integrates With QuickBooks?
QuickBooks is an accounting and virtual bookkeeping software that enables businesses to keep track of their expenses, orders, and payments. The tool helps generate, manage and share invoices with customers.
A CRM that integrates with QuickBooks makes it easy for businesses to manage customer relationships and track finances. Customer relationship management tools store all essential information related to prospects and customers in one central database. Connecting this database with your QuickBooks records can help you access invoices and other related financial information with ease. Such integration conserves time for the business and also provides enhanced visibility into the financial position of the enterprise.
How We Evaluated the Best QuickBooks CRM Integration Options
To collate this list of the best CRM for QuickBooks, we have taken into consideration:
Pricing
We have taken the pricing structure of the software into account to find the most affordable and scalable solutions.
Functionality
We have considered the general features that the tools offer to qualify them as suitable CRM integrations for QuickBooks.
Ease of Use
We have included tools that are easy to implement and use. Such straightforward implementation and usage make for improved efficiency.
Flexibility
The tools included in this list are highly customizable and offer extensive flexibility for you to modify various modules based on your needs.
User Reviews
We have considered reviews from real users of the tools to better understand their functionality and reliability.
Understand the Benefits of QuickBooks CRM Integration
Before we explore more about the best QuickBooks CRM integration choices available on the market today, let's understand the advantages that such an integration can offer.
It reduces the length of the sales cycle by making it easier to deliver quotes, invoices, and reminders to customers.

With a CRM tool that can be connected with QuickBooks, you can track preferences and deliver more

personalized experiences

to your clients.

The data is automatically synchronized between both the platforms, saving you the trouble of logging everything manually.

Your accounting and sales teams can share information more efficiently and collaborate towards increasing business profitability.

Track all related invoices and access payment histories for your customers to increase the chances of upselling.

Generate

reports

to analyze your financial performance and identify areas for improvement. This also empowers you to make better decisions for the future.

Keep track of overdue payments and get notified in real-time about payment updates.

Keep your financial records clean by only including converted prospects in the QuickBooks account, while other leads can be stored in the CRM system.
A Quick Look at the Best CRMs That Integrate With QuickBooks
Software
Key features
Pricing (Starts from)
BIGContacts
Workflow automation
Reporting & analytics
Real-time alerts
$5/user/month
HubSpot
Automated processes
Data enrichment
Email tracking
$45/month
Nutshell
Automated sequences
Communication tracking
Detailed reports
$20/user/month
Zoho CRM
AI assistant
Custom triggers & actions
Sales forecasts
$14/user/month
Pipedrive
Lead management
Insightful reports
Real-time updates
$12.50/user/month
Freshsales
Intelligent recommendations
Reporting & analytics
Instant notifications
$15/user/month
Insightly
Automated workflow
Custom reports
Real-time data dashboards
$29/user/month
Salesforce
Automated reminders
Reports & forecasts
Collaborative features
$25/user/month
EngageBay
Automated workflows
Real-time notifications
Customer segmentation
$11.99/user/month
Keap
Automated processes
Appointment scheduling
Reporting & analytics
$59/month
monday.com
Custom workflows
Reports & dashboards
Detailed activity timelines
$8/user/month
11 Best QuickBooks CRM Softwares of 2023
Here is an in-depth comparison of the best CRM tools offering integration with QuickBooks.
1. BIGContacts
One of the best CRM with QuickBooks integration is BIGContacts. It enables you to view all previous transactions right inside the respective contact records, creating more cohesive profiles. Data between your QuickBooks and BIGContacts account is synchronized automatically. The tool also offers automated reminders and instant alerts to help you stay updated with all recent transactions.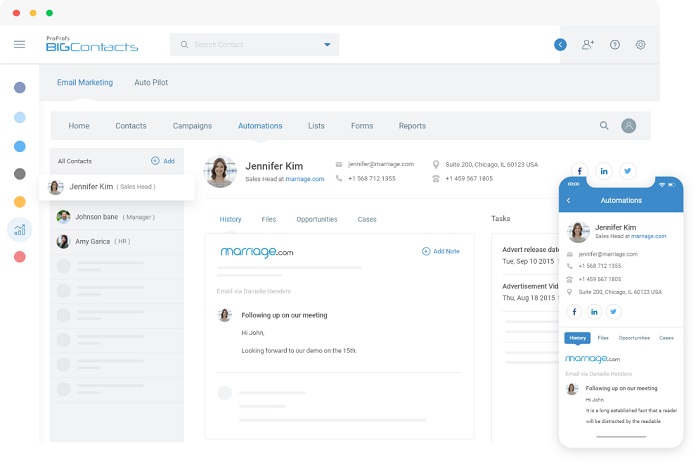 Key Features:
Synchronize fields between BIGContacts and QuickBooks.

Automate tasks and reminders to meet deadlines consistently.

Gain insights into your business with smart reports.

Track all contact details, transactions, emails, calls, and other interactions with clients from a single place.

Share personalized drip emails with prospects and customers.
Pricing:
Big- $5/user/month

Bigger- $15/user/month

Biggest- $25/user/month

Enterprise- Custom pricing
Pros:
Contact records are populated with publicly available data.

View all contact records remotely with the mobile version of BIGContacts that automatically adjust to the device you're using.
Cons:
Finding duplicate records should be simplified.

More advanced search capabilities are required.
2. HubSpot
HubSpot offers seamless CRM integration with QuickBooks, making it easy for you to manage client interactions and transactions from a single platform. It is a free tool that can be leveraged to improve customer relationships and accelerate business growth. HubSpot makes it easy to track customer activities and deliver personalized services to strengthen brand loyalty.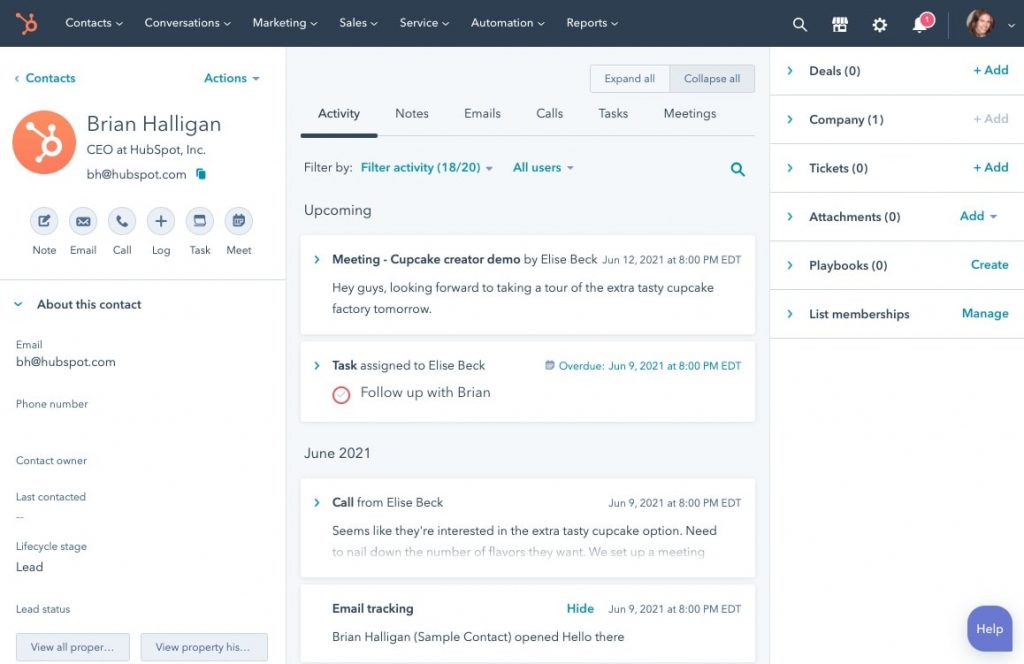 Key Features:
Track interactions with clients and view QuickBooks transactions within the specific contact records.

Automate tasks to improve contact management.

Keep track of leads with a clean and detailed sales pipeline view.

Track the engagement levels for your emails and get notified when prospects open or click on your emails.

Nurture more prospects into customers with personalized bulk email campaigns.
Pricing:
Free version available
Plans start from $45/month
Pros:
Contact profiles are automatically enriched with data from multiple sources.

Use the mobile app to view your CRM data on the go.
Cons:
More advanced reporting capabilities are required.

The tool's pricing structure is steep.
3. Nutshell
The combined capabilities of Nutshell CRM and QuickBooks empower you to manage every aspect of your business from a single platform. Use this CRM for QuickBooks to keep track of your customer relationships, manage expenses, and accept payments. Nurture clients towards repeat purchases by keeping track of their previous transactions and interactions.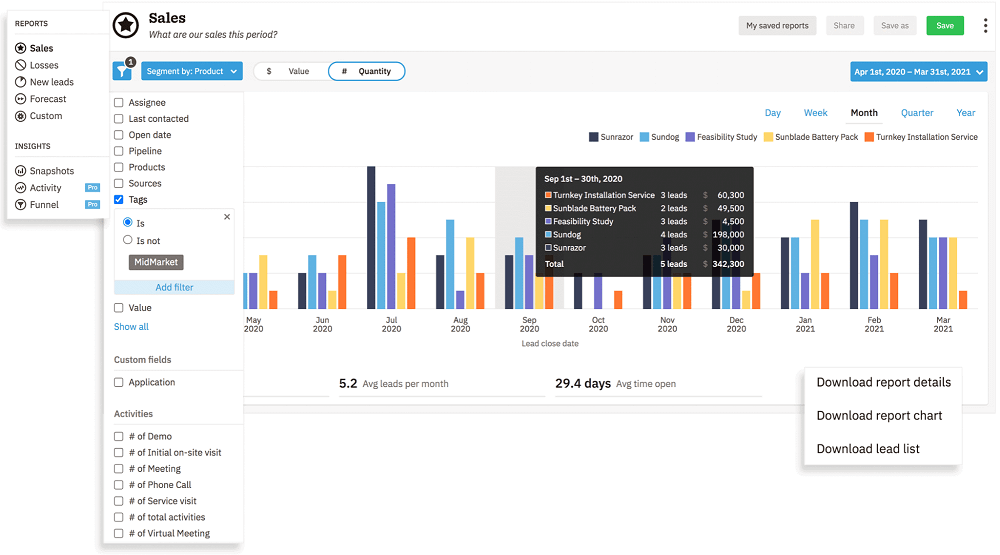 Key Features:
Send contacts from CRM to QuickBooks and vice versa.

Use data from QuickBooks to generate sales and revenue reports.

Track communication and transaction history to make upcoming interactions more relevant.

Automate actions, follow-ups, and sequences to enhance organizational productivity.

Create QuickBooks invoices for clients from within the CRM system.
Pricing:
Starts from $20/user/month
Pros:
Keep customer data clean and well-organized by connecting QuickBooks with Nutshell.

Records and invoices are automatically synchronized between both accounts, saving time and effort.
Cons:
Search doesn't always produce the most accurate results.

Data import and export need to be simplified.
4. Zoho CRM
Zoho CRM makes it easy to keep data updated between your CRM and QuickBooks accounting software. Triggered integration allows you to choose relevant automation and the most appropriate actions for your clients based on their history. Import data from QuickBooks into the CRM system to create and maintain detailed contact records.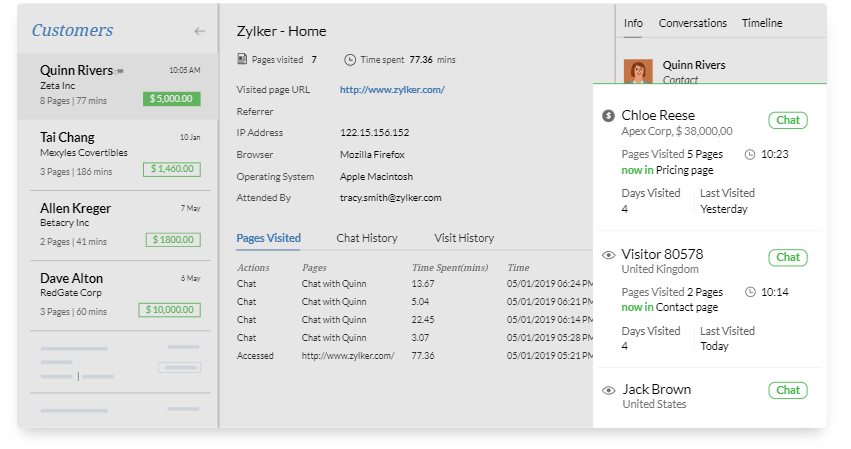 Key Features:
Keep contacts, vendors, orders, invoices, etc., synchronized between Zoho CRM and QuickBooks.

Automate complex business processes and workflows to save time and enhance efficiency.

Specify different logics and conditions to trigger integrations.

The tool offers an AI assistant that provides recommendations and insights.

Export all or only the selected records.
Pricing:
Free for 3 users
Plans start from $14/user/month
Pros:
Choose from pre-built integration flows to choose how to connect QuickBooks with Zoho CRM.

Track the history of data transferred between both platforms.
Cons:
It is common for duplicate contact records to be formed.

Customer support is not up to the mark.
5. Pipedrive
Pipedrive is a powerful sales CRM compatible with QuickBooks. The tool enables you to manage deals using detailed records and create invoices directly from these records. All the invoices linked to a contact record can be viewed in one place. Moreover, you can filter these invoices based on a time frame or unlink them.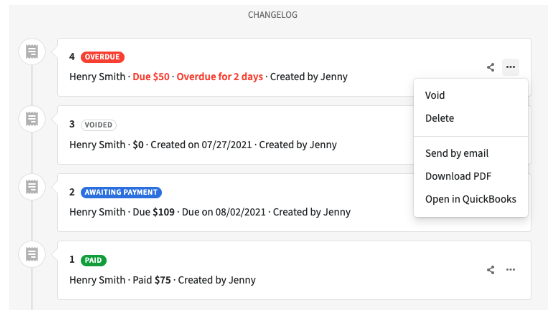 Key Features:
Get updates on the status of your invoices to know when payments are due.

Create invoices in Pipedrive, which are automatically added to your QuickBooks account.

Share invoices with clients via email.

The Changelog and sidebar in the detail view of the deals in Pipedrive display the invoices and their current statuses.

Generate insightful reports to track your business performance.
Pricing:
Plans start from $12.50/user/month
Pros:
Transfer data to and from your QuickBooks account without any hassle.

Choose Pipedrive fields to be automatically populated in your QuickBooks invoices.
Cons:
Pipedrive only allows one user per company account to have an active QuickBooks integration.

Limited support is provided for the lower-priced versions.
6. Freshsales
View invoices and manage payments directly inside your Freshsales CRM by connecting it with QuickBooks. You can track all invoices related to your contacts by pinning them against the respective contact record in your Freshsales account. The CRM tool also provides a detailed contact summary, including their transactions and other associated details.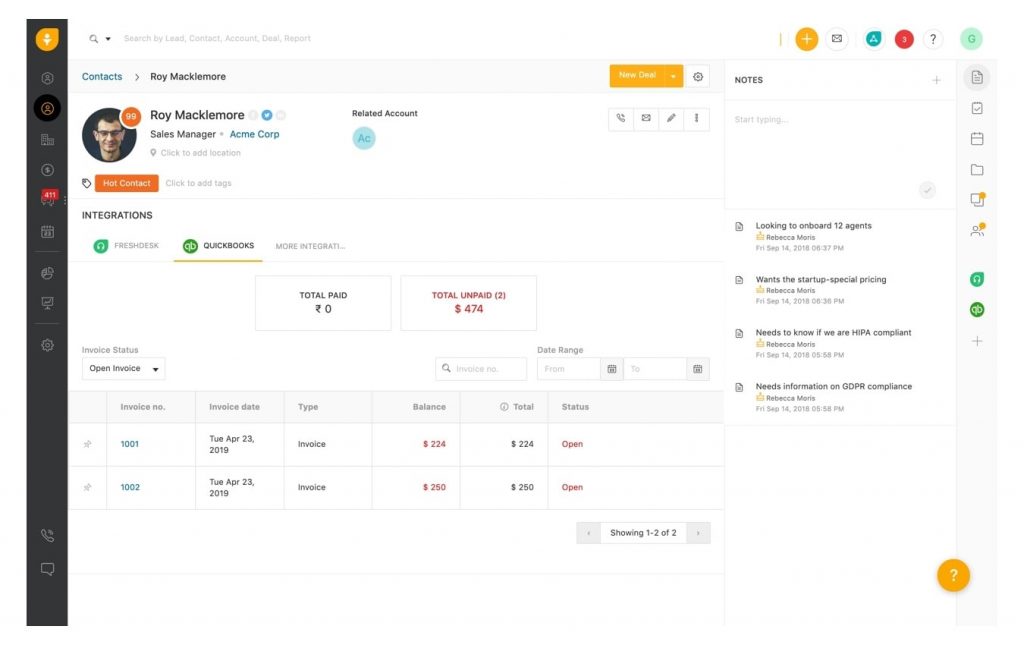 Key Features:
Find the relevant invoices and transaction histories for contacts with ease.

Get instant notifications for payments and other customer actions.

Analyze performance and make accurate business forecasts.

Access important data on the go with the mobile application.

View all previous email interactions and overdue or completed payments in one place.
Pricing:
Free version available
Plans start from $15/user/month
Pros:
View and search through QuickBooks invoices without leaving your CRM system.

Get insightful recommendations with the CRM's AI capabilities.
Cons:
More robust reporting capabilities are required.

The available technical support is not up to the mark.
7. Insightly
Insightly offers an easy QuickBooks integration, making it possible to view contact information and transaction history without switching between multiple platforms. With detailed contact records displaying all the associated invoices, you can keep track of every pending payment with ease. The tool offers extensive customization, so you can modify various modules to suit your needs.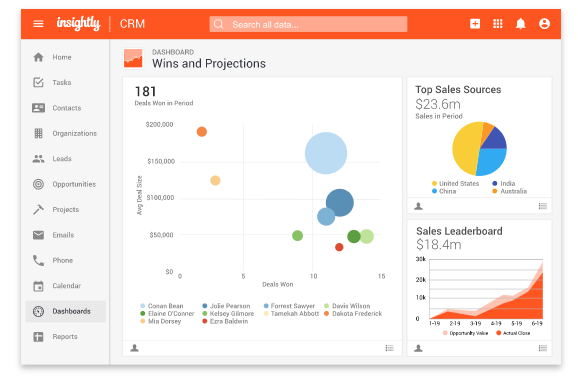 Key Features:
View pending or overdue invoices within the contact records.

Track any payment status or history conveniently.

Link QuickBooks invoices to contact records to avoid double data entry.

Visualize business data easily with comprehensive reports and dashboards.

Create and deploy automated workflows to enhance team productivity.
Pricing:
Free for 2 users
Plans start from $29/user/month
Pros:
Create real-time dashboards to view custom information at a glance.

Work on the go with a mobile application that works effectively for iOS and Android.
Cons:
The tool lacks proper technical assistance.

Bulk import of contacts is slow.
8. Salesforce
Keep your business accounts and CRM data connected with Salesforce QuickBooks integration. This provides you complete visibility into how your business is performing with respect to your finances as well as customer satisfaction levels. Share relevant accounting data from QuickBooks with your team to empower them to make the right decisions.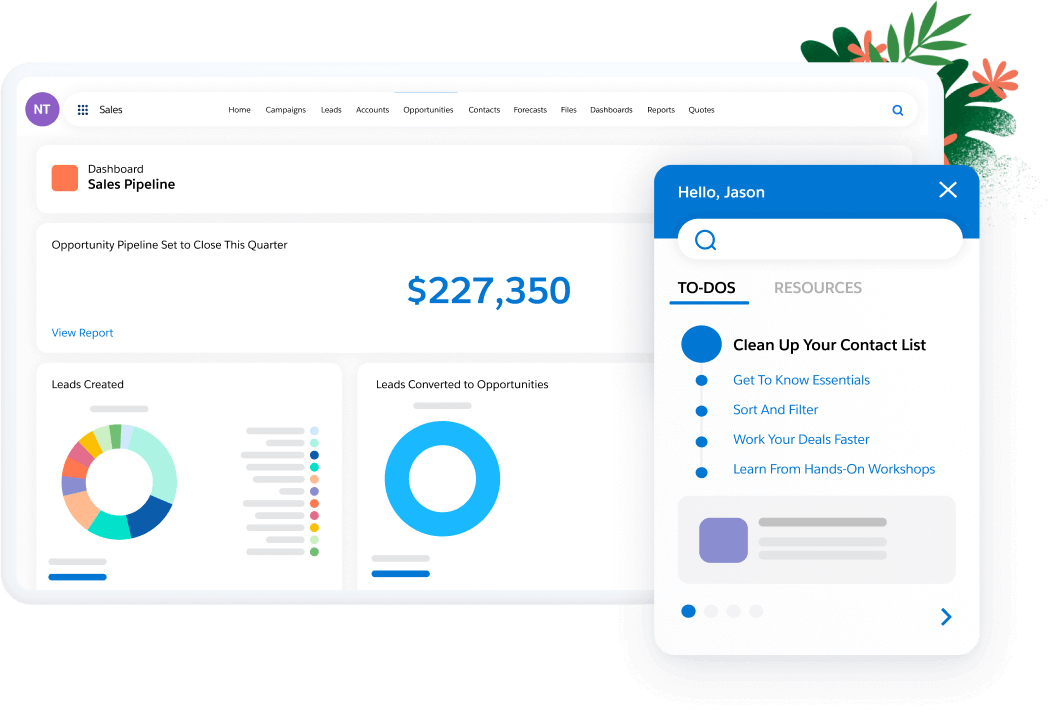 Key Features:
Track expenses, invoices, payments, and revenue from within the CRM system.

Get a comprehensive view of your CRM and financial data in one place.

Share automated reminders for due payments.

View customer information, previous interactions, sales orders, and payment history from a single screen.

Make more accurate business decisions and forecasts.
Pricing:
Plans start from $25/user/month
Pros:
Reduce double data entry with the seamless integration between Salesforce and QuickBooks.

Empower your sales and accounting teams to work together more efficiently.
Cons:
Better technical support and training assistance are required.

The interface can become cluttered, leading to difficult navigation.
9. EngageBay
Manage payments directly from the contact records by connecting EngageBay with QuickBooks. Keeping data synchronized between both these platforms empowers you to stay updated with contact information and transaction history at all times. Track your expenses, manage payments and make better business decisions by bringing QuickBooks data to your CRM system.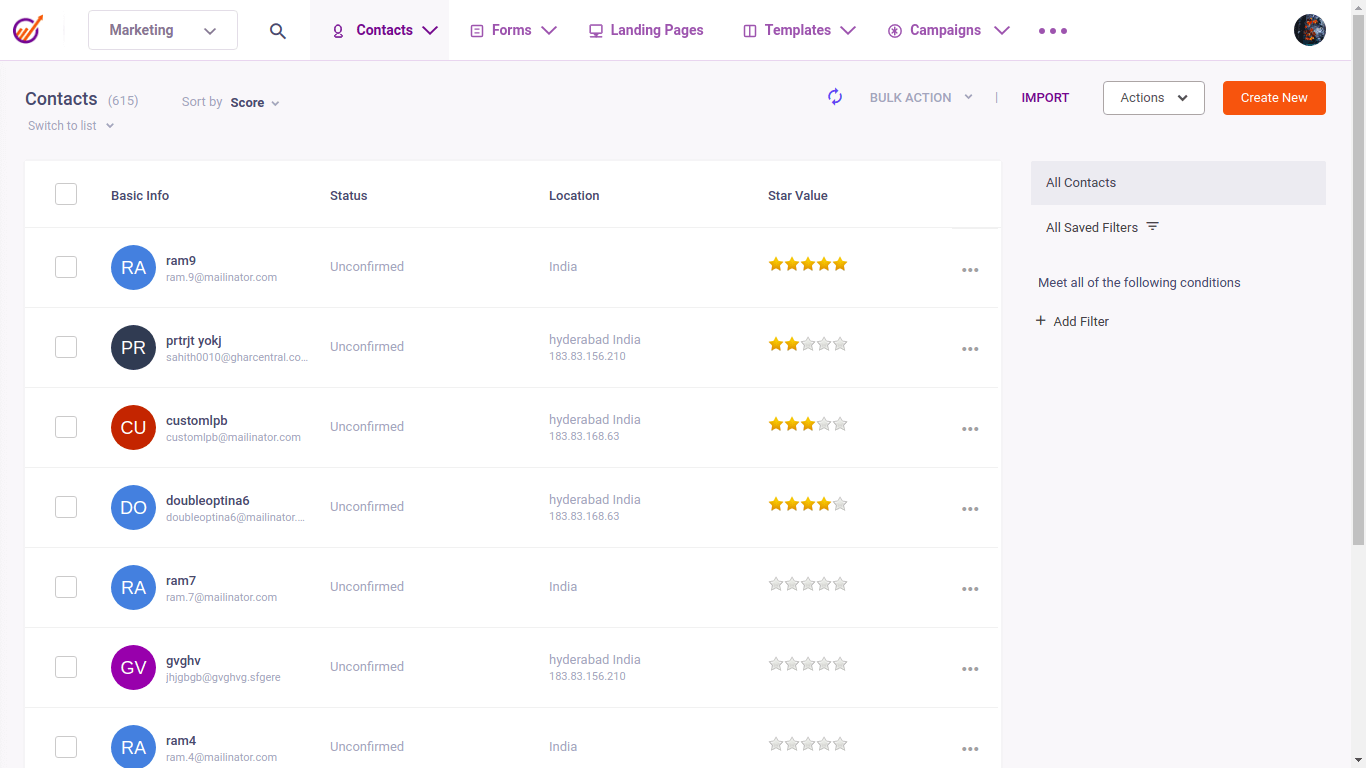 Key Features:
Define triggers for relevant actions between your EngageBay and QuickBooks accounts.

Create automation workflows to save time and increase productivity.

Track customer behavior and view transaction histories in one place.

Score leads and segment customers into distinct lists to enhance personalization.

Use push notifications to reach your prospects and customers at the right time.
Pricing:
Free for 15 users
Plans start from $11.99/user/month
Pros:
Importing data is straightforward and quick.

Set up tasks and email sequences to close deals with ease.
Cons:
The tool's UI needs upgrades.

The learning curve is long.
10. Keap
Integrating Keap CRM with QuickBooks can save you from double entry and help ensure that your accounting books are balanced, freeing up more time for selling. Import your QuickBooks data into Keap to manage customer relationships more effectively. All your products, invoices, and contacts are synchronized, helping you stay well-organized and updated at all times.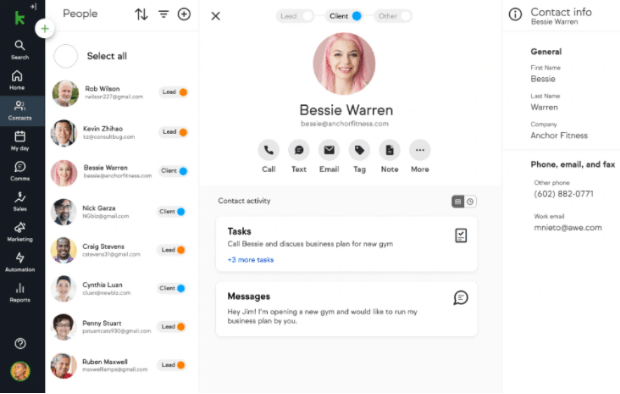 Key Features:
Invoices are automatically synchronized between the two platforms, eliminating the need for manual entry.

Visualize and review business data with powerful reporting and analytics.

Define custom triggers for automated workflows and nurturing series.

Track your expenses, invoices, and payments easily.

Access contact details and accounting information on the go with the mobile application.
Pricing:
Plans start from $59/month
Pros:
Connect QuickBooks with your Keap account in just a few clicks.

Maximize team productivity by tracking all relevant customer information, including previous transactions, in one place.
Cons:
It can be overwhelming for beginners and requires an integrated knowledge base to get accustomed to its features.

The automation sequences can be restrictive to use.
11. monday.com
monday.com empowers you to automate your accounting processes and workflow, so you can focus more on selling. This CRM software for QuickBooks eliminates the busywork from accounting, so you can keep track of all payments and expenses with ease. This allows you to track your finances and manage client relationships from a single place.
Key Features:
Generate and manage invoices for clients and track their statuses.

Craft custom workflows, pipelines, and automation.

Process payments automatically to save time.

Customize the integration by defining triggers and actions to be performed.

Get a complete overview of where your payments currently stand and how well your business is performing.
Pricing:
Free for 2 users
Plans start from $8/user/month
Pros:
Work remotely with the mobile application.

An intuitive interface makes monday.com easy to use.
Cons:
The import of a large volume of data can be challenging.

The extensive customization can lead to the tool getting too difficult to navigate.
Choose The Right QuickBooks CRM
With powerful contact management and automated processes, the right CRM can effectively enhance the productivity of QuickBooks.
Finding the most suitable CRM tool can be challenging. You must invest in a tool that simplifies and automates key business processes, so you can delight customers and retain them for years to come. The tool that you select should be easy to integrate with QuickBooks. It should also meet the specific needs of your organization.
In order to select the most appropriate QuickBooks CRM integration, pay attention to the following:
The pricing structure and scalability of the tool

The ease with which the tool integrates with QuickBooks

The automation capabilities the tool provides

Whether it offers

mobile access

Data synchronization capabilities

The unique requirements of your team

The customization offered by the tool
Read more: Free CRM Comparison Spreadsheet (How to Choose a CRM)
Manage Finances Effectively With QuickBooks CRM Integration
Integration of CRM with QuickBooks can offer a complete picture of your customers in one place, saving time for your business. Moreover, you can get valuable insights to improve financial performance and customer satisfaction.
The 11 top choices for QuickBooks CRM integration listed above are highly straightforward solutions that can streamline your customer relationship management and accounting efforts.
Whichever CRM tool you choose, make sure to avail its free trial to get a first-hand experience of its usability. Check user reviews and ratings before investing in any solution. Carry out a detailed analysis of your needs and compare multiple products against them to find the best solution.
One of the most powerful CRM tools to connect with your QuickBooks account is BIGContacts. The tool offers powerful automation capabilities, helping you create workflows that enhance overall productivity. BIGContacts is extremely intuitive, making it easy to navigate. Moreover, the tool is extensively customizable, so you can easily adapt it to suit the needs of your organization.