Mailchimp is a well-acclaimed and one of the most effective marketing automation tools in the market today. Businesses across multiple industries rely on the tool to craft email marketing campaigns to acquire and retain customers.
While it offers a range of email marketing functionalities, the tool requires to be integrated with the right CRM tool to derive the most benefit out of its implementation.
This integration can help you drive your marketing efforts to generate successful outcomes. However, not every CRM application is well-suited to be paired with Mailchimp.
To see real profits, you must invest in the right set of tools.
We're here to help make this selection easier for you. Discover the 10 best Mailchimp CRM integration options for your business. Compare their functionality against your business needs and analyze the pros and cons to make an informed decision. Read on to find the most suitable CRM for integrating with your Mailchimp account.
Evaluation Criteria for the Best CRM Tools for Mailchimp Integration
Before we list the 10 top CRM Mailchimp integrations, here are the selection parameters used to collate the list:
Pricing:

Affordability is a crucial factor for finding the right CRM application.

We have included tools that offer high value for money and are budget-friendly.
Scalability:

Every growing enterprise needs a scalable tool capable of keeping up with the changing business needs. Therefore, this list contains highly scalable tools that can grow with your business.
User Reviews: We have considered user reviews from credible platforms such as G2 and Capterra to find the most effective tools for your business.
Features:

We have taken various essential factors into account for finding effective CRM Mailchimp integrations. These include automation capabilities, contact management, customer segmentation, reporting & analytics, mobile access, etc.
Ease of use:

One of the most crucial factors for choosing a CRM tool is usability. We have only included simple and easy-to-use applications that do not add to your burden and can get things done effortlessly.
Is Mailchimp a CRM?
Mailchimp helps craft and manage marketing campaigns to generate more leads and keep existing customers engaged. It is primarily a marketing tool that helps design, execute, and automate campaigns to grasp the attention of prospective customers. It also aids lead nurturing and customer retention.
Fact: The average open rate for emails delivered by Mailchimp for the software and web application industry is 21.29%. The average click rate for the same is 2.45%.
The tool also offers CRM services for small businesses. While you can use Mailchimp as a CRM for managing a few leads, it soon becomes cumbersome with an increasing number of prospects. Therefore, you need to integrate it with a CRM tool that keeps contact data organized and streamlines sales, marketing, and support.
The Benefits of Mailchimp CRM Integration
Keeping data synchronized between Mailchimp and CRM offers an abundance of opportunities for you to improve your outreach. However, if you are still on the fence about integrating your Mailchimp account with a powerful CRM system, here are some of the most significant benefits that await you:
1. Schedule & Manage Campaigns
Get complete control over your marketing campaigns by combining the capabilities of CRM and Mailchimp. This provides you with a centralized platform for keeping track of all marketing activities. You can schedule, execute and manage all marketing campaigns without switching between multiple applications. All the data is located in one place and synchronized instantly, helping you stay updated at all times.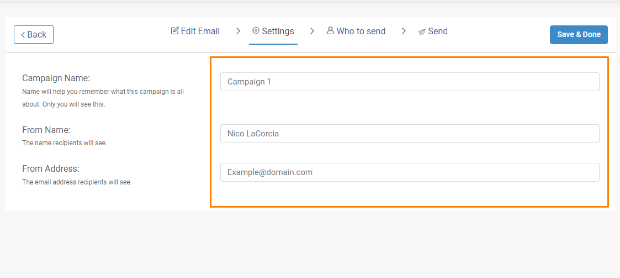 2. Enhance Targeting
It becomes easier to drive more meaningful conversations with prospects and customers, with all essential data central located. Mailchimp CRM integration presents the opportunity to enhance the personalization of your outreach efforts. The marketing emails can be optimized according to the likes, demographics, preferences, and pain points of your target audience.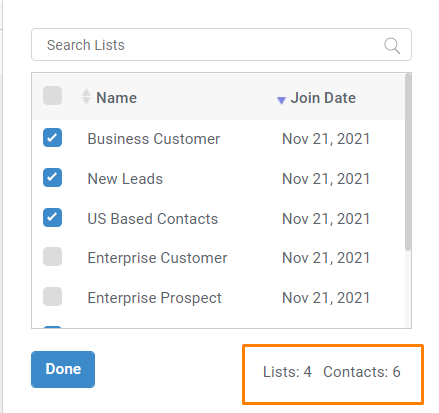 3. Automate Repetitive Activities
A key feature of CRM is that it helps automate administrative tasks, freeing up more time for critical business activities. The integration of Mailchimp and CRM can enable you to craft automated campaigns that deliver the content to contacts based on their preferences at the right time. Automation not only saves time but also reduces costs, eliminates errors, and helps increase overall productivity.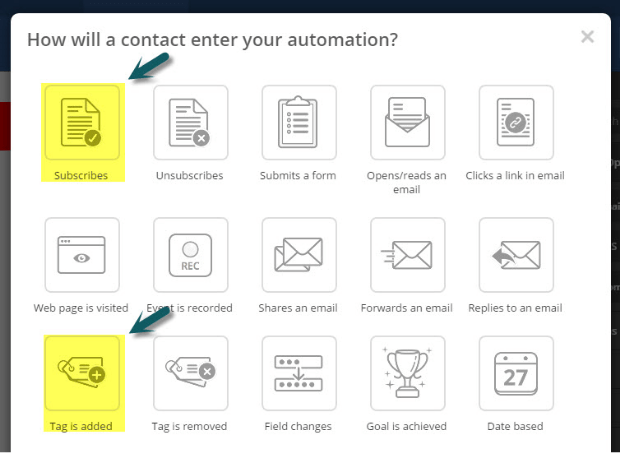 Read More: What is Marketing Automation? Definition, Objectives, Strategies That Work
4. Leverage Data Analytics
CRM offers robust reporting and analytics capabilities, making it easy to track the performance of every marketing campaign. It helps you analyze how well your marketing emails are doing with the audience. The insights offered by the CRM system can be leveraged to improve the upcoming campaigns. Stay on top of every campaign and monitor how your contacts interact with your emails with enhanced visibility into business data. Track open and click-through rates, and identify areas where your campaigns require improvement.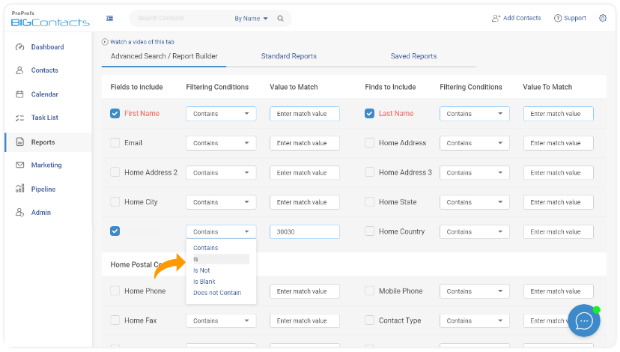 A Quick Look at the Best Mailchimp CRM Integrations
Software
Key Features
Pricing
BIGContacts
Pipeline management
Drip marketing campaigns
Reporting & analytics
Starts from $5/user/month
HubSpot
Pipeline management
Helpdesk integration
Reporting dashboard
Starts from $45/month
Nutshell
Contact management
Pipeline management
Automated workflows
Starts from $20/user/month
Zoho CRM
Lead management
AI assistant
Workflow automation
Starts from $14/user/month
Pipedrive
Pipeline management
Reporting & analytics
Email tracking
Starts from $12.50/user/month
Freshsales
Contact management
AI assistant
Automated tasks
Starts from $15/user/month
Insightly
Workflow automation
Custom dashboards
Lead routing
Starts from $29/user/month
Capsule
Pipeline management
Automated workflows
Task & calendar tracking
Starts from $18/user/month
Salesforce
Automated tasks & workflows
Sales pipeline management
Business analytics
Starts from $25/user/month
EngageBay
Marketing automation
Lead management
Appointment scheduling
Starts from $11.99/user/month
10 Best MailChimp CRM Integrations
As we know that Mailchimp is the best tool for marketing automation. But, you can take a look at this article Mailchimp vs Mailshake for a wider perspective to grow your business in today's world.
Here are our 10 top picks for CRM tools that work in seamless synchronization with Mailchimp.
1. BIGContacts
BIGContacts is an easy-to-use CRM that offers a fully-functional integration with Mailchimp, allowing you to enhance and personalize your marketing endeavors. It is one of the best CRM with email marketing, task management, sales pipeline tracking, and contact management capabilities. The reporting and analytics features of the application make it easy to analyze the performance of marketing campaigns and identify areas of improvement. Moreover, the tool helps drive meaningful and personalized interactions with prospects and customers.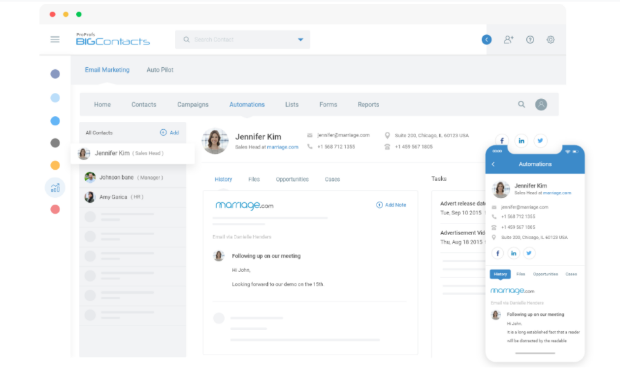 Best For:
BIGContacts is simple and scalable, which makes it ideally suited for startups, small businesses, and growing enterprises. However, the extensive range of features makes the tool work effectively for organizations of all sizes.
Pricing:
BIG- $5/user/month

BIGGER- $15/user/month

BIGGEST- $25/user/month

ENTERPRISE- Custom pricing
Key Features:
Intelligent drip email campaigns adjust automatically based on the position and activities of prospects.

Automate recurring tasks and set activity reminders to improve productivity.

Ready-to-use reporting templates are available. You can also generate custom reports and store them for future use.

Pipeline tracking makes it easy to visualize and manage all available sales opportunities.

Create detailed contact profiles enriched automatically with social profiles and store the most relevant information with custom fields.
What is Unique About BIGContacts:
Manage tasks more effectively with the visibility and functionality offered by the calendar module.

The tool's interface is clean, intuitive, customizable, and easy to use.
2. HubSpot
HubSpot can be integrated with Mailchimp for improving marketing outcomes. The detailed contact profiles provide all the context you need to craft engaging marketing campaigns. The tool can be used to organize and manage deals effectively. HubSpot and Mailchimp integration can help automate marketing campaigns and share bulk emails with segmented customer lists. Moreover, the tool enhances organizational productivity by managing tasks and generating reminders.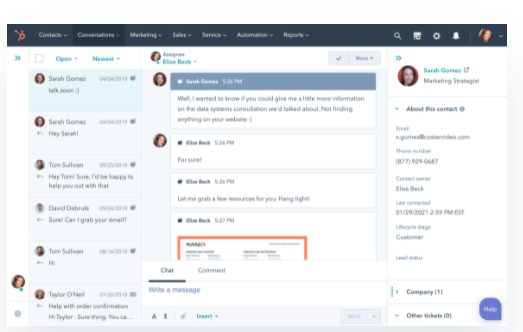 Best For:
The free version of the tool is great for beginners. The premium versions are suitable for businesses of all sizes.
Pricing:
Free version available

Plans start from $45/month
Key Features:
Contact records are automatically enriched with online activity and public information.

Generate more leads for your business with forms and landing pages.

Analyze customer behavior and traffic sources. See which sources generate the most qualified leads and what actions drive conversions.

Manage support tickets and deliver more personalized services.

Help prospects and customers schedule meetings with your team members.
What is Unique About Hubspot:
The sales pipeline offers complete visibility into available opportunities.

Use the application from any device, anywhere.
3. Nutshell
Nutshell is another excellent CRM for Mailchimp integration. It automates key sales processes and marketing activities to enhance your profitability. This CRM can work well with Mailchimp, enabling you to personalize your marketing outreach. Nutshell offers powerful automation features that reduce the time wasted on repetitive administrative tasks and establish a consistent workflow for the team. The CRM tool also provides flexibility for managing sales pipelines, enabling you to utilize them to the maximum potential.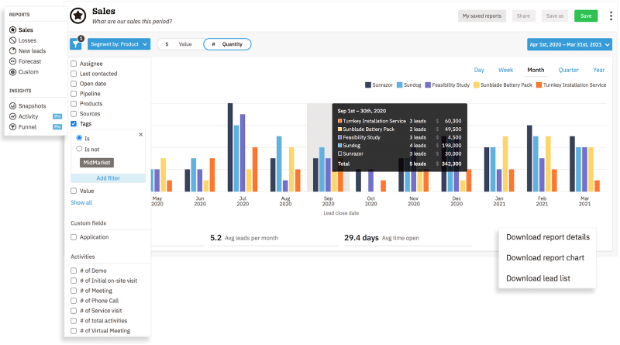 Best For:
The easy functionality of the tool makes it suitable for small and growing businesses.
Pricing:
Plans start from $20/user/month
Key Features:
Access detailed contact profiles to drive more personalized interactions.

Capture leads directly from your website.

Customize reports to track the most relevant metrics for your business performance.

Foster team collaboration with streamlined communication and instant alerts.

Manage deals effectively with multiple pipeline views, including list, chart, map, and board.
What is Unique About Nutshell:
The customizability of the tool makes it easy to adapt according to the organization's needs.

Automated activities free up a considerable amount of time which can be used to foster stronger customer relationships.
4. Zoho CRM
Zoho CRM is a simple yet effective tool for managing customer interactions across multiple channels. Along with streamlining your customer engagement, it can score and prioritize leads, so your time and resources are utilized efficiently. The CRM tool offers contact management, sales forecasting, and marketing automation capabilities. These features make Zoho CRM integration with Mailchimp highly functional. Furthermore, the AI assistant can provide you with intelligent recommendations and relevant suggestions to enhance your business offerings.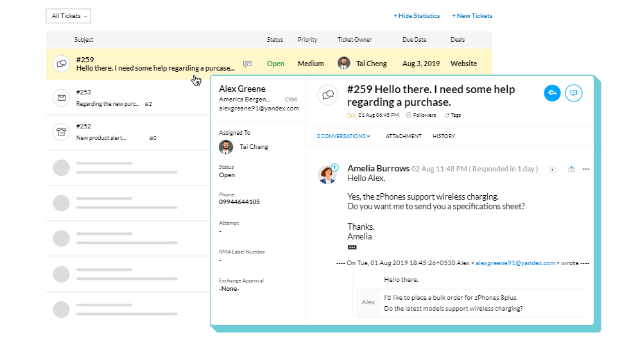 Best For:
Zoho CRM offers reliable performance for organizations of all sizes, from startups to established enterprises.
Pricing:
Free for 3 users

Plans start from $14/user/month
Key Features:
Get AI-powered insights to optimize your business processes.

Automate workflows to empower your team to be more productive and efficient.

Predict deal outcomes to focus on high-value prospects.

Get real-time notifications for customer actions.

Manage and resolve support tickets with access to relevant customer information.
What is Unique About Zoho:
Remote access to essential customer data helps you get things done on the go.

The tool offers collaborative features, including tags, comments, notes, etc., which boost team efficiency.
5. Pipedrive
Pipedrive Mailchimp integration can enhance your lead generation and nurturing processes. The sales CRM tool enables you to pool all leads in one place and manage them effortlessly. Pipedrive can be used to set up sales pipelines with custom stages. These pipelines can be used to track all the essential details for deals and identify which leads require more attention. The tool also enables you to set up automated actions that enhance the overall effectiveness of the sales process.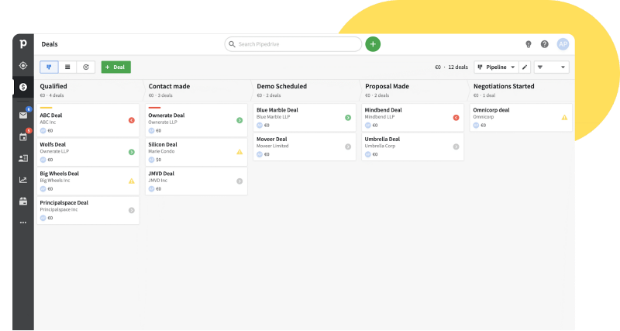 Best For:
Pipedrive is suitable for sales professionals that require a CRM that helps manage the entire sales process. This easy-to-use CRM works well for small businesses.
Pricing:
Plans start from $12.50/user/month
Key Features:
Save time and cut costs by automating various steps of the sales process.

Gather actionable insights with the help of dashboards and reports.

Get notified when prospects open emails or take any actions.

Store and manage all your leads effectively with the help of custom sales pipelines.

Get accurate sales forecasts for your deals. These forecasts are automatically updated as the prospect moves forward in the sales process.
What is Unique About Pipedrive:
Pipedrive's interface is intuitive and easy to use.

The chatbot can be used to capture more leads.
6. Freshsales
Freshsales is an AI-powered CRM for Mailchimp that can foster team collaboration and strengthen customer relationships. It enables you to connect with your customers with their most preferred channel, further improving satisfaction. Freshsales also offers extensive customization options. These include custom fields, stages, modules, activities, and roles. The CRM tool can be used to automate routine activities, make data-driven decisions and deliver tailored solutions to customers.
Best For:
Freshsales works effectively for SMBs that are in search of an uncluttered and easy-to-use CRM tool.
Pricing:
Free version available

Plans start from $15/user/month
Key Features:
Use AI to find duplicate records, score leads, and predict deal outcomes.

The tool automatically enriches contact profiles with social information.

Create automated workflows to eliminate manual efforts and boost productivity.

Build custom sales pipelines to manage your deals effectively.

Use pre-built templates or create custom reports to monitor the performance of your business operations.
What is Unique About Freshsales:
The AI-powered insights and forecasts help improve business performance.

Automate lead assignment and sales sequences to boost your team's efficiency.
7. Insightly
Insightly CRM can streamline your business activities, helping everyone in your organization work more effectively. Insightly Mailchimp integration can help you guide more leads towards conversion with personalized marketing campaigns. The CRM tool allows you to customize views, manage user controls, and automate repetitive activities. Insightly also helps you track milestones and oversee all operations to ensure the timely completion of projects.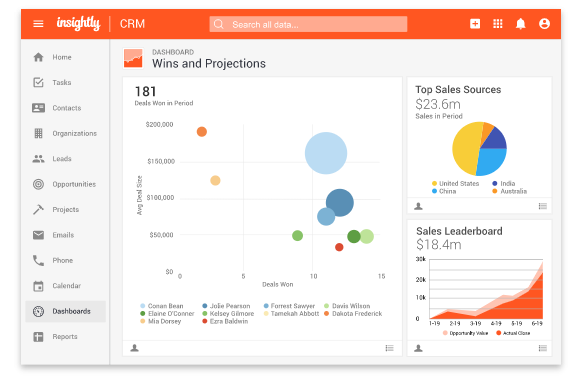 Best For:
Insightly is suitable for small to medium-sized businesses that wish to manage customer relationships and projects from a centralized location.
Pricing:
Free for 2 users
Plans start from $29/user/month
Key Features:
Get a 360-degree view of your contacts, including all previous touches, to personalize engagement.

Insightly automatically routes your leads to the most relevant sales representatives.

Create automated workflows with multiple steps that help your team stay productive.

Schedule email alerts and task reminders.

Visualize business data to obtain relevant insights.
What is Unique About Insightly:
Customize dashboards to meet the unique needs of your business.

Define user roles and manage permissions based on your business roles.
8. Capsule
Capsule CRM is a simple tool that makes it easy to streamline your operations and build stronger customer relationships. The tool offers robust sales management features that can grow your revenue. It also makes it easy to stay on top of upcoming meetings and events. The tool keeps your data synchronized across multiple applications in real-time. Capsule automatically enriches your contact records with social media profiles, helping you get better insights into your customers' behavior.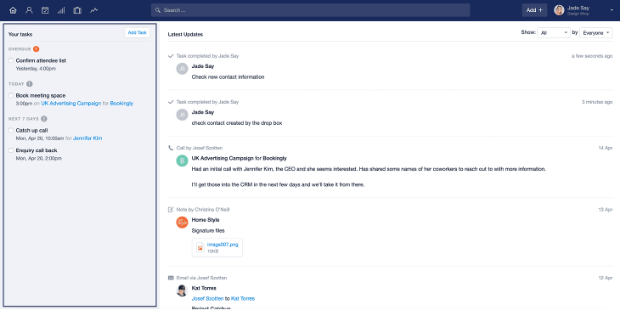 Best For:
This easy-to-use CRM is suitable for individuals and small businesses.
Pricing:
Free for 2 users

Plans start from $18/user/month
Key Features:
Get an overview of all the customers and prospects you are working with.

Use the sales pipeline to get a comprehensive summary of all opportunities.

Manage tasks, meetings, and appointments effortlessly.

Reports and analytics offer valuable insights into your business processes.

Assign roles and manage user permissions to ensure the security of your data.
What is Unique About Capsule:
It has an intuitive and user-friendly interface.

The customer support is very responsive and effective.
9. Salesforce
Salesforce ranks high in the list of Mailchimp CRM integrations. This CRM tool can significantly transform your marketing efforts. With its advanced features such as business intelligence and automation, Salesforce can have a positive impact on your bottom line. It keeps all your business data in one place, helping you be more productive. The tool also offers AI-based recommendations, helping you make better decisions for your organization.
.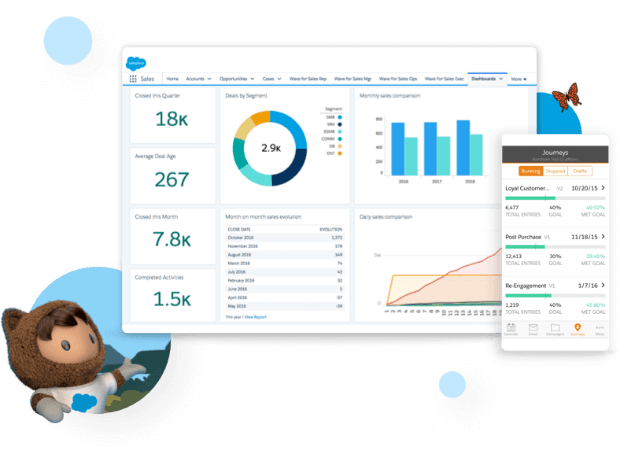 Best For:
Salesforce is well-suited for large teams looking for a highly customizable CRM system.
Pricing:
Plans start from $25/user/month
Key Features:
Create custom workflows for your team to keep things moving forward.

Manage your sales opportunities with the help of custom pipelines.

Track customer preferences and needs to deliver targeted marketing campaigns.

Make accurate sales and revenue forecasts.

Automate time-consuming tasks to free up more time for engaging with customers.
What is Unique About Salesforce:
The tool supports businesses with varying needs due to its extensive range of features.

The cloud-based CRM is easy to configure and maintain.
10. EngageBay
EngageBay is a popular choice for businesses that need an all-in-one CRM that brings sales, marketing, and support together. It improves contact management and makes it easy to deliver more personalized support experiences. The tool also offers advanced automation capabilities to improve organizational efficiency and reduce errors. Moreover, the analytics features allow you to stay on top of your customer engagement and team performance at all times.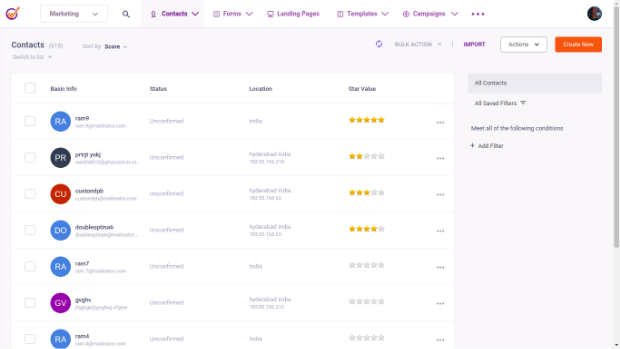 Best For:
EngageBay is a comprehensive solution for small businesses that want to eliminate the hassle of using multiple platforms for managing business processes.
Pricing:
Free for 15 users

Plans start from $11.99/user/month
Key Features:
Automate email sequences to improve follow-ups.

Empower your prospects to book appointments with your team members using the tool.

Score leads to focus more on high-value prospects.

Create responsive landing pages and monitor their performance.

Plan and track projects from start to finish within the CRM system.
What is Unique About Engagebay:
Capture leads directly from your website with the help of custom forms.

The customer service is very prompt and reliable.
Finding the Most Suitable Tool for Your Business
The tools listed above are highly functional and efficient. However, Choosing a CRM for Mailchimp from the extensive list of options available can be overwhelming. Here are some ways to make the selection process slightly easier for you:
Start with the end in mind. Know what objectives you wish to achieve with the tool.

Compare the top-rated solutions against your needs.

Include the end-users in the decision-making process.

Go through user reviews and ratings.

Use the free trial to test out the tool's functionality.

Focus on scalability and ease of use.
Read More: Free CRM Comparison Spreadsheet (How to Choose a CRM)
Enhance Marketing Endeavors with Mailchimp CRM Integration
Mailchimp CRM integration can help you significantly transform your customer engagement and grow your business.
The 10 tools listed in this blog are highly efficient and offer great value. The implementation of any of these tools can help you make the most out of your marketing efforts. However, to select the best tool out of these, keep your business's unique needs in mind. You must also pay attention to the tool's scalability and usability.
If you require a comprehensive and functional tool that offers multiple fully-featured integrations, BIGContacts can be an excellent choice. It's uncomplicated, reliable, and effective. Furthermore, the tool offers powerful automation capabilities to help you get things done quickly.
FAQs
Q. What are some essential features of a CRM tool for Mailchimp integration?
Some features that make a CRM suitable for integrating with Mailchimp include:
Contact management

Reporting & analytics

Data security

Mobile access

Automated tasks & reminders

Calendar synchronization

Customer support & onboarding assistance

Short learning curve & easy implementation
Q. How do I know if Mailchimp CRM integration is helping my business?
To determine if Mailchimp CRM integration is working for your organization, pay attention to the following factors:
Does it solve the challenges faced by your team members in the past?

Does it have a high user adoption rate?

Is it easy to use and maintain?

Has there been an improvement in your customer satisfaction and retention levels?

Has your conversion rate improved?

Are you able to deliver more targeted content to your customers?

Does the tool simplify processes and take things off your team's workload?
These questions can help you analyze if the tool is the right one for your company.
Q. How does BIGContacts stand apart from other Mailchimp CRM integration options?
BIGContacts is a leading CRM solution for businesses that value efficiency and simplicity. This delightful tool uncomplicates the process of customer relationship management with its intuitive interface and advanced features.
Some of the most advantageous features of BIGContacts include:
Easy to navigate design

Customizable modules

Intelligent reports & analytics

Affordable pricing

Prompt customer support available 24×7

Useful training resources & documentation