As per estimates, over 347 billion emails are sent and received every day.
So, how do you stand out in this crowd?
Pretty simple- with a well-crafted email strategy.
And an important constituent of this strategy is bulk email campaigns. These emails can be promotional, transactional, or simply a means of communicating with clients.
But it doesn't take much for bulk emails to stray off the right course, ending up in the spam folder. So, how can you not clog the inboxes of your recipients while delivering your messages on a bulk scale?
As simple as it sounds, you need the right bulk email service software to segment, optimize, and deliver such emails effectively. If you are struggling with low deliverability and open rates of your bulk emails, we have the right tools for you. Read on to explore the 15 best email marketing software that can get this job done delightfully.
In a Nutshell
Bulk email senders enable you to send out a large number of emails to your target audience.
Sending targeted emails at scale saves time and resources. It also enables you to gain more traction for your marketing efforts.
To drive bulk email campaigns to successful completion, you need the best mass mail software that makes it easy to strategize, craft, and deploy mass emails.
Explore the 15 best tools that can help you ensure that your emails land in the right inboxes and that you are on your way to making more conversions.
What Is Bulk Emailing?
Bulk email marketing is a technique used by businesses to send a large number of promotional or informational emails to a targeted audience at once. This technique is commonly used by businesses to promote their products or services, announce special offers, and share news or updates with their customers or subscribers.
For example, a company that sells clothing may send bulk emails to subscribers announcing a new collection or offering a special discount on a particular item. Bulk emailing allows businesses to reach a large number of people at once, making it an efficient and cost-effective way to communicate with customers and promote their brand.
Why Use a Bulk Email Sender?
"Are you struggling to get past spam filters for your bulk emails? Are your emails mostly ignored by the prospects?"
If you are still on the fence about investing in a bulk email sender, here are some benefits that can dispel your doubts.
Engage with several people at once: One of the primary advantages of a mass email sender is that it helps you reach a large number of people instantly.
Connect at the right time: Not only do bulk emails let you reach a large number of people, but they also let you do so at the right time.
Continually improve performance: Mass email campaigns can be continuously improved by keeping track of metrics such as the number of opens, click-through rates, unsubscribes, etc.
More cost-effective: Bulk email campaigns are fairly inexpensive and help you reach a broader audience without any major upfront investment. They have a high benefit-cost ratio, making them a preferable mode of marketing.
6 Features to Look for in Bulk Email Tools
To choose the most optimal solution for your enterprise, you must be aware of the features that make an email mass sender tool worth your time and money. Here are some essential features to look for when choosing mass email-sending software:
1. Deliverability
The most important feature of any bulk email software is ensuring that the emails reach the audience and are not ignored. The tool should enhance the deliverability of emails with better targeting, clean contact lists, spam detection, spin-text, and improved formatting.
2. Segmentation
Market segmentation can help you deliver more personalized solutions and enhance your conversion rate. Therefore, you require a tool that makes it easy to distinguish between various groups of people using tags, lists, etc.
3. Templates
The tool should let you templatize your emails. It should offer pre-built templates and enable you to create your own templates and save them for future use. This can save you from rewriting the same emails and deploying mass email campaigns quickly.

4. Scheduling
For better outcomes from your email campaigns, you must ensure that the message is delivered at the right time. This can be accomplished with an email sender tool that offers to schedule the date and time of email delivery to let you reach out to people at the most appropriate moment in the buyer's journey.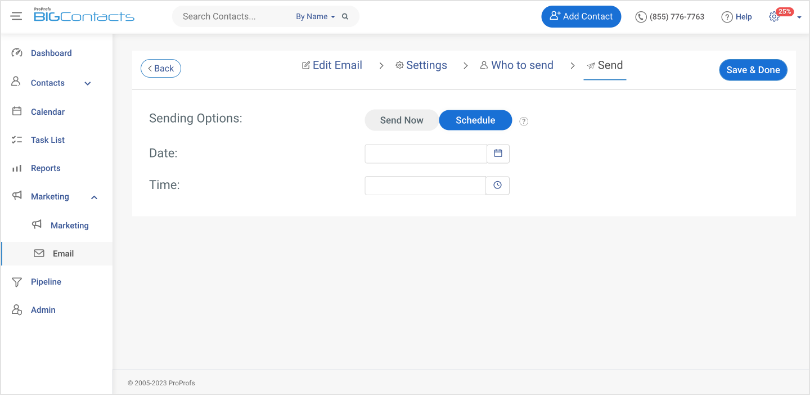 5. Formatting
Emails that are easy on the eyes are highly successful. The bulk email marketing software should offer a powerful editor that makes it easy to create attractive and compelling marketing copies using HTML, CSS, or a simple drag-and-drop functionality.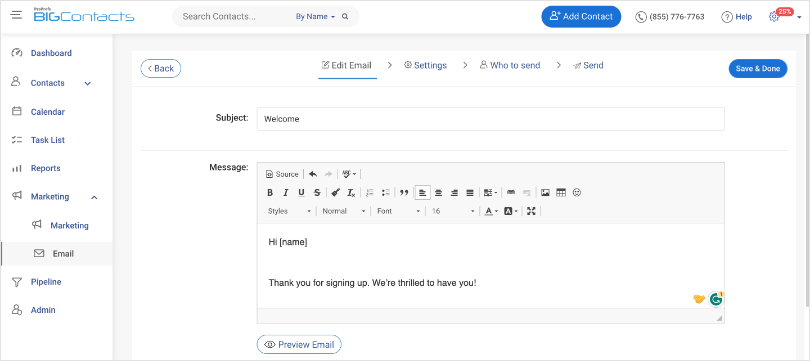 6. Tracking & Reporting
Blind marketing is as good as non-existent. Therefore, you have to stay updated with the performance of your mass email campaigns. This requires an email bulk sender with a robust suite of A/B testing and reporting tools that lets you track performance indicators such as open rate, clicks, bounce rate, forwards, replies, etc.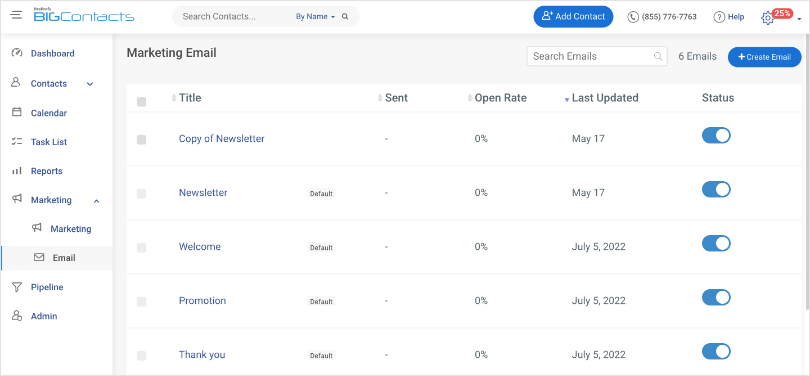 15 Best Email Sender Tools
To drive targeted outreach interactions at scale, you need a robust tool with advanced features. Compare the salient features, pricing, advantages, and disadvantages of the 15 best email sender tools to make an informed decision and reap all the benefits of an effective bulk email strategy.
1. BIGContacts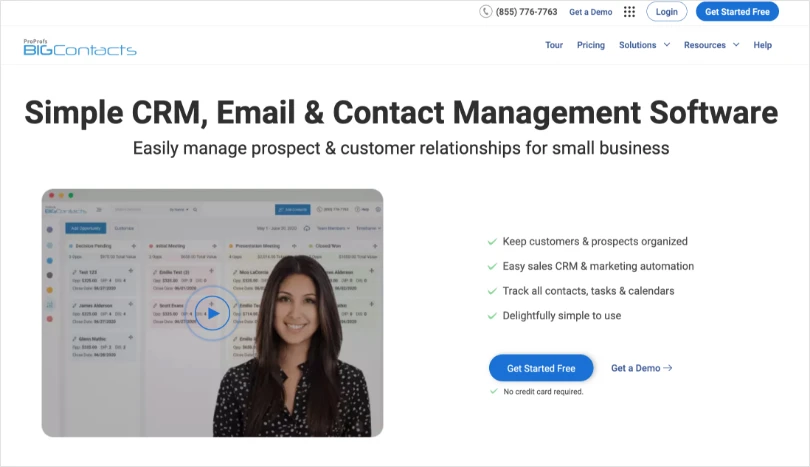 BIGContacts is a CRM application that lets you create, schedule, deploy, and manage mass email campaigns. This contact management software for small businesses can help you personalize your emails and build stronger relationships with the recipients. The tool is easy to use and allows you to set up segmented lists of contacts for more advanced targeting.
What Is Unique About It:
Create static and dynamic mailing lists.
Save high-performing email templates for future use.
Craft automated email sequences based on behavioral data.
Track open rates, clicks, and other relevant metrics for email campaigns.
Pricing:
Big- $5/user/month
Bigger- $15/user/month
Biggest- $25/user/month
Enterprise- Custom pricing
Rating:
G2- 4.5/5
Capterra- 4.3/5
2. ZeptoMail

ZeptoMail by Zoho is a transactional email delivery service that lets you send welcome emails, invoice emails, password reset emails, etc. The tool ensures the high deliverability of emails and keeps your business's credibility intact. Moreover, you can track email performance in real-time using ZeptoMail's detailed logs and reports.
What Is Unique About It:
Use email authentication to ensure that the email is delivered to the correct recipient.
Access detailed reports to track metrics such as open rate, clicks, and bounces.
Get instant notifications for recipient activity.
Categorize emails into groups called Mail Agents to keep them well-organized.
Pricing:
Rating:
3. ConvertKit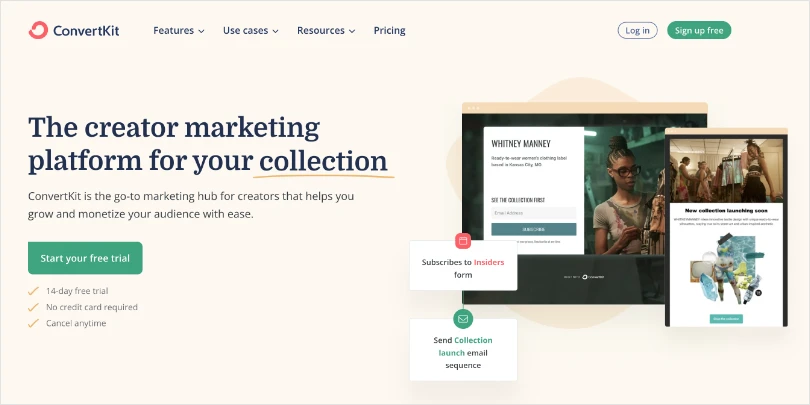 ConvertKit lets you deliver broadcast emails to a select group of people. With this email marketing solution, you can create mobile-responsive emails and ensure high deliverability. The tool has an easy-to-use editor that can enable you to customize the emails, making them more engaging and appealing according to your audience's needs.
What Is Unique About It:
Segment your audience using tags and lists and deliver targeted content to them.
Use visual reports and data analytics to optimize marketing performance.
Schedule the delivery of your email campaigns at the right time.
A/B test email subject lines to discover which one performs better.
Pricing:
Free plan available with limited features
Paid plans start from $9/month
Rating:
G2- 4.4/5
Capterra- 4.7/5
4. Moosend
Moosend is an advanced marketing automation platform that can help you deliver more personalized experiences to customers- at scale. You can edit the emails using the drag-and-drop functionality of the tool. Moosend also lets you set up automated workflows and recurring emails, so you can be at ease while emails are delivered to the recipients at the right time.
What Is Unique About It:
Segment your audience based on criteria such as website activity or purchasing behavior.
Monitor open rate, clicks, shares, etc., for your emails.
Save time with templates for newsletters, landing pages, forms, etc.
Perform A/B tests to improve the effectiveness of your marketing efforts.
Pricing:
Rating:
G2- 4.7/5
Capterra- 4.6/5
5. ActiveCampaign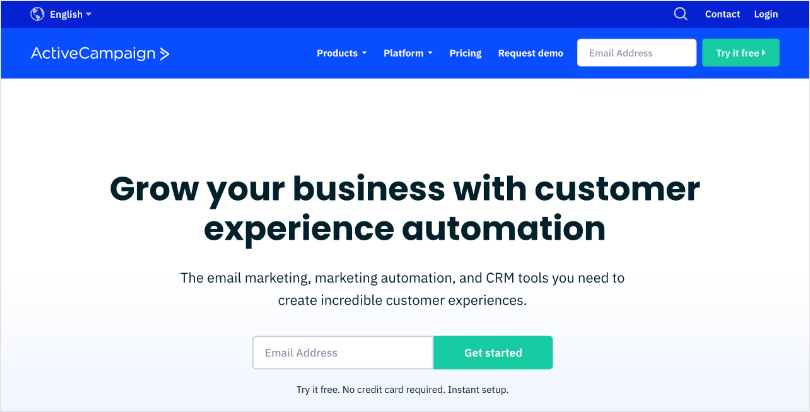 ActiveCampaign is a marketing platform that can help you grow your customer base and improve the bottom line. The tool can be used to segment your audience using tags and custom fields. You can schedule the delivery of emails for a specific date or time and deliver relevant solutions using dynamic email content.
What Is Unique About It:
Craft attractive and engaging emails using the tool's drag-and-drop editor.
Set up notifications and alerts for your team members to ensure timely follow-ups.
Track the performance of email campaigns with in-depth reporting & analytics.
Use email autoresponders or define triggers for the delivery of emails.
Pricing:
Starts from $29/user/month
Rating:
G2- 4.5/5
Capterra- 4.6/5
6. HubSpot Email Marketing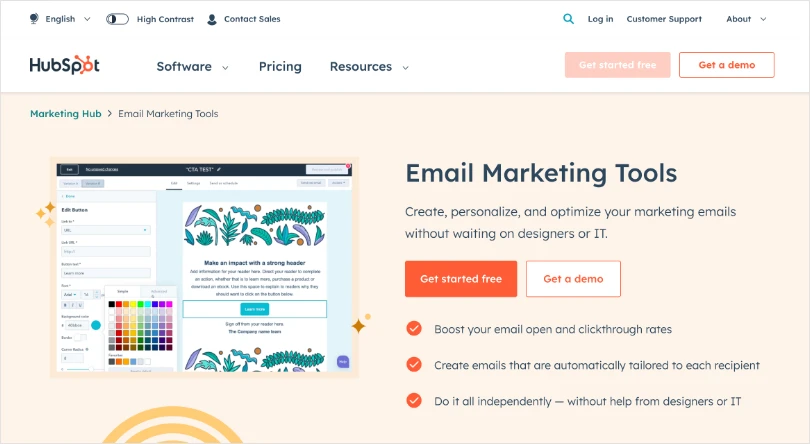 HubSpot, one of the most esteemed names in marketing, offers a range of email marketing functionalities to help grow your business, including a mass email marketing solution that lets you deliver responsive and professional-looking emails. HubSpot email marketing is built on its CRM platform, so you can enrich your emails with contact data to boost their performance.
What Is Unique About It:
Determine which emails perform better and optimize your strategy accordingly using A/B testing.
Segment your contacts based on specific criteria to deliver relevant emails to the right audience.
Automate email campaigns and set up instant notifications for your team.
Use pre-built templates to start sending email campaigns quickly.
Pricing:
Free plan available with limited features
Paid plans start from $18/month
Rating:
G2- 4.4/5
Capterra- 4.5/5
7. Sendinblue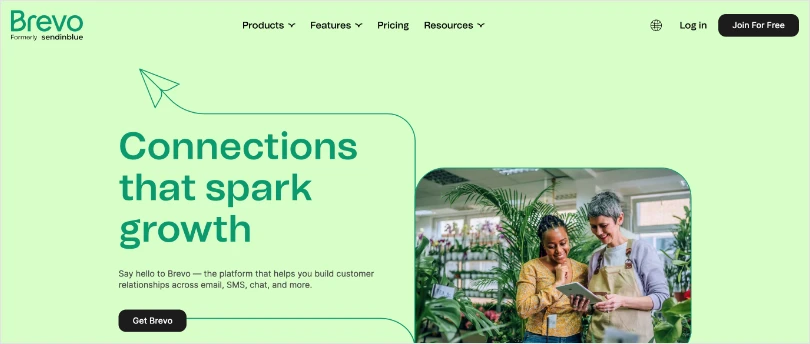 If you need an intuitive platform that lets you send mass emails with ease, Sendinblue can be a highly reliable option. This marketing automation tool lets you deliver targeted emails to drive more engagement. With all contact details and touches in one place, building stronger relationships with prospects and customers becomes easier.
What Is Unique About It:
Craft automated marketing workflows with custom triggers and actions.
Create segmented lists based on varying criteria such as demographics, previous touches, etc.
Use dynamic texts in your emails to make them more personalized.
Use A/B split tests to ensure that the most effective message is relayed to your audience.
Pricing:
Free plan available with limited daily emails
Paid plans start from $25/month
Rating:
G2- 4.5/5
Capterra- 4.5/5
8. Elastic Email
Elastic Email ensures high delivery rates for your bulk email campaigns, so you can make the most out of them. The tool has its own custom email delivery system, an extensive template gallery, an automation engine, and advanced scheduling options. You can also use advanced reporting options to analyze the performance of your email campaigns.
What Is Unique About It:
Set up A/B tests and track the real-time performance of your email campaigns.

Create multi-step automation workflows with custom triggers.

Use custom fields and lists for improved segmentation.

Grow your lead list with subscription forms, landing pages, and popups.
Pricing:
Free plan available for up to 100 emails/day

Paid plans start from $9/month
Rating:
G2- 4.4/5

Capterra- 3.6/5
9. Mailchimp

Mailchimp is a leading name in the email marketing industry, offering a suite of tools to improve the output of your marketing efforts. The tool offers pre-built automation to reach prospects and customers at the right time. Mailchimp can be used to target the most relevant audience using segmentation and improve performance with data-backed insights.
What Is Unique About It:
Choose from pre-built marketing automation workflows to convert more prospects into customers.
Deliver the right message using behavior tracking and branching logic.
Use tags for effective segmentation of contacts.
A/B test emails to discover what performs well with your target audience.
Pricing:
Free plan available for 1 user
Paid plans start from $9.35/month
Rating:
G2- 4.3/5
Capterra- 4.5/5
10. GetResponse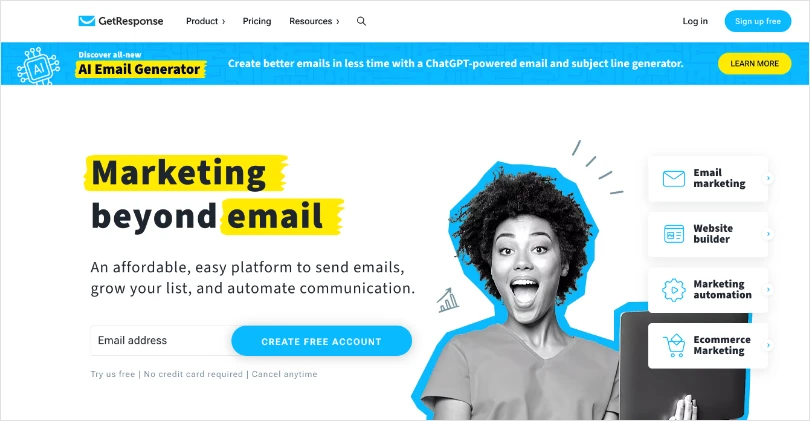 GetResponse can work as a reliable mass email solution that helps you convert more leads into long-term clients. Use it to automate your campaigns using a visual builder. This platform offers a clean and intuitive interface, enabling you to craft highly interactive emails. You can also get actionable insights into email delivery data to optimize the output of your campaigns.
What Is Unique About It:
Create automation workflows and set up autoresponders to improve engagement.
Manage your mailing lists and keep them well-updated.
A/B split test your email campaigns to optimize performance.
Use the drag-and-drop editor to design your emails.
Pricing:
Rating:
G2- 4.2/5
Capterra- 4.2/5
11. Campaigner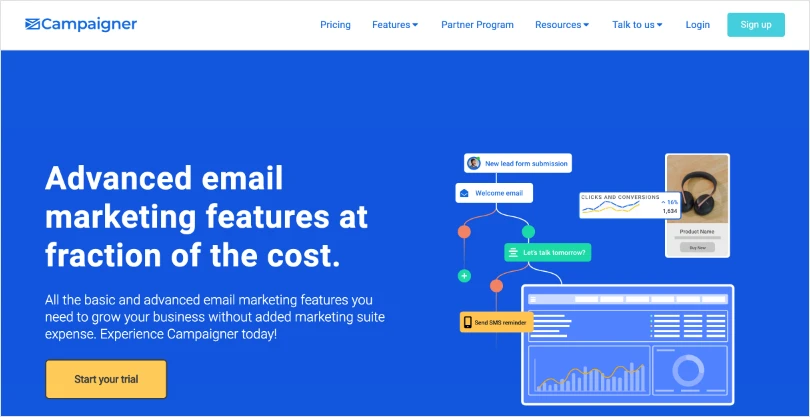 Campaigner is an advanced bulk email solution offering a range of features such as dynamic content, conversion tracking, and autoresponders. You can also use conditional logic in your emails or schedule their delivery for a specific time. The tool also offers a range of templates and reusable blocks to help you create custom emails that align with your brand image.
What Is Unique About It:
Use dynamic content and behavior tracking to drive more personalized communication.
Create engaging emails with a simple drag-and-drop editor.
Track engagement metrics such as opens, clicks, conversions, etc.
Build advanced automation workflows for your email campaigns.
Pricing:
Rating:
G2- 4.2/5
Capterra- 3.9/5
12. Salesforce Marketing Cloud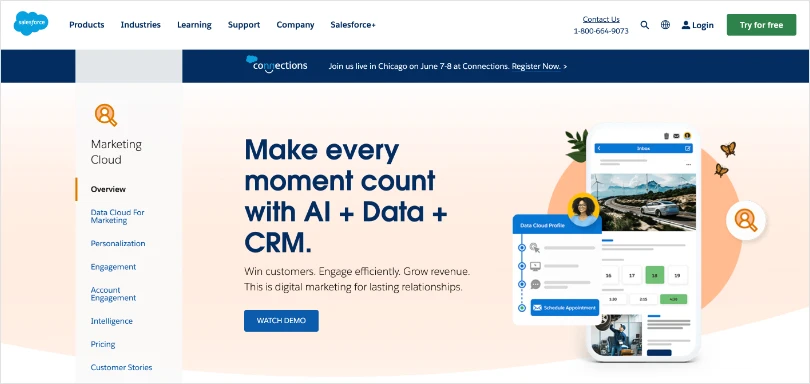 Salesforce Marketing Cloud lets you run personalized promotional campaigns in bulk, helping drive growth at scale. Use it to automate your bulk email campaigns and create highly personalized emails with drag-and-drop ease. The tool also offers powerful lead scoring and segmentation capabilities, enhancing the effectiveness of bulk campaigns.
What Is Unique About It:
Automate your bulk email campaigns and connect with prospects and customers at the right time.
Track customer attributes and behavior to deliver personalized emails.
Use custom user roles and permissions for your team members.
Leverage marketing intelligence to improve campaign performance.
Pricing:
Rating:
13. SendGrid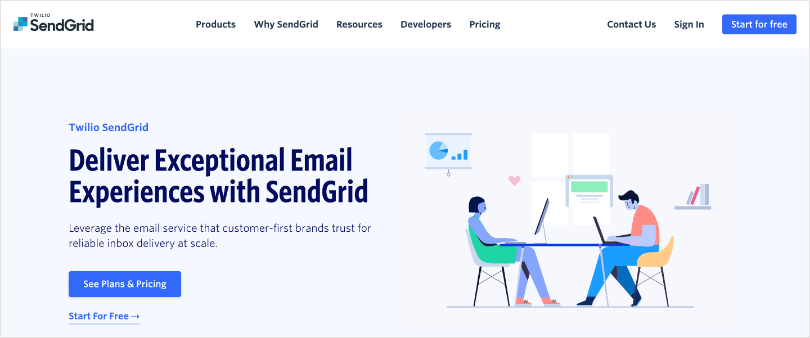 With an easy-to-use email builder and automated follow-ups, SendGrid is another reliable tool on this list. This mass email sender lets you schedule email delivery by creating drip series, so you can connect with the right people at the right time. You can also use SendGrid's analytics to monitor the overall health of your email campaigns.
What Is Unique About It:
Build segmented lists to deliver targeted emails in bulk.
Get access to deliverability insights from a comprehensive dashboard.
Create and save dynamic templates.
Perform A/B tests for subject lines and content to optimize overall performance.
Pricing:
Free version available
Paid plans start from $19.95/month
Rating:
14. Mailjet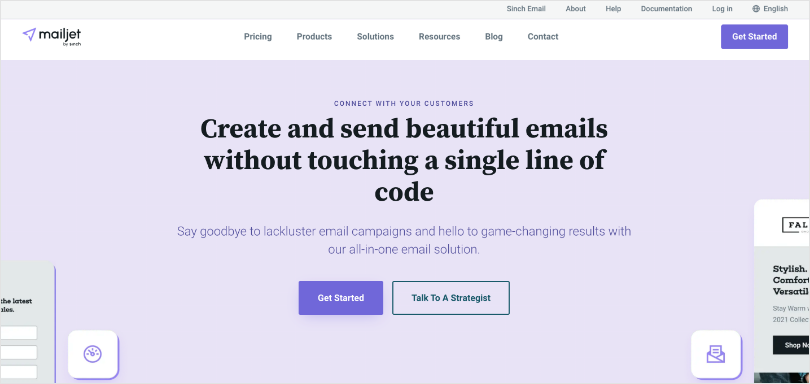 Mailjet is a powerful bulk email tool with features like automation and a drag-and-drop editor that can simplify your workflow. It also aids real-time collaboration, making email editing a hassle-free experience. Mailjet enables segmentation, email verification, and contact management, contributing to improved efficiency of your bulk email campaigns.
What Is Unique About It:
Save time with a range of pre-designed email templates.
Use dynamic content in your emails to deliver more personalized experiences.
Run A/B tests to create the most effective strategy for your emails.
Ensure high deliverability with email previews and verification.
Pricing:
Free plan available with limited features
Paid plans start from $15/month
Rating:
G2- 4.3/5
Capterra- 3.9/5
15. Thunder Mailer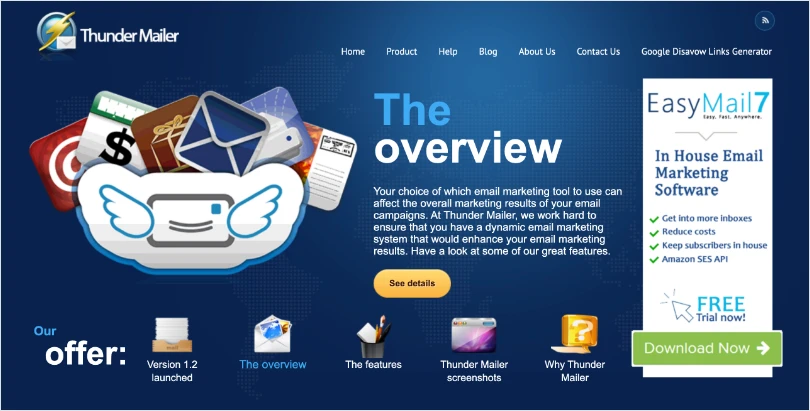 Thunder Mailer is an exceptional bulk email marketing software to craft and manage bulk email campaigns. You can use it to send out unlimited emails and customize them extensively. The tool is highly flexible, so you can adapt the bulk emailing program to your specific business needs. Moreover, it only requires a one-time purchase, making it a cost-effective solution.
What Is Unique About It:
Deliver bulk emails to the right recipients by sorting contacts into categories.
Remove duplicate, invalid, blocked, or bounced emails to keep your sending score high.
Use the WYSIWYG editor to modify your emails.
Keep track of how many people receive and open your emails.
Pricing:
Free plan available with limited functionality
Paid plans start available at $69
Rating:
How to Choose the Best Bulk Email Sender for Your Business
It is easy for your bulk emails to go astray and turn into spam. To avoid this, you need a powerful solution that is flexible, robust, and reliable.
Plenty of bulk email senders are available on the market today. Each of these tools offers the functionality to deliver mass emails to a group of people. However, not every tool is going to be the right fit for your business.
Focus on the following aspects when choosing the best bulk email sender:
The tool should offer customization options, so you can create emails that resonate with your brand image and messaging.
The tool should be reasonably priced and offer excellent value for money. It should let you send unlimited emails in bulk without any additional costs.
The tool should offer powerful automation and analytics capabilities.
Make sure to choose a tool that comes with reliable documentation and customer support.
5 Common Mistakes to Avoid When Using a Bulk Email Sender
Bulk email sending is a widely used strategy for email marketing, which can save time and effort by sending mass emails to a large number of subscribers. However, there are some common mistakes that marketers should avoid when using a bulk email sender to ensure that their email campaigns are effective and well-received.
1. Not Segmenting Your Email List
It is important to segment your email list based on various criteria like demographics, interests, engagement levels, and purchase history. This will allow you to send more targeted and relevant messages to your subscribers, increasing the chances of engagement and conversions.
If you fail to segment your list, you might end up sending irrelevant emails, which can lead to high unsubscribe rates and spam complaints.
2. Failing to Test Your Emails
Before sending your bulk emails, you need to test them thoroughly to ensure that they are free of errors and render correctly on different devices and email clients. Failure to do so can result in broken links, formatting issues, and poor user experience.
Make sure to test your emails on different devices, browsers, and email clients, and use A/B testing to optimize your subject lines, content, and CTAs.
3. Not Including a Clear Call to Action
Your bulk emails should include a clear and compelling call to action (CTA) that encourages your subscribers to take the desired action. Whether it is to make a purchase, sign up for a free trial, or download an e-book, your CTA should be prominent, easy to find, and aligned with your overall email strategy.
Failing to include a CTA or making it too vague or confusing can result in low click-through rates and conversions.
4. Using Spammy Language
One of the biggest mistakes when using a bulk email sender is to use spammy language and tactics that can trigger spam filters and annoy your subscribers. Avoid using all caps, excessive punctuation, misleading subject lines, and deceptive content.
Also, make sure to include an opt-out option and honor unsubscribe requests promptly.
5. Overlooking Personalization
Finally, it is important to personalize your bulk emails and align them with your brand identity to make them more engaging and memorable. Use your subscribers' names, locations, and other relevant data, and use your brand colors, logos, and images to reinforce your brand image.
Failing to do so can make your emails appear generic and uninteresting.
Deliver Targeted Emails at Scale With the Right Tool
Bulk emails are an indispensable component of any email marketing strategy. They help save time and resources by reaching out to several recipients in one go. But merely sending out a lot of emails cannot suffice. To effectively scale your business, you require a tool that lets you optimize the message that is being relayed.
The 15 bulk email service tools mentioned above are highly reliable solutions that can ensure that your mass emails are delivered to the right recipients. These tools can help you offer value to your prospects and customers through well-timed and optimized emails. Selecting the most suitable solution out of these choices will keep your bottom line high.
One of the tools that effectively stands out in this list is BIGContacts. This CRM tool offers powerful marketing automation capabilities that can help you improve the productivity of your mass email marketing campaigns. Investing in such a robust tool can scale your enterprise and turn customers into loyal advocates of your business.