CRM for Small Business is the hub of all the interactions and things happening in around the company, even if it is just starting.
Every business in 2021 is trying to accomplish one goal – looking for avenues to stay better connected with their customers. 
Whether it's an established enterprise or a startup, staying committed to providing exceptional customer service can keep a business ahead of the competition. 
Integration of the best CRM software will benefit everyone involved, right from the customers to the company's management. Since customer experience plays an integral role in your company's success, choosing the right software is a high-stake decision. 
So how to do it?
To find a CRM that complements your business endeavors, you need to go through a large number of tools available. Since this task requires a tremendous amount of time and effort, we have taken it upon ourselves to help you through the decision process.  
This comprehensive guide is designed to help you find out what is the best CRM software by comparing the 12 top-rated CRM software for small businesses. 
Overview of the Best CRM For Small Business
CRM Software
Key Features
Pricing
BIGContacts
Email marketing
Customizable templates
Social media tracking
Automated processes
Several integrations

Free trial- 15 days
Big- $5/user/month 
Bigger- $15/user/month 
Biggest- $25/user/month 
Enterprise- Custom pricing
Salesforce

Cloud-based CRM
Workflow automation
Powerful integrations
Enterprise-grade solutions
Business intelligence


Essentials: $25/user
Professional: $75/user
Enterprise: $150/user
Unlimited: $300/user

EngageBay

Multistep automation
Highly affordable
Unlimited contacts
Pipeline management
Free: $0/month
Basic: $14.99/month
Growth: $49.99/month
Pro: $99.99/month
Hubspot

Pipeline management
Comprehensive dashboard
Ticketing system
Activity tracking
Collaboration and productivity tools

Forever free for unlimited users
Starter: $45/month
Professional: $1,600/month
Enterprise: $4,000/month

Pipedrive

Pipeline management
Opportunity tracking
Powerful reporting
Task management
Sales and marketing automation

Essential: $12.50/user
Advanced: $24.90/user
Professional: $49.90/user
Enterprise: $99/user

Keap

Lead capturing
Sales and marketing automation
Email tracking
Remote access
Sales pipeline management

Lite: $79/user
Pro: $159/user
Max: $199/user

Agile CRM

Contact management
Email marketing
Integrations including Google apps, Twilio
Mobile access
Helpdesk and ticketing


Free for 10 users
Starter: $14.99/user
Regular: $49.99/user
Enterprise: $79.99/ user


Nimble

Activity tracking
Pipeline management
Detailed contact records
Personalized emails
Collaborative tools

Nimble Business: $19/user/month
Insightly

Lead nurturing
Contact management
Workflow automation
Communication tracking
Customizable dashboard

Free for 2 users
Plus: $29/user
Professional: $49/user
Enterprise: $99/user

SugarCRM

Sales and marketing automation
Intelligent prediction
Data security compliance
Automated sales processes
Mobile access

Professional: $52/user
Serve: $80/user
Sell: $80/user
Enterprise: $85/user
Market: $1,000

Apptivo

Lead capturing
Sales activity tracking
Custom data fields
Integrations such as Google drive
Advanced search and reporting

Lite: $8/user
Premium: $12/user
Ultimate: $20/user
Enterprise: Variable

Zoho CRM

AI assistant- ZIA
Collaborative tools
Customizable workflow
Lead and contact management
Marketing automation
Free for 3 users
Standard: $14/user
Professional: $23/user
Enterprise: $40/user
Ultimate: $52/user
What is CRM Software?
Before looking into CRM software examples, you need to have a clear understanding of what CRM is and what capabilities it brings to the table.
CRM or Customer Relationship Management essentially involves ways to improve the relationships with all existing and potential customers. Whether it's managing workflows or improving the sales team's performance, CRM software can perform various business functions to help you deliver delightful customer experiences. 
A top-rated CRM software can lend several advantages to a business, including:
Increase in day-to-day productivity
Resolving customer queries quickly to avoid frustration
Personalized experiences for clients
Keeping track of the team's performance
Making internal collaboration hassle-free
Does Your Business Really Need CRM Software?
Maintaining spreadsheets for customer details only works to a certain extent. As your business expands with time, you start acquiring more leads. Keeping track of all these contacts becomes difficult with conventional contact books or spreadsheets. 
As a result, important data gets scattered across multiple sources. 
The consequences of this- missing out on promising sales opportunities. 
If you are facing the same troubles, it's time to switch to a top-rated CRM software that stores all your data in one convenient location. 
Are you considering if investing in CRM is the right thing to do?
Here are some areas that can be impacted by adopting a CRM solution for your business:
Contact Management
CRM can help you organize and manage all your contacts in a single place. You can access all the information related to the customers, including their contact details, buying preferences, past interactions, and social media activity. You can also track any upcoming meeting or follow-up with leads directly through the CRM.
Customer Service
A report published by Zendesk reveals that over three out of five customers believe that customer service affects their brand loyalty.
Promising figures, right?
This implies that your company's profitability is heavily impacted by customer satisfaction. CRM can help you anticipate your customers' needs, offer quick support in case of any issues, and deliver high-quality service- all from a single platform.
Sales Forecasting
With a clear picture of your customers in front of you, predicting sales targets becomes easier. A CRM System can help you in the long-term strategic planning for your sales team by helping visualize and manage the sales pipeline with every opportunity you have available.
Internal Collaboration
Lack of internal communication can be a nightmare for any business. Every department needs to be on the same page regarding a customer. Since a CRM stores all previous interactions and customer information in one place, it makes collaboration across teams easier.
Get over the old way of sending memos and assign tasks directly using a CRM!
Email Marketing Campaigns
Use existing templates offered by the CRM software tools or customize the emails as per your target audience. You can also send emails automatically to a large number of recipients with the help of a powerful CRM.
Customer Segmentation
Using a CRM, you can segment your customers effectively and personalize your interactions with them.
Segmentation can be the key to improved customer engagement. By adapting your offerings for your customers with information acquired from a CRM, you can show them that your business cares about their opinion and preferences.
Alerts
Are you tired of missing out on information, meetings, or opportunities? Choose a CRM to send you timely notifications to stay on top of things.
You can also automate reminders to follow up with customers at the right time.
Read More: 25+ Useful CRM Statistics to Know in 2021
Essential Features That Every CRM Software Must Have
Every tool on the top CRM software list must have certain features that add to its functionality and accessibility. Some of these features are listed below-
Analytics & Reporting
Are you putting in a lot of hard work but to no avail? It's time to incorporate a CRM with reporting and analytics features into your business. Keeping track of what went wrong or what is working well for you is essential for the success of your business. A CRM tool can help you track and report metrics to make well-informed business decisions.

Read More: 6 Powerful CRM Reports to Run For Driving Sales
Custom Dashboard
The best small business CRM software can help you declutter your system by only displaying what's important to you. You can customize the dashboard however you prefer.

View what matters to you and use this information effectively!
Calendar
Never miss out on a meeting by getting a complete view of your to-do tasks in a CRM calendar. You can sync the data with your personal calendar to find out which leads need to be contacted or fit sales meetings into your schedule without any errors or confusion.
Custom Pipeline
A visible sales pipeline can help you identify quality prospects from those that are not likely to make purchases. This can help you save time and allocate resources judiciously. A CRM software best for your business must offer flexibility in customizing the pipeline as per your organization's workflow.
Activity Management
At a given point in time, your employees may have a large number of tasks at hand. A CRM software with task and activity management features can help you prioritize the more critical tasks to ensure you do not lose valuable deals.
What to Keep in Mind When Choosing CRM Software
When searching for the best CRM software, you will come across multiple options offering various features. So how do you pick one out of these? 
The answer is pretty straightforward- choose a CRM that seamlessly integrates with your existing business operations and helps it grow with time. 
The CRM that you choose should be easy to use. It should offer valuable features at affordable prices. There are several other factors for you to consider when browsing through CRM options, including:
Various pricing options

Storage capability 

Scalability and extent of automation

Simplicity of usage 

Third-party integrations

Flexibility for customization
Our Selection Criteria for Best CRM Software
To help you choose the best CRM, we have compared multiple software and compiled a list of the most worthwhile solutions. The criteria that we used to make this selection includes:
Features of the CRM: We have taken into consideration the unique proposition that the CRM offers. This includes the types of features it has, including integrations, built-in analytics, drag & drop UI, etc.
Pricing: We have taken into account the pricing plans of the software and selected ones that offer high value for money.
Reviews: We have considered user reviews from trusted sources like G2, Getapp, and Capterra to get a clear picture of the performance and usability of the software.
Ratings: Ratings of the tools from credible sources like Getapp and Capterra have also been taken into consideration.
The 12 Best CRM Software for Businesses in 2023
CRM can help you manage multiple business processes from a single dashboard. Whether it's managing the sales pipeline or reaching out to customers, a reliable CRM can come in handy. 
To ensure that you get the most of your CRM, you need to find a tool that aligns with your company's objectives.
Let's delve into the features and pricing models of the top-rated CRM software to find out which one would be the most suitable for your business.
1. BIGContacts
BIGContacts is a CRM designed to help businesses reach out to the right customers at the right time. What makes BIGContacts the best CRM software for small business is the delightful user interface. Unlike most CRM that make things unnecessarily complex, BIGContacts helps you track what matters to you!
The tool is easy to use and is laden with functionalities that make it one of the most powerful CRM software.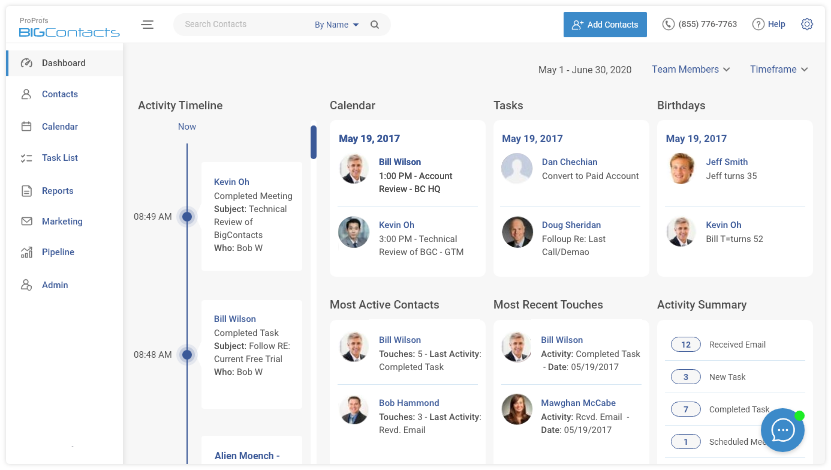 Let's look at some of the most impressive features of BIGContacts that make it one of the best CRM software.
Comprehensive contact management
Custom data fields for efficient storage
Delightful Customer Support
Social media tracking
Lead prospecting and prioritization
Adaptable dashboard
Drip Emails with preloaded templates
Visual and customizable sales pipeline
Powerful integrations
Pricing 
BIGContacts offers three different monthly pricing options. These differ in the number of advanced features and storage capabilities offered. You can choose any of these plans based on your requirements.
Free Trial- 15 days
Big- $5/user/month
Bigger- $15/user/month
Biggest- $25/user/month
Enterprise- Custom pricing
PROS
CONS

1.  Easy task and contact management

2.  Automated processes and follow-up reminders 

3.  Custom and standard reports

4.  Marketing Module with email and letter templates 

5. All tickets, emails, files, activities, notes, etc. can be tracked from one location

1. The mobile app needs some improvement 

2. Software upgrades can be challenging at times
Salesforce is an enterprise-level CRM software that is ideal for large-scale implementation. The extensibility of Salesforce CRM is unmatchable. The detailed analytics, powerful integrations, and AI-enabled features make Salesforce one of the top-rated CRM tools in the market. It is highly suitable for large teams owing to its broad range of features. Salesforce is a cloud-based CRM solution, which means that you can implement it without any hassle or delay.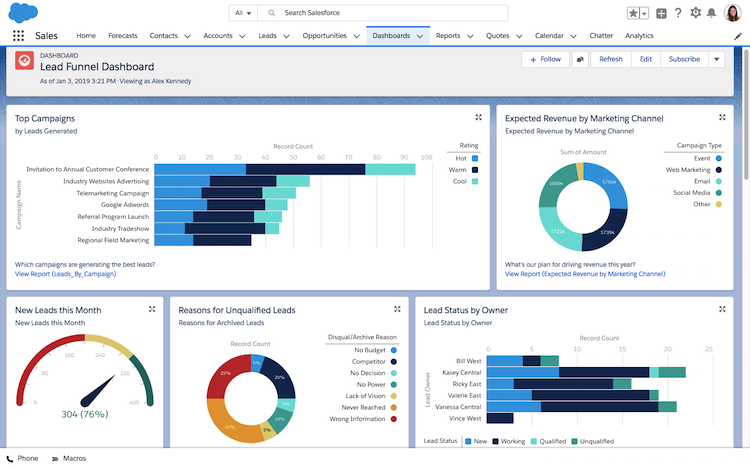 Leading enterprises across the world rely on Salesforce for its-
Third-party integrations
Lead scoring and management
Workflow automation and customization
Pre-existing report templates
Centralized access for all departments
Pricing
The four monthly pricing plans available for Salesforce CRM are-
Free plan- Yes
Starts from $15/user/month
PROS
CONS

1. Detailed reporting and data intelligence

2.  Improved collaboration with a cloud-based access

3. Comprehensive range of CRM feature

4. Customizable workflow

1. Price-based features add to the overall cost

2. Complex to use and may require training for your employees
EngageBay is one of the best CRM software for small businesses and startups. It offers pro-level features at a highly affordable price. Unlike many CRM, EngageBay is a truly all-in-one marketing, sales, and customer support solution – you get multichannel marketing, automation, landing pages, helpdesk, live chat…the list goes on.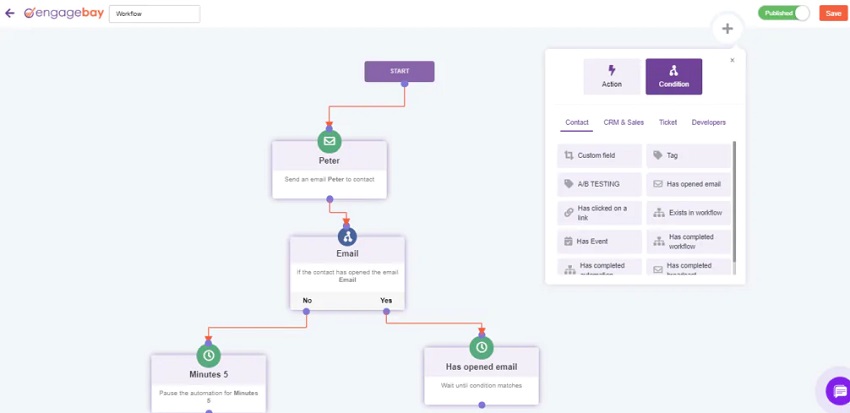 Let's take a look at some of the key features of EngageBay:
Multistep workflow automation

Social Suite for social media management

Drip campaigns

Email broadcast and landing page A/B testing

Autoresponders and canned responses

Deal pipelines

Helpdesk, ticket prioritization, and live chat
Pricing
EngageBay offers four plans: Free, Basic, Growth, and Pro. 
Free: $0/month

Basic: $14.99/month

Growth: $49.99/month

Pro: $99.99/month
PROS
CONS

One of the most affordable CRM software

Powerful dashboards with customizable metrics

Full-fledged customer support tools – helpdesk, ticketing, and live chat. 

Easy to use

Free onboarding and migration services

1. You may have to pay for certain features 

2. Customization and setting up may take time
Hubspot's competitors don't stand a chance when it comes to being the best free CRM software. It is an efficient CRM capable of managing your contacts, tasks, and sales pipeline. The intuitive features of Hubspot can make it a valuable partner for your business. You can expand the functionality of this CRM tool by including multiple add-one offered by Hubspot. This CRM tool is easy to use, cuts down repetitive tasks, and can help maximize your business productivity.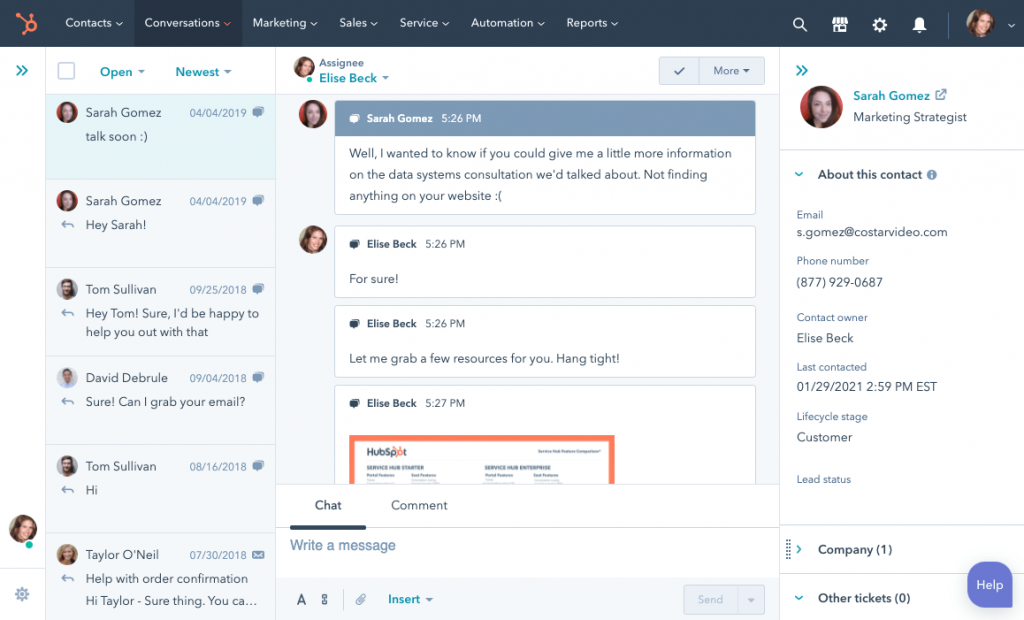 Let's look at the most valuable features of Hubspot CRM-
Email templates and tracking
Pipeline management
Custom reporting
Lead Generation
Live chat and ticketing support
Pricing
Hubspot is a free CRM software without any time limit.
If you wish to improve the functionality of the CRM tool, you can go for the paid CRM Suite plans offered by Hubspot.
Free plan – Yes
Starts from $45/user/month
PROS
CONS

1. Easy contact and lead management

2. Make and track calls directly

3. Storage available for up to 1,000,000 contacts

1. You may have to pay for certain features 

2. Customization and setting up may take time
Pipedrive is the best CRM for maintaining the efficiency of your organization by streamlining various processes. Several small and mid-sized enterprises rely on this CRM for customer experience management. Whether it's scheduling meetings, lead prioritization, or generating reports, Pipedrive can do it all. It can help you close in on profitable deals and make more revenue for your business. Pipedrive's visual dashboard can help you view everything that matters, in one go!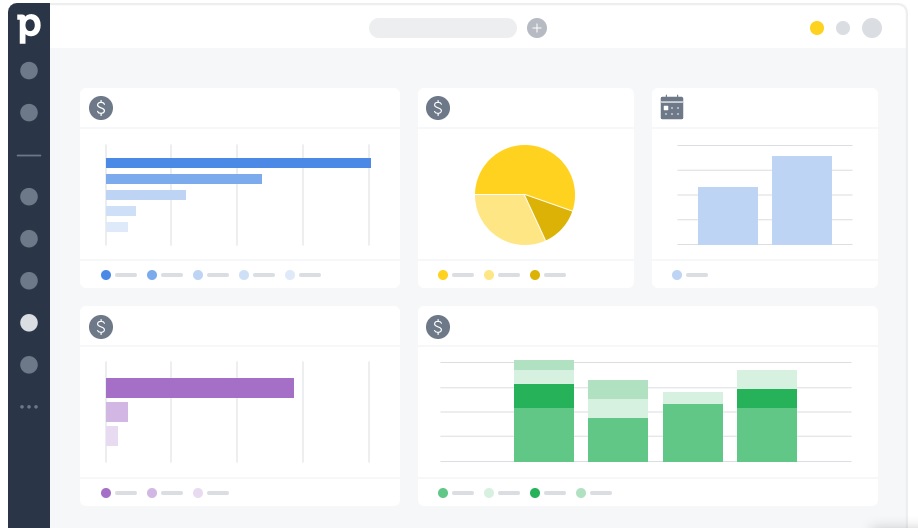 Some features that help Pipedrive outdo other CRM software-
Easy setup and usage
Quick import and export of data
Deal and pipeline management
Forecasting and reporting
Pricing:
The monthly pricing options for Pipedrive are listed below-
Essential: $12.50/user
Advanced: $24.90/user
Professional: $49.90/user
Enterprise: $99/user
PROS
CONS

1. Instant alerts and notifications 

2. Easy sales management and follow-ups 

3. Offers a wide range of functional integrations 

1. Limited customization

2. Reports are not very easy to keep track of or comprehend  

Read here: Pipedrive Alternative
If you are on the lookout for the best CRM software for startups with sales and marketing automation, Keap is the answer. This CRM brings together multiple powerful features that can help your business grow. Using Keap, you can easily capture and track leads. It also allows you to automate and personalize follow-ups, to help you close more deals. All the emails, messages, files, invoices, etc., get stored in one place, enabling you to run your business more efficiently.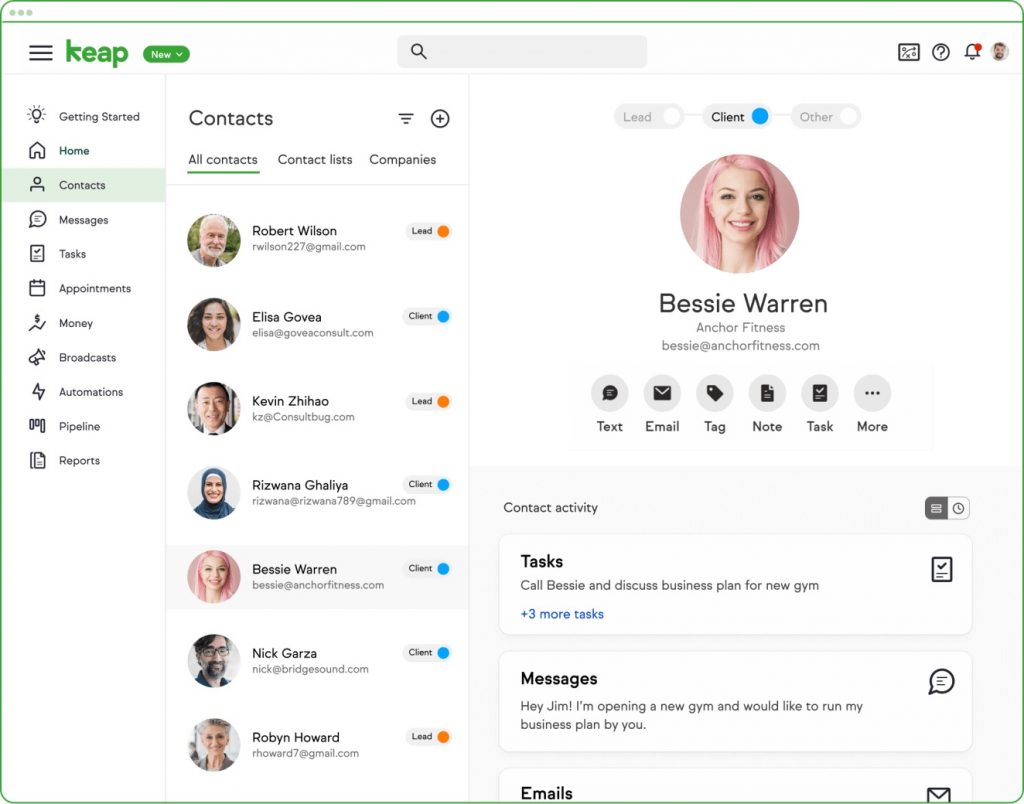 The most important features offered by Keap include-
Fully customizable campaigns
Integration with other business tools
User segmentation
Automated actions based on triggers
Pricing
The monthly pricing plans offered by Keap are-
Free plan- Yes
Starts from $20/user/month
PROS
CONS

1. Automatic lead capturing 

2. Easy migration

3. Desktop and mobile app

4. Easy to use interface 

1. Some integrations have limited features

2. Knowledge base support within the application can be improved 
Agile CRM is a comprehensive and affordable CRM solution. Along with being easy to implement, it also offers consistent performance. You can use Agile CRM for project management, ticketing, and a variety of other processes.  It offers mobile access to essential information, helps you track the performance of your team, and allows you to close more deals by optimizing every interaction according to the customer's likes and dislikes.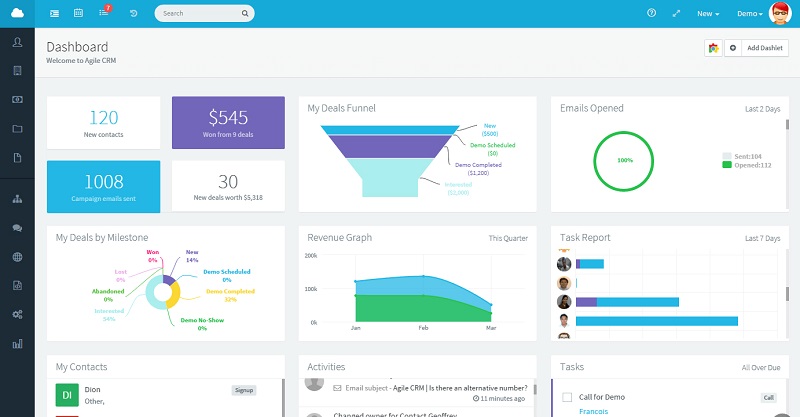 The features that help Agile CRM rank as one of the Best CRM for small business 2021 are-
Marketing automation
Gamification
Mobile access
Third-party integrations
Pricing:
This is one of the best CRM-free software available for up to 10 users without any cost.
The monthly pricing plans offered by Agile CRM are-
Free plan- Yes
Starts from $14/user/month
PROS
CONS

1. Easy Automation  

2. Customized reporting 

3. Integrates with other tools seamlessly 

4. Affordable price 

1. Takes time to get the hang of its features

2. UI can be improved  
Nimble is a powerful CRM that brings together contact management and marketing automation. This easy-to-use CRM can help you optimize your sales process and keep track of what your customers are up to- all from a single and accessible dashboard. You can rely on Nimble to manage and enhance your entire sales process. The tool also allows you to routinely monitor your progress and make relevant adjustments in your strategy. With Nimble, you can save the time that goes into repetitive tasks and focus on activities that actually matter to your business.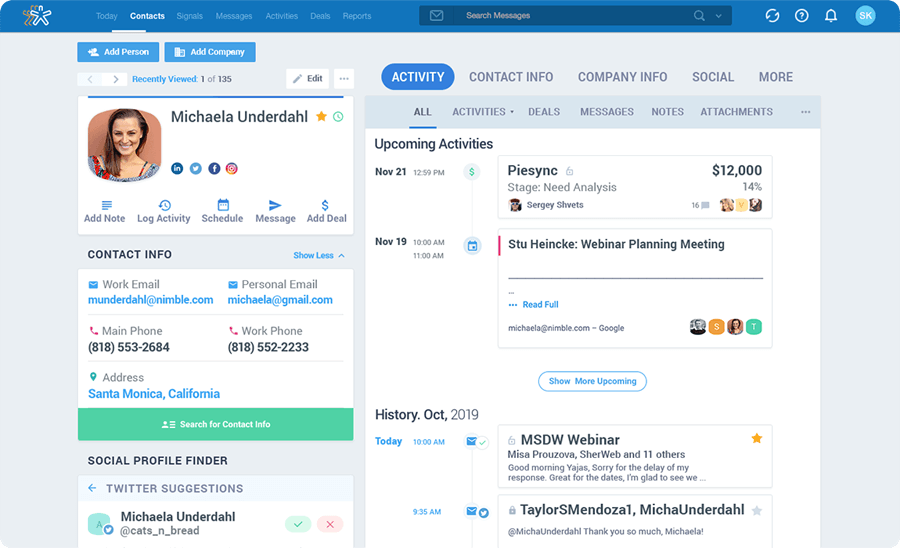 The features that have helped Nimble become a popular choice among industry leaders are-
Engaging UI
Customer segmentation
Powerful integrations
Reliable customer support
Multiple add-ons
Pricing
Free plan- Yes
Starts from $15/user/month
PROS
CONS

1. Integrations with social networks 

2. Set up is incredibly simple 

3. Keep track of customer records from multiple platforms, including web browsers, social media networks, etc. 

1. It is difficult to access some menus without searching for them

2. Limited storage available 
Insightly is considered to be a suitable choice for small teams that are looking to grow. This CRM integrates project management with sales and marketing to help you maximize the effectiveness of every process. You can create unforgettable user experiences and deliver top-notch customer service by adopting Insightly. It also allows businesses to automate their workflow, thereby contributing towards enhanced productivity.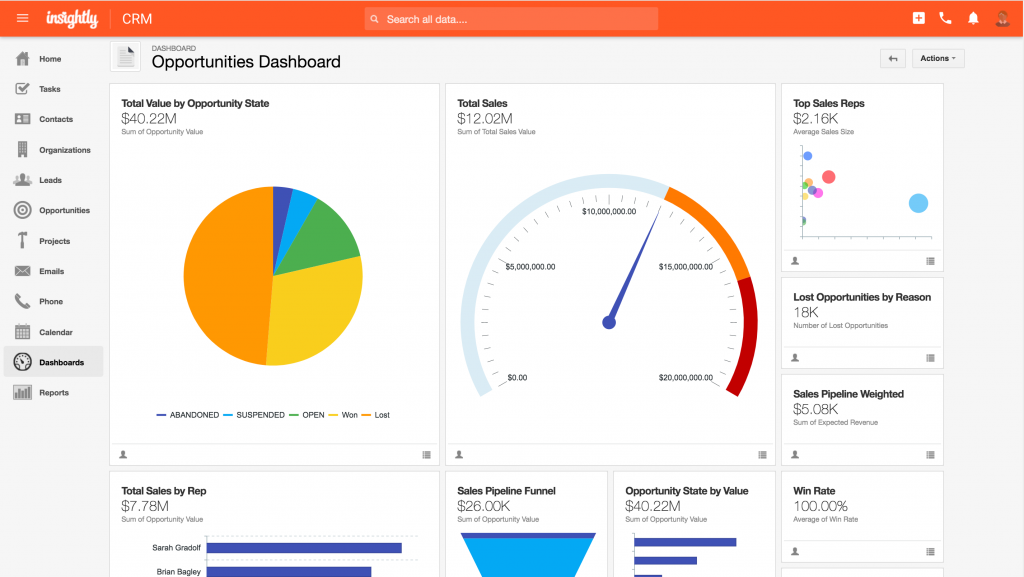 Some of the striking features of Insightly are-
Custom apps, processes, objects, fields, etc.
Lead management
Email templates
Workflow automation
Pricing:
Insightly ranks as one of the best CRM software small business that is free for up to two users.
The monthly pricing plans for Insightly CRM are-
Free plan- Yes
Starts from $29 user/month
PROS
CONS

1. Relationship linking different objects to provide a comprehensive view of the account 

2. Intuitive mobile app 

3. Customized and extensive dashboard with reporting features

1. Email integration is basic

2. Complicated task management 
If customization is a priority for your business, you need to check out SugarCRM. This CRM tool helps keep track of important opportunities, helping you maximize your earning potential. It can capture information automatically, freeing up a lot of time for your team. SugarCRM can help you build long-lasting relationships by delivering quick and reliable solutions. This tool is highly scalable and will continue to grow with your business.
Let's look at the most valuable features of SugarCRM:
Automatic capturing of data
Sales and marketing automation
Customize based on your requirements
Sales intelligence for better performance
Pricing
A 7-day free trial is offered by SugarCRM. The monthly pricing plan it offers include-
Professional: $52/user
Serve: $80/user
Sell: $80/user
Enterprise: $85/user
Market: $1,000
PROS
CONS

1. Multiple add-ons 

2. Visible customer journey 

3. Helps offer quick and consistent customer support to build long-term relationships 

1. Slow load time

2. Can be challenging to navigate at times 
Apptivo CRM helps businesses generate and manage leads efficiently. This CRM can increase conversions by strengthening your workflow and helping you make the most out of every opportunity. You can use this CRM tool to capture leads, manage sales processes and improve marketing efforts. Apptivo allows you to store data in custom fields, track leads, and collaborate with other team members. You can also make advanced searches to sort through your contact data with ease.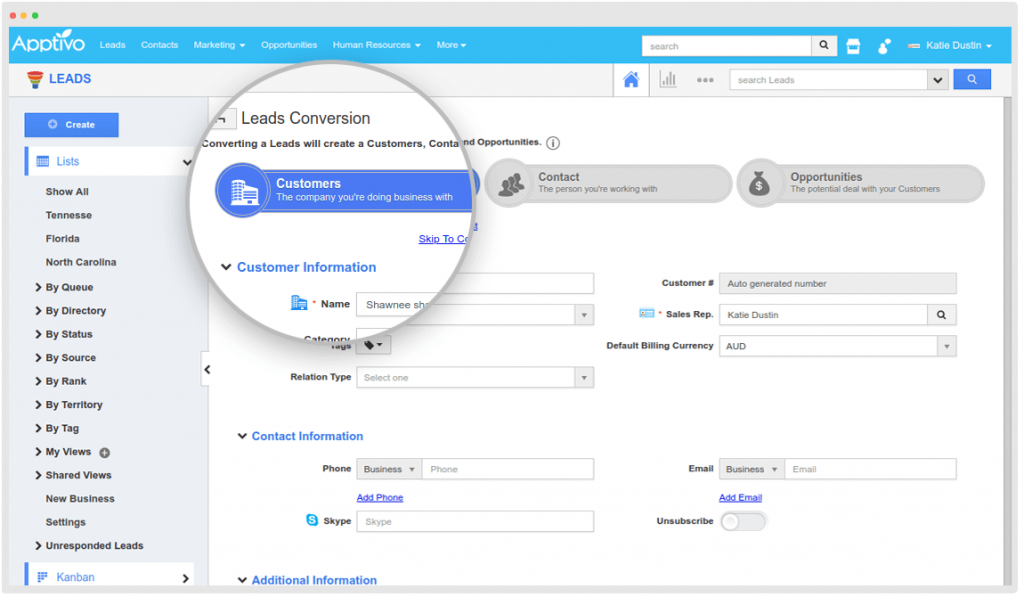 Some of the most powerful features of Apptivo are:
Automatic data sharing and synchronization
Effective lead capturing
Performance monitoring dashboard
Multiple integrations including Slack and GSuite.
Pricing
The pricing plans available for Apptivo are:
Lite: $8/user
Premium: $12/user
Ultimate: $20/user
Enterprise: Variable
PROS
CONS

1. Customize the information view

2. Powerful mobile app

3. Multiple templates

4. Advanced search and reporting

5. G suite integration

1. Difficult to navigate initially 

2. Setting up can be time-consuming 
Zoho is one of the best CRM software free for up to three users. This scalable CRM offers omnichannel engagement with the customers and can add value to a small business. You can use this CRM tool to collaborate with your team members with ease. It offers multiple advanced features such as workflow automation, detailed analytics, lead nurturing, and project management. Zoho CRM also offers intelligent predictions to help you make more informed business decisions.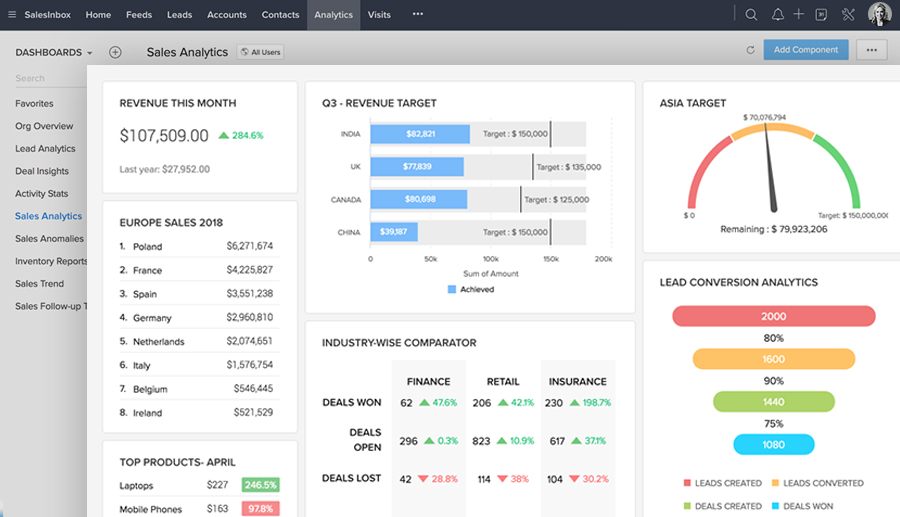 Some features that make Zoho a reliable partner for CRM solutions are-
Personalized customer journey
Marketing Automation
Pipeline Management
Mobile App
AI assistant
Pricing:
Zoho is one of the top free CRM software available for up to three users.
The monthly pricing plan available for Zoho CRM-
Free plan- Yes
Starts from $15/user/month
PROS
CONS

1. Customization with Zoho is effortless

2. Effective team collaboration

3. Data security 

4. Accurate sales forecasting 

1. UI of the tool needs improvement 

2. Customizing email templates can be challenging
Comparison of the Best CRM Software- at a Glance 
To find out which CRM is best for small business, you need to compare the features offered by various top-rated CRM tools. This table provides an overview of the essential features of CRM software to help you find one that integrates into your processes seamlessly. 
CRM Software
Starting price (per user per month) 
Contact Storage Capacity (Free up to)
Contact Management 
Mobile Access
Free Trial 
GetApp Overall Rating

BIGContacts

$10

50,000

Yes

Yes 

Yes

4.3

Salesforce

$25

10,000 per user

Yes

Yes

Yes

4.4

Zoho

$14 

Free for 3 users

50,000

Yes

Yes

Yes

4.3

Hubspot 

Free

1,000,000

Yes

Yes

–

4.5

Pipedrive

$12.50

Unlimited

Yes

Yes 

Yes 

4.6

Keap

$79

500 per user

Yes

Yes

Yes

4.1

Agile CRM

$14.99 

Free for 10 users

50,000

Yes

Yes

–

4.2

Nimble

$19

25,000

Yes

Yes

Yes

4.4

Insightly 

$29 

Free for 2 users

2,500

Yes

Yes

–

3.9

Sugar CRM

$52

10,000

Yes

Yes

Yes

3.8

Apptivo 

$8

Unlimited 

Yes 

Yes

Yes

4.4

Read More:  Free CRM Comparison Spreadsheet (+ How to Choose a CRM)
Closing Deals Made Easier With Powerful Customer Relationship Management!
Powerful customer relationship management is a prerequisite for business expansion. Choosing the best CRM software may not be easy, but it is a decision that will impact your sales and productivity. This is why you need to take some time to analyze your requirements and compare various CRM software before making the final purchase. 
You can opt for a free trial of these CRM tools to get a clear picture of how they function and then buy the paid version. 
Our top pick: The best CRM and email marketing software is BIGContacts owing to its unique functionalities and reliable performance. 
You can go through the detailed comparison mentioned above to gain a better understanding of what features your business is likely to benefit from. Then, pick a CRM that offers the features you require at the most reasonable price.