When you start your search for the best CRM software for your business, the two most popular names that pop up are SugarCRM and Salesforce CRM platforms. However, since both CRM systems have advanced features, competitive pricing plans, and are intuitive, choosing between the two is indeed a challenging task.
The best way to decide is to compare all their features, customer support, integrations, pricing, and other aspects. And that is what we will do in this article! So let's start with the basics.
SugarCRM Vs. Salesforce: An Overview
SugarCRM in a Nutshell
SugarCRM is a market-leading, modern, robust, and AI-driven cloud-based CRM software that facilitates businesses to deliver an excellent customer experience. Organizations can use this CRM (Customer Relationship Management) software to integrate the work of marketing, sales, and customer service teams, providing a unified solution to customers.
The CRM system's rich and extensive features offer insights into customer behavior that allow you to predict the future outcome of your strategy or campaign accurately. Besides that, analytics will assist you in making data-driven decisions and replicating your successes.
Salesforce CRM in a Nutshell
Salesforce is a top CRM software in 2022 that connects your marketing, sales, commerce, service, and IT teams from anywhere. Using this customer relationship management (CRM) system, organizations can attract more buyers, win more customers, deliver exceptional customer experiences, respond to customers faster, and automate time-consuming tasks by developing custom apps.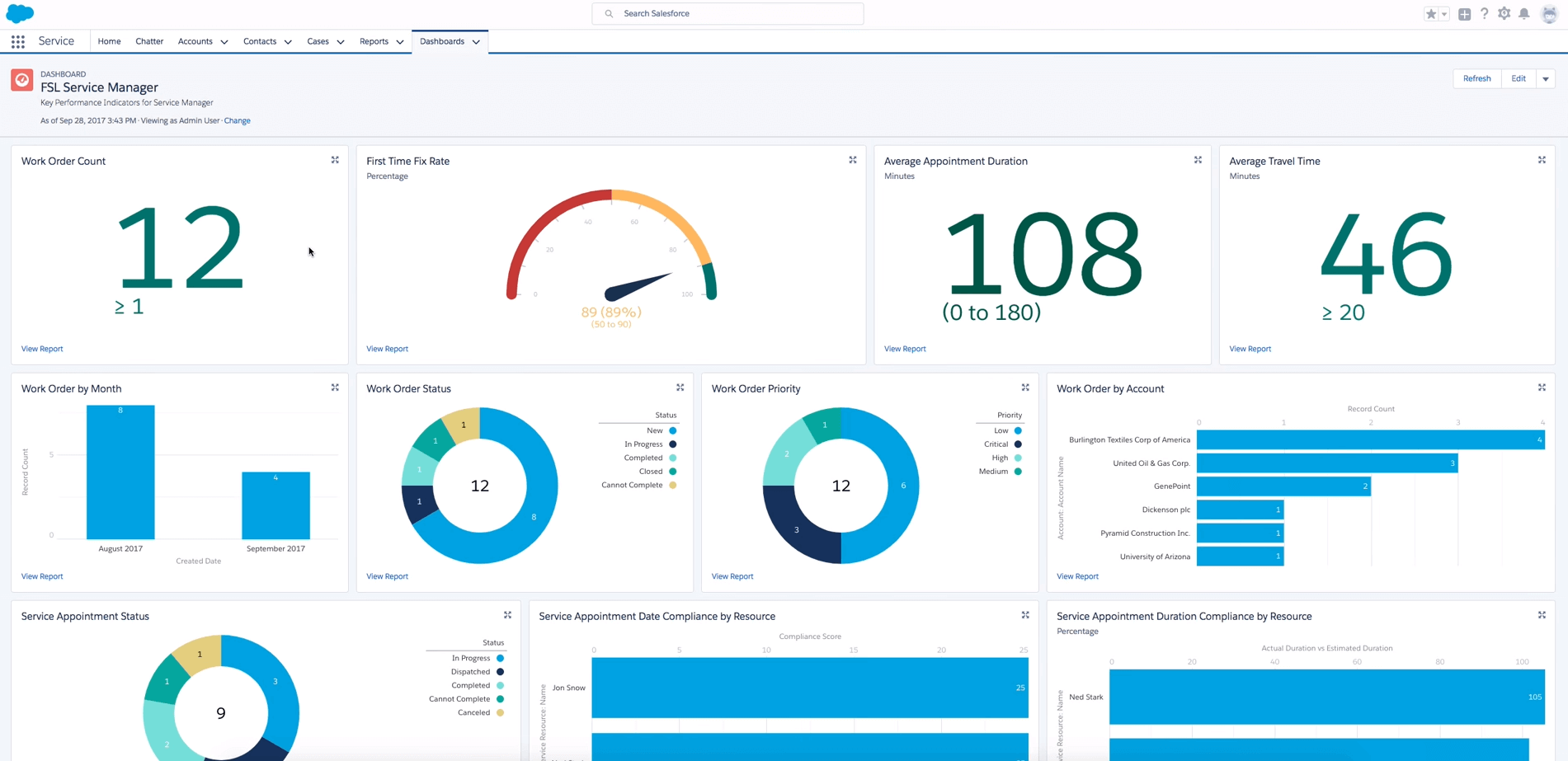 (Source)
The CRM software is scalable and adaptable, allowing it to be embraced by businesses of all sizes and scales. Moreover, the system's omnichannel routing automatically shifts cases and other tasks to the available agent, making customer service quick and efficient.
Likewise, management can fine-tune their strategy partially or wholly as needed on time by utilizing rich data analytics.
SugarCRM Vs. Salesforce: Features
What Does SugarCRM Have to Offer?
SugarCRM software provides a comprehensive and advanced set of features that enable businesses to streamline, automate, and accelerate their marketing, sales, and customer service operations.
The following are some of the system's key features and modules:
Quote management

CRM reporting & dashboard

CRM customization and configuration

Mobile CRM application

Sales & marketing campaign management

Multilingual and multi-currency support

Bug tracking

Knowledge base management

Activity stream

Teams, roles, and security management
In a nutshell, the SugarCRM software includes all of the basic and advanced functionalities and modules that a modern organization requires. The effective use of these features can significantly assist businesses in improving their customer service performance, marketing campaigns, and ultimately reaping the best possible result.
What Does Salesforce Have to Offer?
As one of the best CRM systems, Salesforce CRM software is equipped with a plethora of result-driven and sophisticated features. Irrespective of your business size, these functionalities will help you keep your business functions on track and give you a competitive advantage.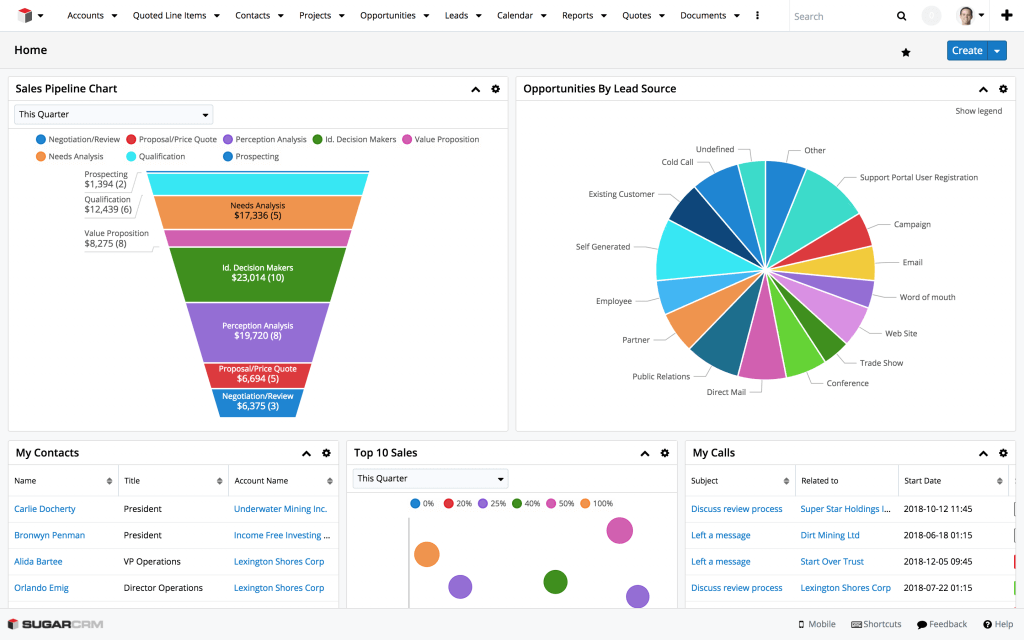 (Source)
The following are some of the key features of Salesforce CRM:
Account & contact management

Opportunity management

Reports & dashboard

Lead management

Pipeline & forecast management

Einstein analytics

Sales forecasting

Partner & channel management

Territory and quota management

Product and price list management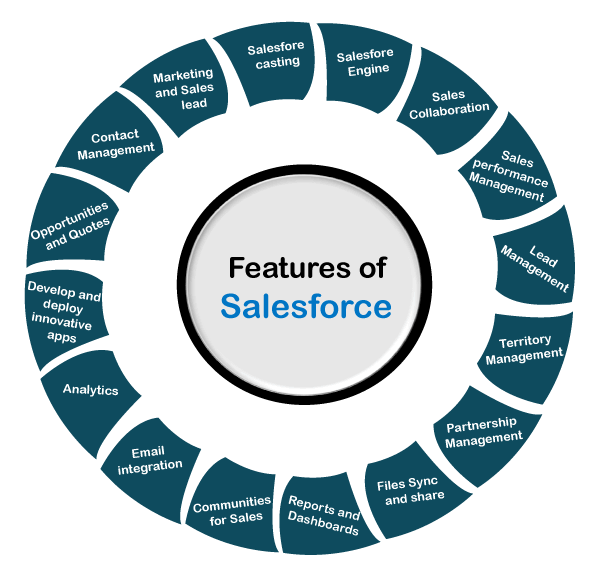 Each of these features has its own set of advantages, but when combined, they form an all-in-one CRM software that can significantly improve the performance of individual teams and the organization as a whole. However, to make the best use of these features, it is recommended that you thoroughly understand their need and function.
SugarCRM Vs. Salesforce: Ease of Use
Another key aspect to keep in mind when deciding on the best CRM software is its ease of use. Both SugarCRM and Salesforce CRM are sophisticated CRM systems that are complicated, especially for beginners.
Both include advanced features that are foreign to novice users, making the tools difficult to use. However, users can become acquainted with the software by enrolling in CRM's respective universities.
For example, you can learn about the SugarCRM solution through Sugar University. The university provides basic courses for free. However, for advanced courses, you will need to pay fees.
Similarly, you or your team can enroll in Salesforce University to better understand Salesforce CRM software. Again, just like at SugarCRM University, the basic courses are free, while premium or advanced courses are not.
Overall, both the SugarCRM and Salesforce CRM systems are somewhat challenging to use, especially for beginners. However, if you or your team have previously used any of the advanced cloud based CRM for small business, you will find these tools very easy to get on with.
SugarCRM Vs. Salesforce: Integrations
Both SugarCRM and Salesforce CRM software can be integrated with a variety of other business tools and applications, including other CRMs. Organizations can fully connect their existing applications or tools with SugarCRM or Salesforce, thereby integrating processes and data. The pre-built integration templates and connectors library lowers integration costs and accelerates time to value.
SugarCRM software has a dedicated online marketplace called Sugar Exchange, which allows Sugar users to search for and download their preferred applications or tools for integration with the SugarCRM system.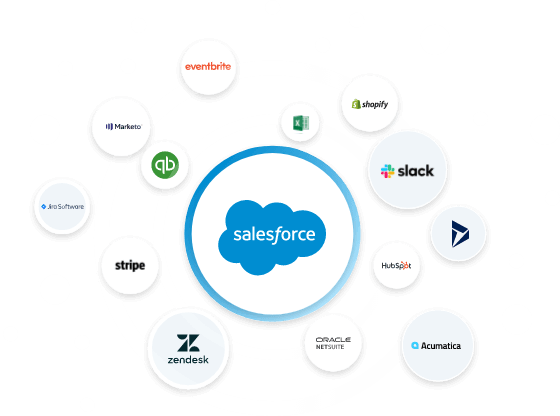 (Source)
As of March 2022, approximately 40 certified applications are listed on the Sugar Exchange platform. Users can search for applications using various filters such as category, edition, or Sugar version.
Some of the major integrations that SugarCRM supports are:
Zendesk

Shopify

Slack

Asana

Salesforce

HubSpot

Magento

Stripe

Jira Software
Similarly, Salesforce CRM software has its online marketplace called AppExchange. Salesforce users can go to the platform, find their preferred business tools or applications, download them, and integrate them with the Salesforce CRM system.
As of March 2022, AppExchange has over 1000 applications listed. All of these apps have been certified by the Salesforce team and are completely safe to use.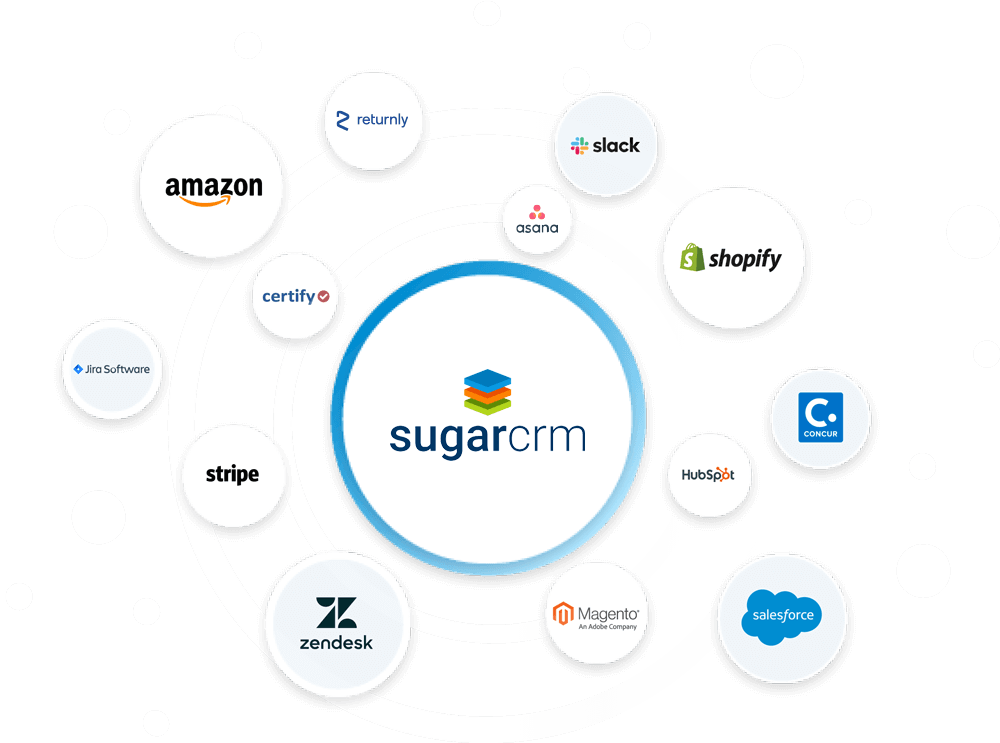 (Source)
Some of the applications are free to use, while others require payment. However, make sure to check the app's version compatibility with Salesforce CRM, as not all applications are compatible with all editions.
Some of the major integrations that Salesforce CRM software supports are:
Google cloud

Slack

Quickbooks

Mail Chimps

LinkedIn

Jira Software

Hello sign

Active Campaign

Dropbox
Along with these applications, you can integrate both CRM systems – Sugar and Salesforce – with various other tools to improve the overall business performance.
SugarCRM Vs. Salesforce: Customer Support
Another critical factor to consider when it comes to selecting the best CRM software is customer support. So let's compare how SugarCRM and Salesforce CRM systems fare in terms of customer support.
SugarCRM provides a robust knowledge base of support articles and other online resources to help users better understand the product. Besides, it allows premium subscribers to contact Sugar Support for assistance whenever needed.
The primary way to contact the SugarCRM support team is through SugarCRM Case Portal. However, if you prefer, you can also send an email to [email protected]. Besides, you can also share your concern with the Sugar team by filling out the form on their Contact Us page.
When compared to SugarCRM software, the Salesforce CRM system provides multiple and simple ways to connect with its support team. You can get in touch with the Salesforce team via multiple routes, including requesting a call, making a phone call, via live chat, or providing feedback.
If you are a US-based office, you can contact them at 1-800-387-3285. For locations other than the United States, go to the About Us page on the company's website and select the Global Office option from the drop-down menu. It will display a complete list of their office locations along with the support phone numbers.
SugarCRM Vs. Salesforce: Pricing
SugarCRM System Pricing
SugarCRM software offers 5 different packages or products. Each plan has its own set of features and capabilities.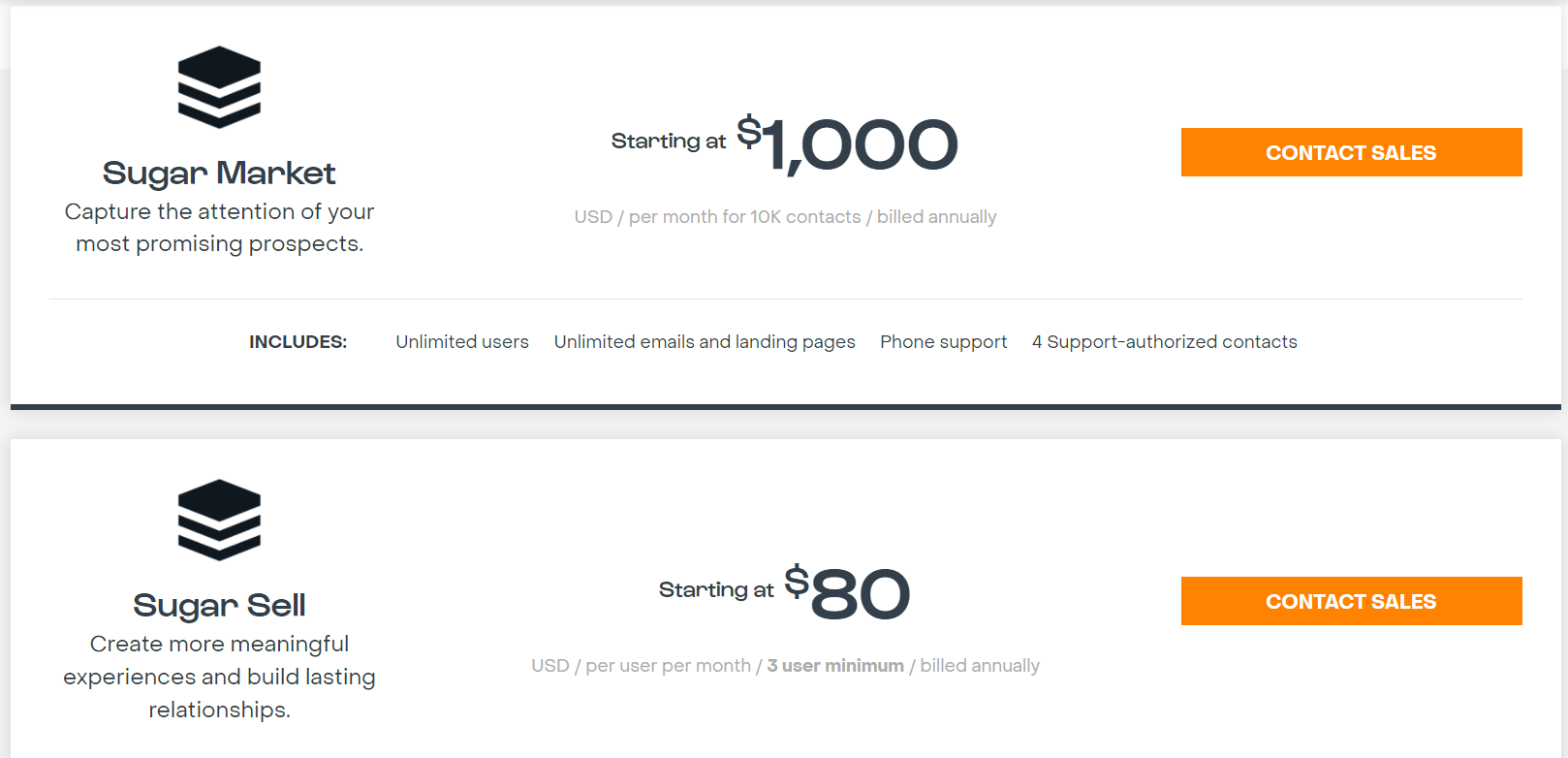 (Source)
Sugar Market:

Starting at $1,000 per month for 10,000 contacts, with annual billing.

Sugar Sell:

$49 per user per month (minimum of 3 users), billed annually

Sugar Serve:

$80 per user per month (minimum of 3 users), billed annually

Sugar Enterprise:

$85 per user per month (minimum of 3 users), billed annually

Sugar Professional:

$52 per user per month (minimum of 3 users), billed annually
Each package includes a unique set of features designed to serve a specific purpose, such as marketing, sales, customer relationship management, and so on. For a better understanding of each plan or to determine which plan is best for your organization or team, contact their sales team.
Salesforce CRM System Pricing:
Salesforce CRM software has 4 pricing plans to offer, as listed below:
Essentials:

$25 per month per user, billed annually

Professional:

$75 per month per user, billed annually

Enterprise:

$150 per month per user, billed annually

Unlimited:

$300 per month per user, billed annually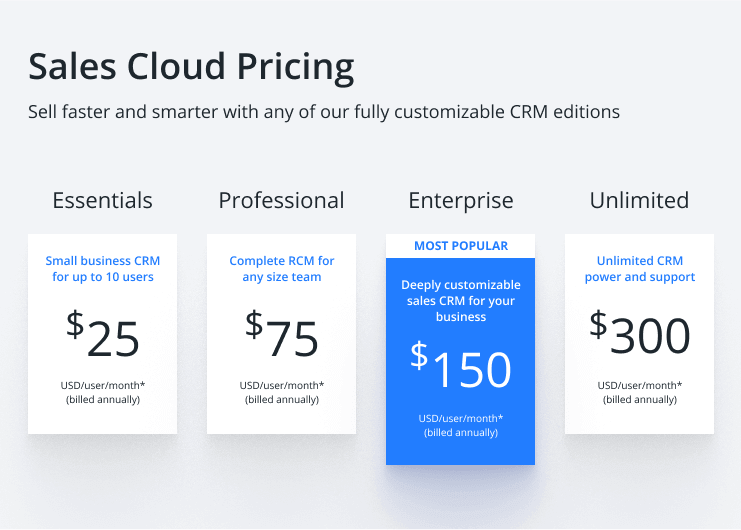 (Source)
As you can expect, each plan comes with a unique set of features designed to serve a specific purpose within the organization. For a better understanding of each plan or to find out which package is best for your company, contact the Salesforce sales team.
SugarCRM Vs. Salesforce: Final Verdict
As we can see, both CRM software – Sugar and Salesforce – are highly advanced and well-designed customer relationship management tools that, when used effectively, can significantly contribute to business success.
Both offer an impressive set of features, necessary customer support, and various pricing options. Furthermore, both CRM software can be integrated with multiple other business applications and tools to improve an organization's performance.
However, before making a final decision between the two, we recommend that you thoroughly examine both of these CRMs. Then, visit their website to learn more about their features.
You should also visit the software review website like SoftwareSuggest to get first-hand, authentic reviews from users about these CRM software. In addition to features and price, keep your requirements and business goals in mind when making a final decision.