At BigContacts, our mission is to offer small business owners affordable and easy-to-use tools that will help them to more effectively organize and grow their business.  In September 2013 we announced that BigContacts partnered with ActiveCampaign.  In that article we mentioned that through this partnership it was our goal to create the industry's BEST integration between CRM & Email Marketing / Marketing Automation Software.
Based on the overwhelming feedback so far it appears that we have accomplished our goal, but it is not our nature to rest. We are constantly striving to make some aspect of our system better each and every day. We have a number of additional enhancements planned this year for our integration with ActiveCampaign.
Every business today should frequently review its marketing strategies and constantly work to improve the effectiveness of your marketing campaigns. One of the biggest shifts in marketing in the past decade has been the rapid growth of mobile advertising. Smart companies are working hard to take advantage of this growing mobile advertising market.
Today, we wanted to share another great tool that has been added to ActiveCampaign email marketing platform that will help you to stay current with with these shifts in the marketing landscape and help you to further improve your marketing efforts.
Announcing SMS/Text Message Marketing!
You can now send highly targeted (and personalized) text messages to your contacts.  There are so many possibilities with that come with this new mode of marketing – mobile marketing.  Below are just a few of the highlights of how you can take advantage of this great new capability.
Automatic follow ups with SMS messages
Add automated SMS sending to your automation sequences. Send follow ups to your contacts, notify sales agents, and more.
ActiveCampaign will send the SMS messages within an acceptable delivery time schedule that you can specify.
They will even make sure it is sent in the recipient's time zone to ensure they only receive SMS messages during acceptable hours of the day.
Reliable (and cost-effective) delivery
Pricing for SMS sending is as affordable as it is easy. Small business (paid) accounts get 25 free messages per month and enterprise accounts get 1,000 free messages per month. SMS sending is only available for the United States & Canada at this time. (more countries coming soon)
Additional credits can be purchased as follows: 100 SMS credits for $8, 250 SMS credits for $17, 500 SMS credits for $33, 1,000 SMS credits for $63, 2,500 SMS credits for $150, 5,000 SMS credits for $280, and additional bulk pricing available upon request.
Automatic opt-out and unsubscribe management
If anyone wishes to not receive any further SMS messages (replying with STOP, UNSUBSCRIBE, etc..) ActiveCampaign will automatically exclude them from all future SMS messages.
Getting Started
To get started you will first want to Import your existing mobile phone numbers into your ActiveCampaign account.
PLEASE NOTE: we will soon have automated synchronization between BigContacts and ActiveCampaign for "Mobile phone" number field (in addition to all the other fields we already synchronize).
If you're ready to get started with this please email us at support@BigContacts.com for more complete instructions on how to initially import your mobile phone numbers.
Where to find this new feature in BigContacts
to access this feature will want to select the "marketing" tab as you would normally do to access all the marketing functionality within your BigContacts. The screenshot below. They then select the "campaigns" tab and then finally the "automated series" subtab.  Is easier that you will create your automated series (autoresponder/marketing automation campaign) and you will see that the SMS/text messaging is now another tool in your marketing tool chest.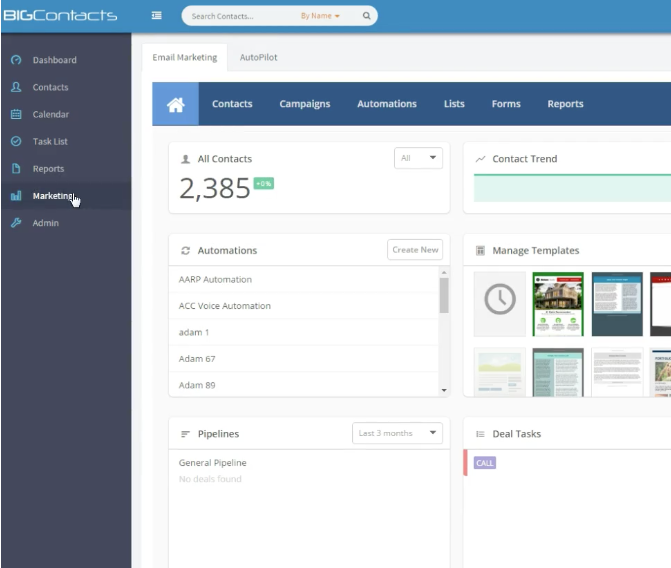 You're now ready to create your automated marketing campaign and utilize the new SMS/text messaging feature!  As you'll see in the screen below you can utilize both email and SMS text messaging within the same campaign, giving you a tremendous amount of flexibility in how and where you market to your prospects and customers.
Haven't tried BigContacts yet?
If you have not given BigContacts a try at this point, I encourage you to start a free trial and let us show you how we can help you to work smarter and do more using our innovative web-based CRM software.
While you are on your free trial you can also sign up for any one of a number of free live webinars where we can  give you a quick tour of the system and show you how to get off to a quick and successful start with BigContacts.
Already a BigContacts customer?
If you are already a subscriber on one of our legacy systems "BigContacts 1.0" or "BigContacts FP" you can now upgrade to the new system "BigContacts 2.0"!!
CLICK HERE for a Quick Tour of the new system and to read more about the key features available to you through our Web Based CRM software.
CLICK HERE to learn more about the process for upgrading your existing account. On this page you can get answers to all of your questions, watch a five-minute quick tour video on the new system and even start a live chat with one of our advisers if you have any questions. Please let us know how we can assist you with your upgrade to the new system.
At any time before, during, or after your upgrade to BigContacts 2.0 we want you to know that our staff of experienced advisers are ready to assist you on any step along the way.  They are here to make this transition as smooth as possible for you.
To further help in this transition, we offer multiple live webinars every week that you can access directly from your new BigContacts CRM system – BigContacts 2.0. In here, you can schedule a date and time to attend any one of the number of live webinars where we will show you how to get off to a fast and successful start with this great new tool.
Click here to get started with a FREE 30 day trial of BigContacts CRM. No credit card required.